You will need
- algae;
- vegetables (lettuce, spinach, carrots, cabbage);
- fish food;
- for young plants: duckweed, lettuce, riccia, Cyclops.
Instruction
In the nature aquarium
snails feed
mainly on plant food, so the basis of the diet your pet should become algae with hard, large leaves. Keep in an artificial pond with a gentle ampullaria expensive plants does not make sense – clams fast they will break and destroy. Feed the snails can turn the whole bottom ground and dig up a small weed with roots.
If you placed Apple snails in the aquarium bulk overgrown with algae, you will have to feed shellfish. They will clean the pond of excess plants. To keep biological balance in the aquarium after cleaning it from excess vegetation plant canadian canadian. The emerald network of the leaves of the algae will long to please the eye – for snails it inedible.
To preserve part of edible vegetation, you can feed the Apple snails vegetables: spinach, salad lettuce, cucumber, carrot, cabbage. Products with hard fiber it is recommended to pre-scalded with boiling water or boil.
Aquarium snails – not vegetarians, they are actually omnivorous. Clams will be happy to eat food of animal origin, to get the residues from fish. They are true nurses of the aquarium, which digest all the rotting organic matter. Apple snails are especially respect bloodworms (Malinka), meat and eggs. However, to compete with more nimble inhabitants of an artificial pond, they can not, so never let them eat.
In the digestive system of snails there are many microorganisms that help them digest very large amounts of food. However, if you overfeed ampullary, the water will quickly become muddy from the waste of their life even with a good filter. For each pet individually pick the diet - the amount of food should not exceed the needs of the body. Proven fact: to clean the aquarium only those "nurses" that you're always a little underfed.
In the diet of young need to enter pureed fish food, duckweed, lettuce, and riccia Cyclops, scalded in boiling water.
Useful advice
If you decide to breed aquarium snails, keep them in one place in not less than 3-4 instance. Apple snails are heterosexual, and mistakes in their sex very easily.
Advice 2: How to feed snails
Contain
snails
is quite simple – they eat everything fresh and natural products, and especially love the greens. Also, snails in large quantity need water, they need to be watered almost like flowers. Do not feed the snail food from the human table, that she might spoil the digestion.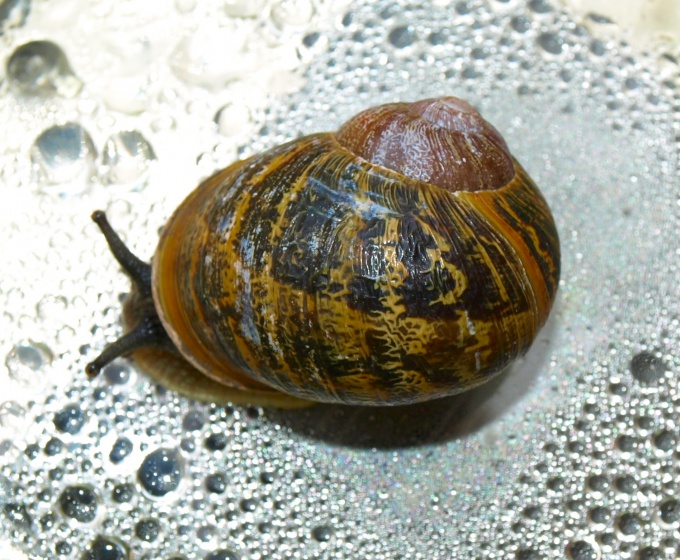 Instruction
Snails feed in the evening or at night, as these animals are most active at night. If you do not change the food for the snails, but only to put a new one, they can start eating feces. It's bad, so every other day remove the remnants of the life of snails, and food that was stale and spoiled.
What in any case do not feed the snail? All that preparing for the human table. Salt is very dangerous for snails, it is not all sweet, fried, spicy, smoked and marinated. Only raw and fresh food.
Fruits and berries – one of the most favorite snails types of food. Anything goes: apples and pears, strawberries, blueberries, strawberries bananas, pineapples, peaches and nectarines, apricots, melons, watermelons, grapes and other fruits and berries.
Fresh vegetables – food that snails often feed on in the wild. They are especially fond of cucumbers due to the large amount of liquid in them, as well as tomatoes, all kinds of cabbage, corn, pumpkins and squashes, carrots, all kinds of legumes: beans, peas, beans.
Snails to maintain the desired shape of the shell requires calcium. To provide them a pet, let him ground egg shell, chalk, coquina. Very good snails fit bars calcium reassigned for parrots. One bar of the cochlea is enough for about three months.
Any snail at all times of the day will be happy greenery on the table. Salads and parsley, dill, celery, and spinach, and grape leaves of dandelion and plantain – all of these are favorite treats for snails.
When to feed a snail and how much food to give her? This question has no definite answer. Snails, which feed a lot and often, grow quickly. They will continue to increase in size, while the aquarium will be too small, then the snail stops eating a lot. If you buy a pet a new aquarium, the snail can grow even more, it depends on the breed. Some snails up to several pounds of weight.
Note
For snails is very important water. Don't forget to update and change the water and aquarium water. You can spray the walls of the aquarium with a spray bottle is the best habitat for snails.
Advice 3: What is the aquarium snail
Snails
live in a wide range of ecosystems. Marshes, ditches, ponds, lakes and rivers are the perfect environment for their habitat. Apple snails can be kept in an ordinary aquarium with fresh water. They get along well with most aquarium fish, unless of course those do not apply to species feeding on mollusks. Aquarium snails - snails have a spiral shell and on the head of them visible sensitive tentacles. In aquariums often contain coils.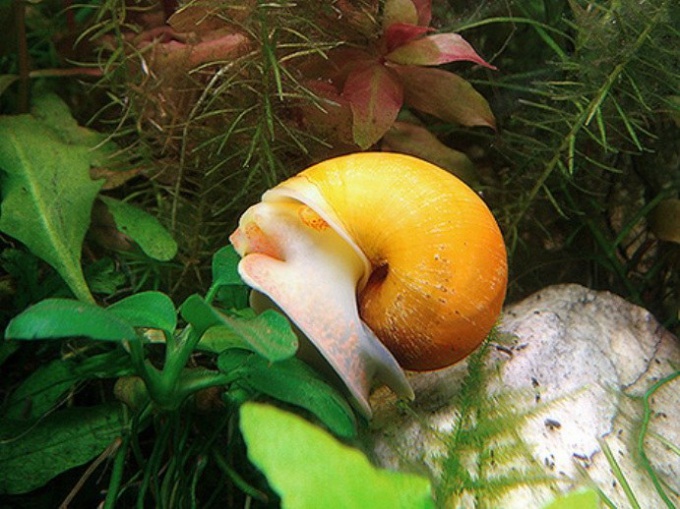 Instruction
Under natural conditions, snails eat mostly algae and bacterial fouling, which are formed in water. In the aquarium, these fouling have different grayish film on the glass, the leaves and the surface of the water. From the bottom of glass and plants, Apple snails are scraped algae. Sometimes they gnaw and tender young plants, but this occurs only if the snails do not have enough food.
Most aquarium snails prefer to eat dead or dying plants so that the aquarium is always maintained stable water quality. Healthy plants can produce cyanides and other harmful substances that are not acceptable for many types of snails.
Apple snails are eating almost anything they can tear and eat: cucumbers, spinach, carrots, fish food, dead fishes and their eggs. Since they can only eat very soft food should be fed cooked vegetables or canned spinach. Do not refuse snails and skoblenko meat and scalded lettuce. You can give them, and soaked white bread, gently tossing it into small pieces into the water. Be careful from the remnants of such food does not foul the water.
Upper half of feet snails do a small funnel and tighten in her food along with a film floating on the surface of the water. After the funnel is filled nearly to the brim, clam very quickly consumes its contents. He then picks up the next batch of food.
Snails need calcium for building their house, so the pH of the water should not be below 7, and it is better to make it higher, as it is very important. If the water is too soft (low in calcium), then it is necessary to add finely crushed marble, limestone, sea shells, or one of the drugs that are sold in pet stores to increase the hardness of the water.
Useful advice
To help control the population of snails, uneaten food should be removed from the aquarium after each feeding.
Advice 4: How to breed aquarium snails
Snails in aquariums holding not only for decorative purposes. Hard clams can easily handle fouling are formed on the walls of the aquarium and water plants. The most popular species of snails, which prefer to breed aquarists is ampulyarii.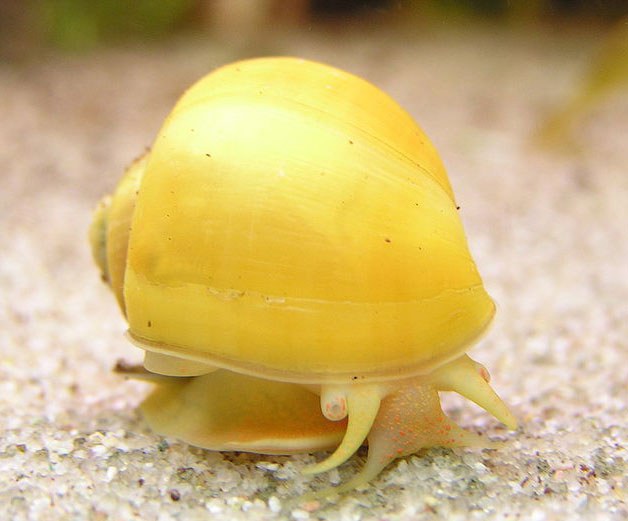 You will need
- dioecious species;
two of the aquarium.
Instruction
Anuario – one of the few snails that are not hermaphrodites. And therein lies the first problem. For breeding you'll need at least two individuals of different sexes, however, to distinguish males and females ampulyarii very difficult. Sexual dimorphism in snails is expressed very weakly. A careful breeder can try to see ampulyarii the copulatory organ of the male. It is located right under the sink on the opposite side of "siphon" in which the snail taking in air. The females in this place noticeable cavity, formed by folds of the mantle. However, beginning aquarists prefer to be sure buy a few ampulyarii, among which most likely will be a dioecious species.
For a comfortable life and reproduction ampullaria't need as much space. One snail should have ten gallons of water. The aquarium must be closed with a lid. Over water leave a distance of 10-15 centimeters, otherwise the snail can't lay eggs.
Usually, the female lays eggs on the lid of the aquarium walls or on the cover glass. Caviar has held fairly steady. If it had fallen, lay the masonry in the plastic cover, and the cover put on the surface of the water.
Kids ampulyarii be born in approximately one and a half to three weeks. Little snails already have a fully formed shell. After they hatched, put the offspring in a separate aquarium or jar. Fill it with water, it should be only five centimeters – small snails breathe air and are often forced to surface.
In the first month of life ampulyarii should feed boiled egg, and subsequently, lettuce or cabbage, scalded with boiling water. Once the snails reach two to three millimetres in length, they can be transplanted into the main tank.
Advice 5: How to feed the fish cock
Observe the
fish
in the aquarium is very fascinating case. The inhabitants of the underwater world is so diverse!Attractive with its bright color and shape of the fins and fish-cock. If you decide to include this in the aquarium should know about her eating habits.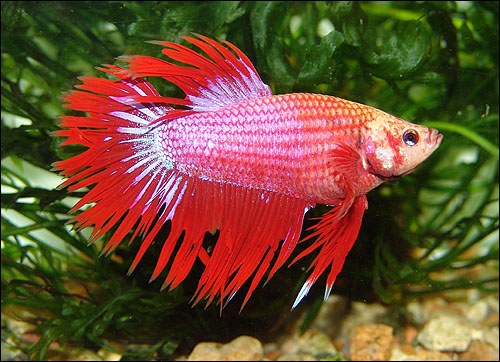 You will need
- live bloodworm;
- crustaceans;
- frozen bloodworms;
- Tubifex;
- dry food from the pet store.
Instruction
Rumble fish-cock unpretentious in food and feed different feeds: dry, fresh, frozen. Normal diet consists of bloodworms, shrimp, Tubifex and dry food, but a preference for cock gives living worms and crustaceans. Bloodworms – the most affordable and common food. Use only fresh and live bloodworms. The worms should move, not have an unpleasant smell and be bright red (small) or red (large) color. So when feeding live bloodworm not to sink to the bottom, use the special floating feeder. The worms gradually crawl out of it in the water and the fish have time to eat them.
If you feed the crayfish cock, first gently rinse the food in a net under running water. Collect a few live specimens and place in a small jar with water. Lower the jar into the aquarium at an angle. Crabs will come up and will be a treat for your fish. A rooster has a good appetite and he readily eats. So the fish do not overeat, limit the amount of food. Divide daily dose into 2-3 times and offer food in small portions. For nutrition alternate feed. Don't forget that frozen bloodworms and dry crustaceans should be only a minor Supplement, the main part of the diet should be provided by live feed.
If you need to change your diet, teach your cock to the new food gradually. Fish first is to act up, but then starts to eat it with great pleasure. Add a new treat in small portions to the main and then sub him out completely. Before feeding the fish, pay attention to the size of her abdomen. The cock itself brings variety to your menu. He successfully preys on aquatic snails (physical, horn coils, Melanie).
Note
Offer bettas crustaceans in limited quantities. Excess feed will rot and spoil the water in the aquarium.
Useful advice
Do not place the aquarium with cocks big snails ampulyarii. Fish eat, they have antennae, and the snails will die.
Advice 6: How to care for aquarium snail
Snails-Apple snails are introduced to Europe from tropical countries where they live in swamps and ponds. In nature, these creatures feed primarily on plant food in the aquarium – prefer food of animal origin. Therefore, aquariums, Apple snails are welcome guests, and how to perform a hygienic function, purifying the water from wastes of fish.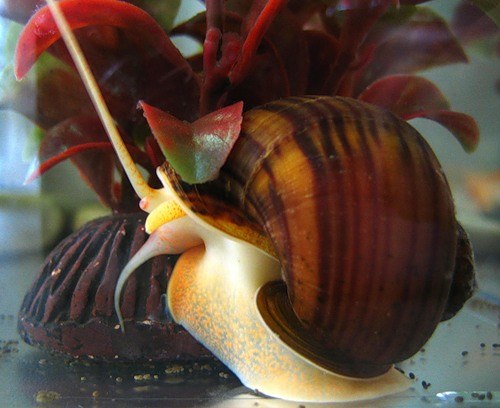 You will need
aquarium;
- the crushed limestone, sea shells;
- feed fish, green leaves (spinach, lettuce);
- crushed fish food, riccia, duckweed, lettuce, scalded Cyclops.
Instruction
Pick up an aquarium the right size: ten gallons of water will be enough for one individual. Cover the aquarium lid, so the snails have not spread and was killed on land. Leave above the water level is at least 10 cm air space, so the snails can breathe air. Remember that they are amphibious and can perish, remaining all the time in the water.
Set the temperature of the water in the tank in the range of 17-30ºS. It is very important that the water was not too soft (dH not lower than 8), otherwise the snails is not enough calcium and the shells are destroyed. Add to the aquarium crushed limestone or crushed shell to increase water hardness.
Take timely aeration, filtration and water change, that is all that is usually made for aquarium fish. Special lighting snails is not required. Neighbors Apple snails can be guppies, angelfish, catfish, gourami, other fishes except those that feed on mollusks.
Feed snails food for fish, spinach, salad lettuce. Organic remains of the eggs and waste of the neighbors fish they will produce themselves. For young individuals grind fish food, add duckweed, lettuce, scalded Cyclopes Riccio.
Keep under control the population of Apple snails: in favorable conditions, snails can lay eggs every day and turn the aquarium into a solid living mass. Apply the methods of regulating population. Decrease portions of food (if in the aquarium live fish, make sure that after feeding was not much of a surplus that falls to the snails), get a predatory fish, for example, botsiy that eat snails. You can also put in the aquarium lettuce, pre-rinsing it with boiling water for disinfection and pressed a stone to the bottom, and then, after some time to pull together ridden snails.