You will need
- Hairdryer
large comb (comb)
- tool for styling wavy hair
- curlers or tongs with a large nozzle
- hair straightener
Instruction
The owners of wavy hair, it is important to create the correct length (preferably below the shoulders, too short will look sloppy) and the form of hair (the ends should be thinner than the total mass). It is important to make sure that the tips were well-groomed.
Any hair styling starts with the shampoo. Wash your hair regularly through the day, because curly hair has a porous structure and very dry. For the well-groomed appearance, use fortifying and detangling shampoo, apply a skin care mask on the hair ends.
To dry hair, do not RUB with towel, just Pat the curls after washing, otherwise, they are very fluff and will not succumb to styling.
To hair was natural, to style wavy hair better without a comb. Brush particularly hard shove hair, do everything with your hands or a rare crest. In the process of drying, massage the hair roots, lifting them, form the hands of the curls desired shape and dry hair without a Hairdryer. Dry them with a Hairdryer only after natural drying and using a diffuser.
On dried
hair
, apply a little money for
styling
wavy hair, they will look well-groomed. On the ends, apply a bit of wax, which will weight and podkorrektirovatj curls.
To curls not stretched and not lose expressiveness, after washing the hair, gather the strands in your hands and greatly squeezing, lift to the roots. When you do this, tilt the head to the other side, where you take the curls.
To make larger curls, use rollers or tongs with a large head, combing every lock of hair and twirling a pair of tongs.
If you wish to straighten the curls do this procedure in the salon, and then maintain daily hair with a flat iron.
During rain and high humidity do not attempt to straighten the curls, they will not obediently lying.
To prevent cross-section ends, typical wavy curls, use leave-in conditioners and silicone styling products, distribute through hair-toothed comb.
Choosing a hairstyle for your hair, remember that today's popular braids, romantic hairstyles high. For fast image creation use the wraps, they are very relevant for wavy hair.
Advice 2: How to style curly hair
Curly
hair
s – wonderful gift of nature. Many women, wanting to have curls, spend a lot of time and effort to create hairstyles and are envious of the owners of curly tresses. However, those who have curly hair from nature, you know that to create beautiful styling you need to work hard.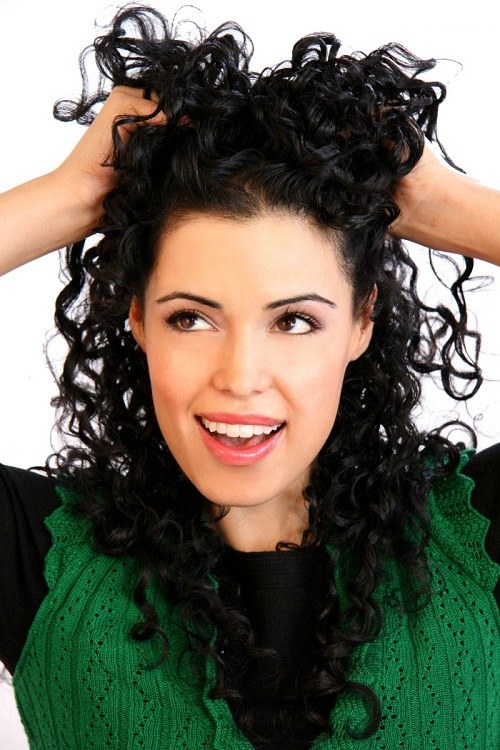 Instruction
First of all, for curly hair, the important length. If the hair is too short, the curls will stick out in different directions, and shining, which looks more funny than beautiful. The optimal length for curly hair – below shoulders, to be able to collect in the tail.
Curly hair is often dry. Therefore, in order to have your hair cut looked good, it is necessary to use a special shampoo, do a hydrating mask for the scalp and abandon the use of the Hairdryer.
Best haircut for curly hair – cascade. It highlights well the structure of the hair and facilitates styling. Girls with curly hair better to abandon the bangs. Otherwise you will have to spend a lot of time to straighten it every day, otherwise the hair will stick out in different directions and ruin the.
Healthy and well-groomed curly hair look good, if they just dissolve. This hairstyle will give your image naturalness and romance. In order to make the hair lay straight and not pushilis, do not brush them after washing. Apply to damp strands of cream, mousse or foam for packing, and then assemble in the direction from ends to roots in a fist and squeeze a few times – this will make the curls smooth and elastic like springs. When hair dries a bit, smooth the curls with your hands and spread them in the direction you want. After drying, lock hair spray or lacquer.
Braids, fashionable in recent years, is also suitable for curly hair if they are long enough. It is not necessary to do too many of them. Better to weave a small spike, fades into the back of the head assembled on the tail, or make a three-dimensional braid, being careful not to pull hair.