Below we look at some of the recipes that you will learn how to prepare beef cutlets for yourself.
Ingredients for 1 kg of vegetables:
· Pork and beef, 500 grams,
· White bread 200 grams,
· Milk 200 ml
· Flour,
· The raw egg 1 piece,
· Onion 1-2 pieces,
· Salt to taste
· Pepper to taste
· Garlic to taste.
Sequence of actions:
Skip the meat through a meat grinder. Soak bread in milk, chop the onion and add to received after the grinder mixture. Salt and pepper the meat. Chop the garlic, add to the mixture and mix thoroughly. Minced is best to mix by hand, so it will be more juicy and soft. Add the egg and just mix thoroughly. Form of minced meat cutlets, roll them in flour and fry in a pan until cooked meat. So the burgers were soft and airy, after steam roasting them in a water bath.
Bon appetit!
Advice 2 : "Peaches" minced meat
All meat lovers will certainly appreciate this original and unusual recipe. How nice to treat yourself to a peach when you can do it yourself, and even meat.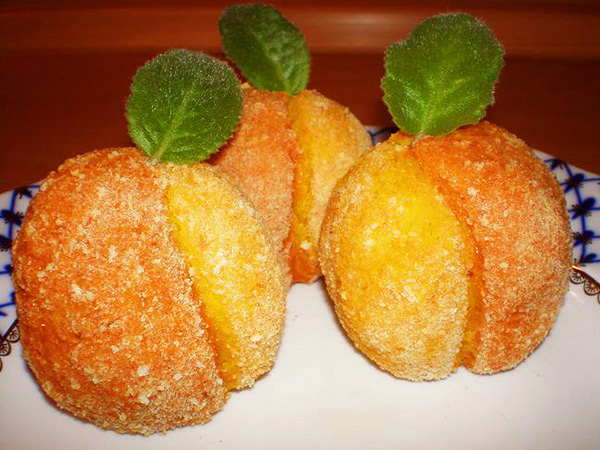 Ingredients:
300 g mixed minced meat (half beef and pork);
5 potatoes;
3 eggs;
15 g flour;
a small bunch of greens (dill+parsley);
1-2 garlic cloves;
60 g of any hard cheese varieties;
1 tbsp of saffron;
2 tsp sweet paprika (powder);
bread crumbs, salt, spices for meat.
Preparation:
Put the mixed minced meat into a deep bowl, add the spices to the meat, a pinch of salt, grated garlic, chopped herbs and beat in an egg.
Knead meat mass (preferably with hands) until smooth. To form small patties the size of 4-5 cm Fry until tender in oil in a pan on both sides. Spread in a separate plate to cool.
Pre-cooked and cooled potatoes, remove skin and finely grate in a deep bowl. To connect with it malcontenti cheese, salt and egg, mix well. Then add a spoonful of flour and again knead.
Divide potato mixture into two equal parts (you can eye, and for greater accuracy can be extinct on the scales). One potato piece to add ground saffron and the other paprika. Put both the potato mass, as a result, each of them will acquire a different color.
Now we need to make equal number of small tortillas out of each half of potato dough. The size of pellets must be such that it is fried chop, and their number must equal the number of cutlets.
To put the whole design in this way: bread with the same dough, meat Patty, cake with another test. Carefully close up the Patty these scones, you get a two-tone bun. To make skewer each bun a groove in the middle like a regular peach.
Cover "peaches" with egg white and sprinkle with breadcrumbs.
Spread into a baking pan and bake in the oven for 20 minutes at 180 degrees.
As a garnish to a dish you can make cuts of fresh cucumbers and tomatoes.