Instruction
When in the house there is another boy, the eldest child subconsciously feels that he is not in charge for the parents. The baby, who until recently was the king in their home, they may instantly feel that you don't love him as before. You need to explain to the boy that your attitude has not changed, that he's important to you. Explain to your child that he now has a brother, whom he must protect.
Divide his attention in half. Caring for the youngest son, never forget about the older. Otherwise, he may grow insecure due to the fact that his "love". Do not make children jealous of each other.
If the second son is still quite small, ask a senior to help you. Nurture it the responsibility of a new family member. Praise the son for the manifestation of care and affection towards the brother.
Raising two sons, they cultivate a family spirit. Boys grow into men, defenders of their families, miners. Put them in example of their own dad.
Quarrels and conflicts that arise mainly due to toys or attention mom, you need to allow "on the spot". Never leave a least one of his sons. If you did it once, and then the other... so the boy might think that he is an outcast or unloved child, and thus, digs in.
If the kids fight a lot, teach them to find a compromise, to compromise, to share, eventually. To act in such situations objectively. Importantly, none of the children felt slighted.
Teach children to do all along: to get out, to walk, to play, to watch cartoons. Try to instill in them a sense of kinship, love and affection to each other. They need to know that the closer they are alone, so the brothers are obliged to protect each other and not throw in difficult times.
Do not impose one that likes another. If, for example, one of the brothers loves to draw, this does not mean that the second should do the same. Take a look at your children. If one kid wants to watch cartoons, he likes to watch cartoons. And the second wants to sculpt from clay – give him the clay. Your sons are not required to be the same. They are the person whose needs must be respected.
Never put one child in another example. A comparison of the type "Sasha was good, and you're not" may have a negative impact on the psychological development of a humiliated child. From such comparisons outraged baby will grow uncertain closed-loop, identity, and the "pet" will develop contempt for the weak.
Raising sons, give them equal rights and responsibilities. If they both have before going to bed to remove the toys into place, then none of them should get out. Of course, choosing this model of education, consider the age and ability of kids. Do not scold your baby for litter but by the fact that he, for example, is too small and does not have time for the older brother.
Useful advice
When children often fight over toys, to solve this problem in one way: if you bought one kid he liked the machine, be sure to buy the second one.
In order to argue "whose mom", play cooperative games, role which will be equitable to all.
Advice 2: How to raise my son without a dad
For proper development a child needs two important things. On the one hand, care and love. On the other hand, in the discipline and understanding clear boundaries. Give your child these skills can only mom and dad. In single-parent families in which the father's no, responsibility for this task falls squarely on the shoulders of women. Especially difficult for moms of boys. In order to raise a son without a father, women need to behave correctly.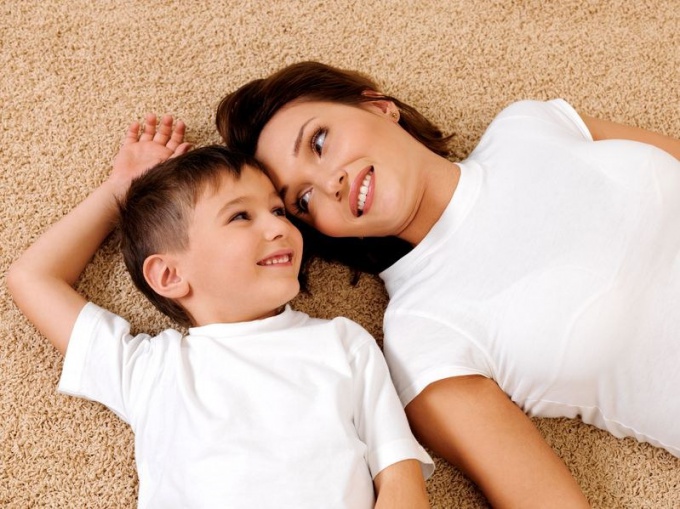 Instruction
To give your baby the best of everything: delicious and healthy food, nice clothes, interesting toys, women raising their children without a husband in their spare time are looking for ways to make extra money. Naturally, because of this constant workload to devote much time to the son, walk with him and to arrange group entertainment just does not work. As a result, the child remains alone with his thoughts, feelings and emotions. It is impossible to avoid. Try despite everything to give your baby most of the time. Talk to your son about his love for him, be interested in his Affairs.
Very often a mother who brings up the son one, there is a desire to pamper your baby and allow him a little more than necessary. Thus, a woman tends to compensate for the absence of a father in a boy's life. As a result of such behavior of mother the child can become a real little tyrant with a clear conviction that he can do anything. So, despite his love and pity for son, set him strict rules that they must be respected.
Boy, especially one that grows up without a father, in need of male fashion. So be sure to organize the communication of the son with the grandfather, uncle, friend or neighbor. In General, it is desirable that surrounded the boy was as much of men, where he will be able to observe such masculine qualities as responsibility, respect for women, power, empathy. If any of famous people is an idol for your kid, will certainly maintain his authority, sharing with her son an enthusiastic emotions associated with a famous person.
Never say in the presence of the son anything bad about his dad. Because the father is part of the boy, and according to your unflattering reviews about the former husband, the bad part of it. Such a conception of the baby can lead to problems with self-identification and development of some personal complexes.
And most importantly, understand and accept the fact that your son will soon grow. Do not forbid him to new experiences, does not protect from mistakes. Give the boy the right choice and be sure to listen to his opinion, even if it is wrong.