You will need
trout;
broth;
potatoes;
parsley;
sauce.
Ear of the trout:
trout 500 g;
potatoes-3 PCs;
Fig 3 tbsp.
carrots 1 PC;
onion 1 piece;
3 garlic cloves;
Bay leaf 3-4 pieces
Trout in French white wine:
trout of a middle size 1pc;
white wine;
onion 1 piece;
carrots 1 PC;
butter 100 g;
white bread 200 g;
lemon 1 PCs.
Instruction
Boiled
trout has a beneficial effect on the human body, fish is very rich in vitamins and fatty acids. Its meat, tender and tasty, cooks very quickly. This fish can be served cold and hot.
Rorelcatae boiled fresh fish must be thoroughly cleaned, well to gut and remove the gills. Place the carcass in a pot, pour broth, cover and put on fire. When the water boils, leave the saucepan on a slow fire. Cook the trout for 15-20 minutes. Big fish should be left on the fire for half an hour.
The fish is ready remove from broth, remove the top skin and gently to avoid damage, lay on a dish. On garnish serve boiled potatoes, which can be spread around the carcass. On top sprinkle the dish with fresh parsley. Sauces, choose white, red, mustard, walnut or horseradish, lemon or Madeira.
Ear of froelicher delicious and flavorful it turns out the soup-soup with trout. Clean the fish, cut into pieces. Simmer with carrot, onion and three garlic cloves. Remove the trout in a few minutes and select all the bones. Return the fillets to the broth.
Peel the potatoes and cut it into cubes, put into the broth. Three tablespoons of rice, rinse and add to soup. Put salt and spices (black pepper, parsley, dill, Basil, coriander) to taste. Simmer all ingredients for 15 minutes. Trout pour soup in the plate and generously sprinkle with fresh herbs. In each plate put half boiled eggs.
Trout in French white videotribute to cook fish and this is not a complicated recipe. First you need to make a special broth, then boil with trout. 100 g butter, divide in half, fry in one part of the chopped onion and carrot. Add the Bay leaf, salt, cloves, black pepper and pour in the white wine.
All of this should boil and stew for 15 minutes. Put the trout into the broth and simmer 10-15 minutes. Ready remove and place on a hot dish, with the top sides, remove the skin. Byprivate broth over high heat. Heat the remaining butter, when it begins to foam, put the pieces of dry white bread, brown them.
Broth connect with bread and pour it all on trout. One small lemon cut into thin slices, put them on the fish. Fresh parsley sprigs to decorate the finished dish.
Advice 2 : How to fry trout
Spoil red fish is very difficult.
Prepare
flavorful
trout on
house party and the guests will not remain indifferent to the exquisite dishes.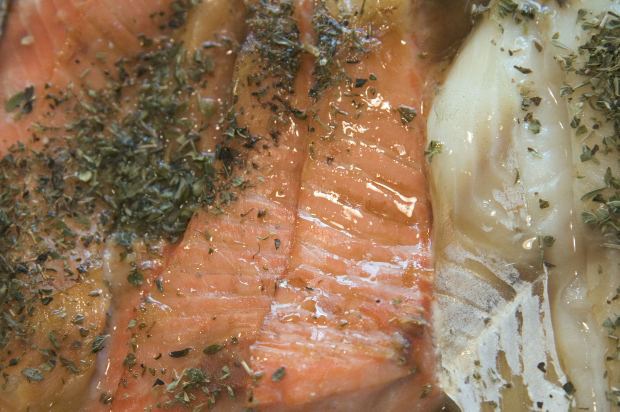 You will need
olive oil
salt
spices for fish
lemon
flour
pan.
Instruction
Fish wash, remove fins, scales, cut off the head. Cut into pieces 1-2 cm thick, Pat dry with paper towel.
Before cooking the fish sprinkle with salt and seasoning for fish. Slice lemon, and to impose the fish. Pickling, so 30 minutes at room temperature.
To heat on the fire a frying pan, adding a little olive oil. After the fish is marinated, roll each piece of trout in flour and place on hot pan. Thus all the juice and fat will be stored inside. Fry fish until Golden brown, about 15 minutes. Put on plate, garnish with lettuce and fresh vegetables.
Note
Don't need to add much oil because by itself, the trout are quite high in fat. Trout - the fish is delicate, so don't need long to fry, it will be dry.
Useful advice
If you cook fish in the oven, it is best to wrap it in foil. The fish from sticking to the foil on the bottom to put the onion rings. They give the fish aroma and will not burn trout. Fish is best served with white wine.