Instruction
Feed the puppy dwarf Pinscherthat had just taken from a breeder, it is better the same food what he received before. Check breeder diet is all about feeding your little one and stock up for the first time. Other feed the puppy should be translated gradually. The transition to artificial feeding takes place from 6-8 weeks, so to take the dog to the house earlier this term does not make sense.
Decide what food you give your puppy dry or natural. Dry food should be high quality and designed for puppies of small breeds. It is balanced and it has all necessary for proper development of the dog: vitamins, minerals and nutrients. Optimum is a combination of both these types of feed.
If you decide to feed your puppy a miniature Pinscher with natural foods, first start with pureed milk porridge and vegetable soups. Boiled beef, sea fish, liver and eggs add to the diet gradually, along with mineral and vitamin supplements.
From 1.5 to 2 months, feed your puppy at least 5-6 times a week, after three – 4 times, after six months – 3 times a month, with 7 months of age go to 2 meals a day, and stick to it in the future.
The daily amount of meat, which should get your pet for the full development, let's calculate 20-25 g per 1 kg of body weight. Best of all, if it is beef, veal, white meat poultry or rabbit. Bones of a bird dog can not give – their sharp edges hurt her stomach and esophagus.
Be sure to include in the diet of dairy products – cheese, kefir and fermented baked milk. Cheese can be given not often, better use it as encouragement in the process of education and training.
From cereals rice, buckwheat and oatmeal cook oatmeal, add them to soups. Vegetables can be given in any form and almost any, but the egg should be boiled. The feed definitely add a few drops of vegetable oil. In the diet of your baby should be almost the same foods that are recommended for children up to 3 years.
Feed your puppy at certain times on designed specifically for this place. He has to have two bowls – for food and water, their height must be regulated according to the growth of the puppy. Water constantly change, so it was fresh. If the puppy does not eat offered food, remove it after 10 minutes until the next feeding.
Note
Feeding, mineral supplements and vitamins do not let your puppy without consulting a vet.
Do not feed your dog food from the table: smoked meats, sausages, pork and lamb. Eliminate from her diet of pasta, fresh bread, raw fish, juices, peas and turnips.
Useful advice
A walk with the puppy come out after 1.5-2 hours after he ate.
Advice 2: How to feed dwarf rabbit
Dwarf rabbit as a pet is a great alternative to traditional cats and dogs. We will focus on one very important aspect of the content of the dwarf rabbits - feeding.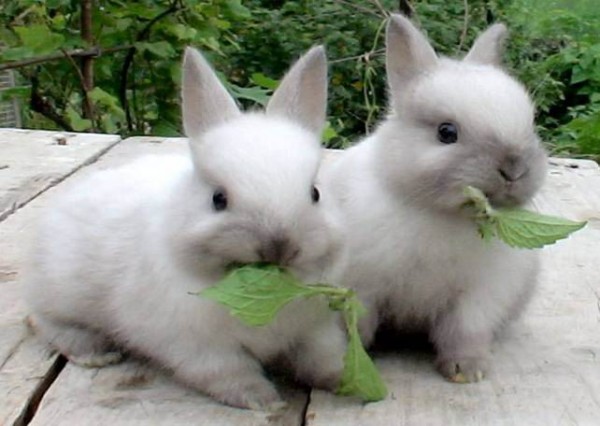 Instruction
Dwarf rabbits are tiny single-chamber stomach and very high speed of digestion. So feeding
rabbit
depends very much. Young growing rabbit has to constantly feed your body, up to 50 times a day. His diet should be rich and varied. Concentrated and pelleted feeds do not contain all the necessary Bunny substances, although also have to be in nursing. In addition, the diet should contain gross natural food, fruits and vegetables.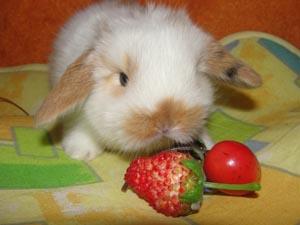 Natural roughage.
Under this concept lies the usual hay. It is necessary to prepare in the summer. Various grades of hay sold in pet stores. This kind of food needs to be a large part of the diet of the pygmy rabbit. In addition, rabbits are rodents, so require daily addition in food of tree bark or small twigs with the bark. For this purpose, suitable birch, Linden, Apple or pear. Remember that some varieties of trees and shrubs are poisonous to rabbits, for example, cherries or elderberries.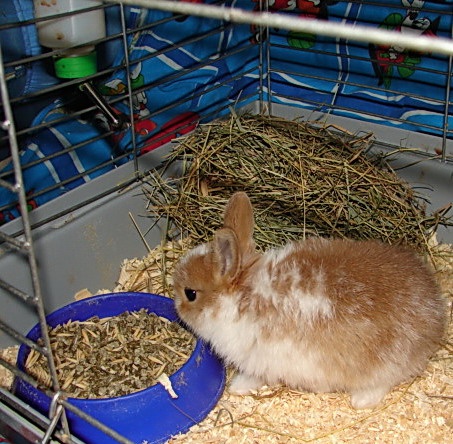 The vegetables and fruits.
Rabbits love fresh vegetables, fruits and herbs. To these products is not explicitly required to teach, as a rule, the animals eat them a lot and with pleasure. Vegetables you can give boiled potatoes, fresh carrots, cabbage, turnips (cooked or raw), beets. Well eat rabbits and wild herbs, but fresh herbs in our usual understanding could be poisonous, feed your rabbit alfalfa, dandelion, nettle, mouse peas, burdock. Don't let eared parsley, dill and onion, and henbane or buttercups. Fruit most rabbits love apples, especially hard varieties. It is not necessary to cut up an Apple too finely, let the rodent sharpened teeth, cut the Apple into 4 pieces, remove seeds and pith and treat the rabbit. In addition, the rabbit should always have access to clean fresh water.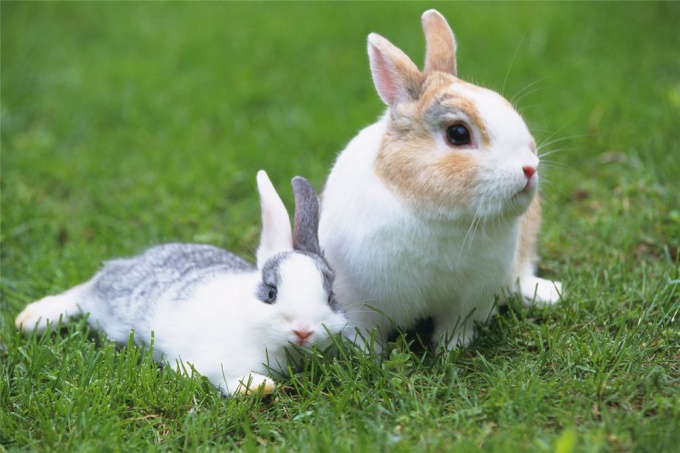 Vitamins and ready to feed.
Rabbits are happy to eat ready to feed, bran, which are sold in pet stores. However, an adult long-eared should not give them more than 2-3 tablespoons per day. Otherwise, they can lead to obesity and constipation. In addition, rabbits are happy to eat the vitamins and mineral complexes. A frightening feature of rabbits is the habit of eating their own droppings. Do not worry, as the rabbit improves and slows down your digestion, its dung is also a natural source of vitamins.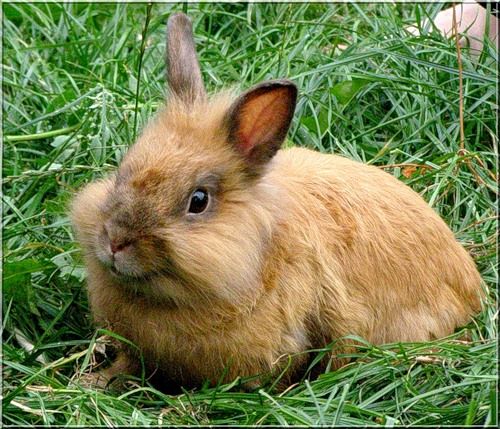 Advice 3: How should looks the puppy Alabai
Homeland Alabai is Central Asia. This breed is known from ancient times in Afghanistan, Turkmenistan, and Kyrgyzstan. These dogs are guards, and guard the property of man, their territory, and are used to guard flocks of sheep.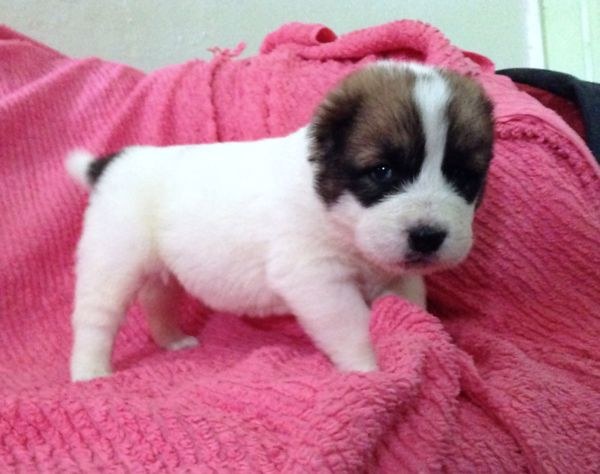 Instruction
This breed, like Alabai, actually no, it's a title that was once received by dog Central Asian shepherd dog in Turkmenistan in dog fights. These dogs were later crossed with other breeds, mastiffs, Rottweilers, because people wanted to make a fighting dog. Then began to appear alabais, which is a lot written and said.

These dogs Central Asian shepherd dog at withers up to 70 – 75 cm, bitches 60 to 65. They weigh an average of 80 pounds. But these dogs are compact, wiry, have good endurance and ruggedness. In Central Asia their shepherds do not feed, and the predator dog will get, they eat.
Now in Vogue white alabais, at least, many are buying such puppies, but it's not really their color. Almost all the white alabais withdrawn by artificial means. Color, which is characteristic of the Central Asian shepherd dog is a black, grey, brown, fawn. Also red, piebald, brindle, or speckled. The possible combinations of white and brown, white and black and other colors.

The head of the puppy Alabai massive, broad, it has a flat forehead. Go to the snout from the forehead is not expressed much. The nose is large, usually black or brown. Eyes, usually dark, round, separated from each other far away. Small ears, low set, characterized triangular shape. They are usually cropped.

The body of the dog powerful, the neck short, the chest is broad and deep. Back straight, broad and strong. The stomach of the animal slightly picked up, the croup is wide and muscular. Strong legs, the backbone is very powerful, oval and compact. The dog's tail is usually docked, animals keep it low. The coat is rough, straight and hard. There is a thick undercoat.
When choosing a dog it is necessary to look not primarily at the puppy and its parents as adequate dog. You should pay attention to their working qualities. Were they really working, or sitting in a cage, and are the only exhibition dogs.

Real alabais - bold and decisive. They are comfortable with the people, not attacking the person. If on-site, which protects Alabai, will appear a stranger, the animal will not throw and bite man, it's just him cornered and will have to wait until the owner. If the thief runs away, Alabai will not haunt him.
Those big dogs that sell many breeders die early, they are prone to diseases of the joints. The dog itself is powerful, but her legs cannot withstand the weight of your own body. A keep vitamins, therefore, it is not a completely natural dog.

Very many years many breeders in the Ukraine and Russia spoiled the breed. In Chelyabinsk, for example, tied bitch Alabai with the South African Bourboule. You can imagine what happened to the puppies. From alabais that have been bred by man, constant problems with the feet, they have dysplasia and other defects.