Instruction
Most often at day 8 March women give tulips, which are considered a symbol of the coming spring. Red, pink, yellow, purple and white - these seemingly simple flowers can have the most various coloring and shape of the buds, so you can choose various options to please even the most demanding ladies. Elegant basket full of multicolored tulips, or a bouquet of red (pink or white) flowers no one can remain indifferent.
On March 8, as in any other celebration, the actual roses are considered the Queen of flowers. A bouquet of roses is perfect for a young girl, the white haired lady, so they can safely give to all women.
The first spring flowers (snowdrops, hyacinths, daffodils), a reminder that winter has lost its rights to the spring are also popular in this holiday. Very gently, and look fragrant hyacinths are sold as cut arrows with flowers, and whole plants in small pots.
An original and memorable gift would be an exotic Orchid, which fascinate visitors by their beauty. This bouquet is perfect for a beloved woman and emphasize the special attitude to it. Additionally, Orchid will be a wonderful gift for those women who have original taste and like to surround themselves with unusual objects.
What flower is associated March 8? Of course, with Mimosa, soft yellow balls, which have become a real symbol of this holiday. Sprigs of Mimosa to give to women and girlfriends, Mimosa can complement a bouquet of other flowers, thus giving it a festive flavor.
But the diversity of the floral world does not end on the listed plants. Chrysanthemums, lilies, carnations, Cala, gerberas, freesias, these flowers will please women no less tulips or roses. But if you know what kind of flower prefers to bestow person – you and cards in hands.
There is another interesting idea to present a flower in a pot. This can be any attractive plant, and not necessarily flowering. This gift is especially suitable for those ladies who love to take care of house plants. Luxuriantly flowering Bush in a pot looks very nice and original and in any case will last longer than the fresh cut bouquet.
Advice 2: What flowers to give different signs of the zodiac
Flowers are universal gift. Them as gifts to relatives, loved ones, colleagues on holidays. To your surprise was "to the court", choose flowers on the basis of the zodiac sign of the host.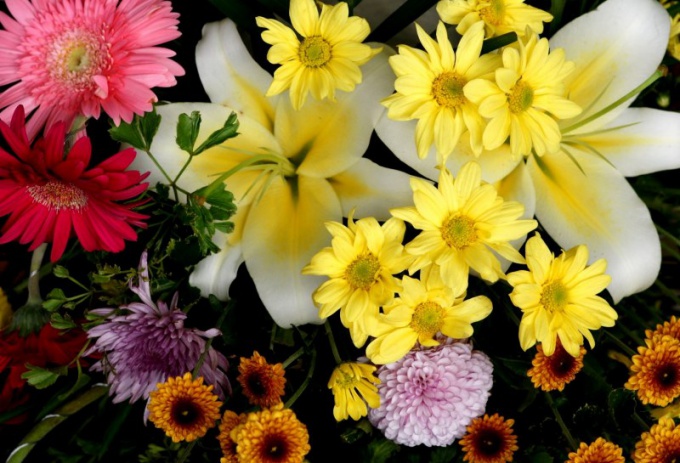 Flowers for signs of the air element
Libra – romantic nature. The girls will be thrilled Gardenia, gladioli, freesia, orchids. This sign is ideal for any roses. An important feature: the bouquet should be symmetrical, neat and different interesting parts (e.g. flowers of unusual colors).
For Aquarius perfect violets, tulips, gerberas, daffodils, roses. Add the bouquet of herbs and smelling twigs. Choose from cascading bouquets, which a lot of curved lines.
Gemini is the most lowly in relation to colors sign. Girls love innovations, unexpected actions and decisions. You can feel free to give the Twins a fresh field bouquet, gladioli, carnations, peonies, and so Wonderful if the present will be kept in white, yellow, blue or purple colours.
The twins better not to give orchids – they have a sign with different energy. The scales do not present irises, forget-me-nots, gerberas. For Aquarius any bans do not exist.
The element of Earth: perfect flowers
Capricorn is ideal for bouquets without bright accents. The perfect colors are pinks, bright tulips, pink chrysanthemums. When choosing a gift, refrain from asters and bells.
Girl-Taurus loves nature. Therefore, when choosing colors, prefer subtle scents and calm shades. Buds should be large. As a gift perfect gladioli, roses, poppies, chrysanthemums. The design should not be pretentiousness. Better, if the package is inexistent.
Virgo prefer bouquets restrained and concise. A wonderful choice would be roses, lilies, peonies, carnations. The color scheme is preferable to withstand in blue, white, or greenish tones. Not present Virgins gladioli, gerberas, dahlias.
Floral preferences of the fire signs
For archers the best choice will be spring flowers. It tulips, freesia, daffodils, crocuses. Choose bright plants: purple and red. The design of the bouquet is better to create from natural materials such as rice paper, bark, etc.
Lions love big bouquets with a rich finish. However, all the flowers should be ideally suited to each other. The representative of the sign will be happy to receive a gift of long-stem roses, gladioli, tulips.
Flowers for the lions must be extremely fresh and perfect. This sign prefers bright colors: red, yellow, orange. They are associated with prosperity and wealth.
Arieses favorable to the roses, tulips, lilies. Advantage give flowers and bright colors. For a romantic gift as well to violet, lavishly decorated with beads, wire, tinsel. It is not necessary to present a gift of daisies, asters or dahlias.
Looking for water marks
Cancers will admire bright bouquet with a mysterious, delicate aroma. In special honor of Calla lilies, lilies and white lilies. Will also fit lilac white, Lily of the valley and snowdrops. Completely give up the idea to give carnation, peony and Mimosa.
Mysterious temperamental Scorpions and flowers prefer the same. The girl sign is a happy bouquet of dark peonies and roses. Also in high esteem, tiger lilies, daffodils, irises. Scorpios are categorically not suitable gladioli, dahlias, Mimosa, forget-me-nots.
Favorite colors of the Fish are delicate orchids and lilies. Also the sign is sympathetic to the daffodils, Mimosa, Phlox, peonies, and gladioli. Astrologers do not recommend to present the Fish tulips and gerberas.
Advice 3: What is presented on the steel wedding
The relationship of the spouses after 11 years together we're strong as steel. That's why this anniversary is called steel wedding. In spite of everything the wife and the husband are still together, they enjoy each other, support each other and raise children, celebrate holidays with loved ones. So what are the gifts customary to give on this auspicious day.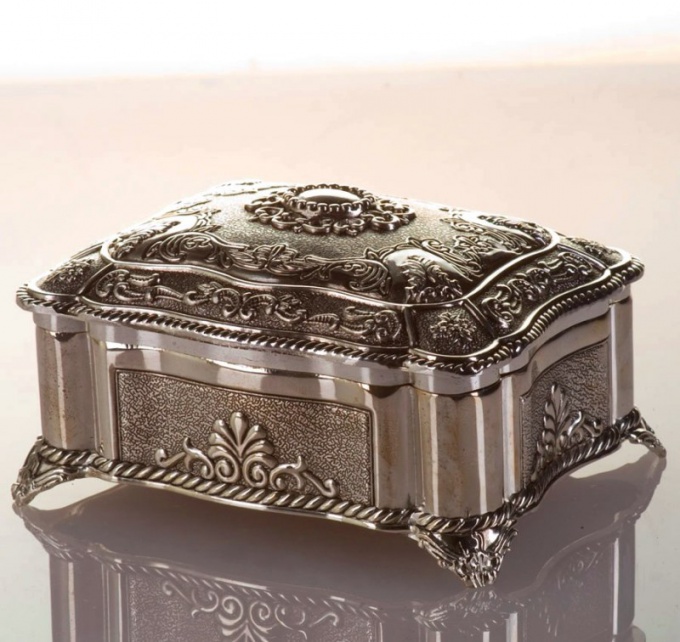 How to mark steel wedding


On "triumph of steel" is encouraged to invite families with young children, since babies represent new life. After 11 years of marriage, husband and wife open a new page in their relations, as their romance becomes more relaxed and easy.

According to tradition, on this day the couple exchanged bouquets consisting of 11 colors. If the bouquets will be able to stand for 11 days, it will mean that their life together will become happy. And therefore it is recommended to go to the trick: it is better to choose the flowers for a long time do not fade.

Before the triumph of the spouses have to undergo the rite of bathing. Well, if you have the opportunity to swim in the pond. If not, it is quite suitable for bathroom. It is believed that in this way the couple "flush" with the hardships and negative emotions that have accumulated over the years of living together.

During the festival the husband and wife give each other items made of steel. Best of all, if there is an exchange of private things - this confirms the unity of the family, as well as the fact that all the spouses became common. During the holiday sound congratulations and best wishes for the couple from friends and loved ones. This evening the music, the heroes of the occasion among the guests perform the romantic dance, swear love, understanding and fidelity.


What to give for a steel wedding


A wonderful gift for this anniversary will be the decorations of steel. The husband can give a pendant, cufflinks, chain watch with steel finish. Wife will suit earrings, a brooch, necklace or bracelet. You can pre-order for the couple rings made of steel with applied engraved their names and wedding date.

No less useful gift would be the steel kitchenware. Coffee set, set of pots, pans, painted in steel glasses will take pride of place among the utensils of the spouses and to be reminded of such a special event, as the eleventh anniversary of life lived together.

Steel wedding give and interior elements made of this material. For example, it could be lanterns, candle holders, figurines, frames for photos from steel. It is possible to present in honor of this anniversary, curtains, bed linen, towels, decorative pillows color steel.

A special surprise for the couple will be themed gifts. For example, a steel medal with the engraved greetings will be proud of the anniversaries. Glasses with the inscription of the ceremony will remind the husband and wife about the happy day of their wedding. A married couple can give and a steel frame inserted in her wishes of love and faithfulness.

As you can see, there are many options of gifts on the steel wedding. You can buy utensils, ornaments, or furnishings in the store or make an original gift with their own hands.

The main rule – your gift should be steel color, or there needs to be elements of steel. And then the gift presented sincerely and from the heart, not just like anniversaries, but also become a symbol of their love and happiness.
Advice 4: A ring given as a betrothal
In the relations of two loving people ever raises the question about living together and marriage. That it was in the most romantic movie, the young man makes a proposal to the girl, kneeling on one knee, and holding before her the coveted velvet box with a ring. Though now the engagement is not perceived as in the old days, the tradition of presenting rings is maintained. In order to choose the right engagement ring, the groom needs to follow some rules.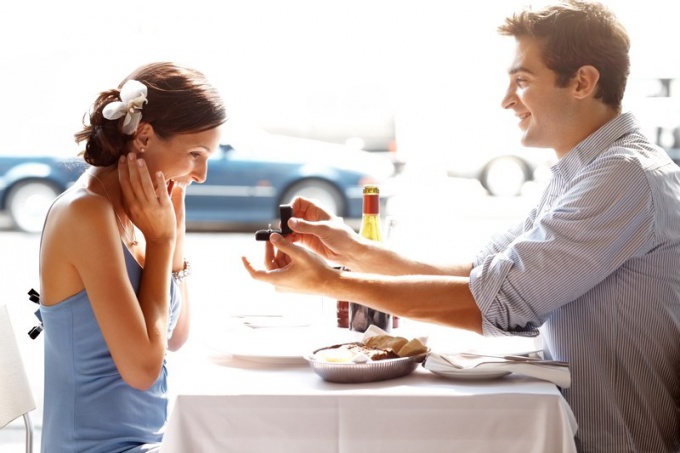 Instruction
The young man in the organization of engagement need to think about the budget, on which you can count on when you purchase the ring. If abroad, where the wedding is played at an older age, it is customary to spend 2-3 monthly wages on an engagement ring, in Russia, this tradition has not yet caught on. Depending on the available funds to purchase or the exclusive ring and a ring with a large and expensive diamond or other precious stone, or to save money by choosing a ring with a large, but not the quality of the diamond or with small stones, but with high characteristics. In some families the teacher
wears
s vintage heirlooms - the original heirloom, inherited.
When choosing a ring one of the most important criteria is its material. Although historically there was a tradition that the engagement ring should be of gold, this is not the only option and even then there are nuances. Pink hue of gold jewelry is obtained after adding the alloy of copper, white Nickel or palladium, if the palladium is considered hypoallergenic material, the Nickel may cause irritation on the skin. Those who do not carry at all or just doesn't like gold jewelry, we can offer silver or platinum rings. Jewelry made of platinum are valued more than gold, but have a dirty grey shade. The youth now prefers unusual materials, such as titanium. On special themed engagement party, perhaps the giving of rings of plastic or wire.
Another important criterion when choosing a ring is the account of taste and style of the bride. In advance it is necessary to specify what kind of decoration is usually the second half: what color is gold and gold is what the stones, their size and shape are present in her jewelry, the exclusivity of her clothes and accessories. To please his girlfriend more important than shock all the familiar size and purity of diamond.
If a young person chooses traditional engagement ring with a diamond, it is important to evaluate all the characteristics of the precious stones in the decoration. The external beauty and glitter of diamonds so valued by girls, depend mainly on the quality of cut. The better the cut, the better refracted and reflected light through its facets, making it sparkling. Also important is the color of the diamond, which is determined by the inclusion of atoms of different elements. The most expensive is considered a fully transparent stone. Another criterion when choosing diamonds is the purity of the stone, which depends on the presence or absence of small cracks or inclusions. Naked eyes can not see them, besides their availability is determined by the natural origin of the diamond, but still they should not be too much that affected the strength of the stone. When choosing a ring is also important and the weight of the stone in carats, which, like other characteristics, affects its value.
Usually the engagement and suggestion for girls is a surprise, and therefore on a joint campaign in jewellery stores should be forgotten. But the size of the finger of the bride need to know. You can ask about it privately, her cousin or girlfriend, and you can see for yourself. If a girl wears a ring on the ring finger, you can take it while you visit a jewelry store. If she wears it constantly, you can just circle it on the inner side on the sheet of paper with him to go to the salon. You can also try it on your finger and see to what level it is free will fit, and the store to determine the size of the ring.
To acquire the ring is better in a specialty store that provides all necessary certificates and offers a large selection of quality jewelry. At the same time, popular jewelry network does not guarantee uniqueness or exclusivity of the proposed decorations. To order a ring of your own design right at the factory or via an intermediary firm, but it is worth considering that the production will take some time from 2 weeks to a month.
Advice 5: How do you know what colors she likes
Learn what colors she likes you, asking her or her friends, but it might spoil the surprise. Therefore it is better to hide your question under the pretext of completing the questionnaire, or to trace the activity of girls in social networks and to draw attention to is noted for her images of flowers.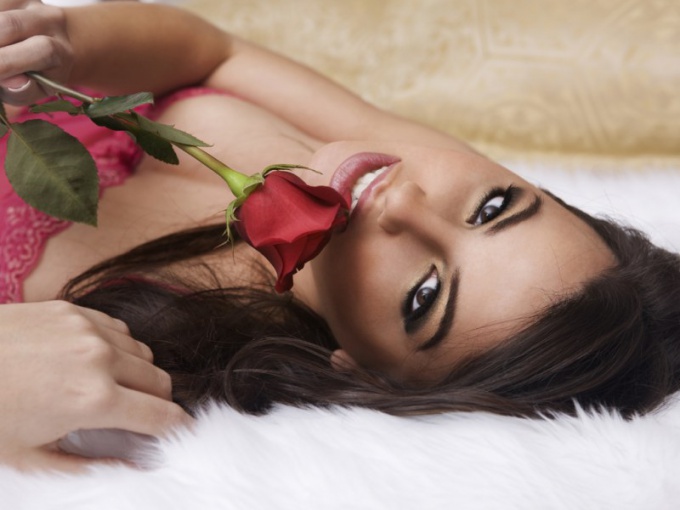 The easiest method to know what flowers prefer a girl to ask her directly. But it is not always appropriate, and I want to give her a bouquet of her favorite flowers unexpectedly as a pleasant surprise. So you'll have to take a number of risky methods to have guessed about the upcoming pleasant surprise.


Girlfriend – source of information


Girlfriend often aware of the taste of each other thoroughly, so if you have the opportunity to chat with friends girls for which you choose the bouquet, you should not miss this opportunity. In conversation it is better to go far away, asking, what colors she prefers, what he likes to eat for dinner, which happens often, and then ask the question about the preferences of her friend, dug into your soul.


Social network


Communicate with a girl in one of the popular social networks? Make for a makeshift form, which can be issued for the flash mob and ask her to answer a series of questions, including a paragraph about his favorite colors. And to the lady about anything not guessed after the answers to the questions throw her in the message the picture with her favorite flower and thank you for participating in the flashmob.


Be careful


If you are familiar already far more than a day, and her preference in colors you are still unknown, it's time to try on the role of Sherlock Holmes. View in the same social networks, which publishes pictures of the girl and where she leaves likes and whether she uploaded photos of the picture with the bouquet.

Sometimes, of course, that such speculation and logical chain do not understand to know the exact answer, and a list of favorite colors women dramatically stretched. In this case it is better not to opt for a single type of flowers, and to give a mixed bouquet, this will certainly help to please.


In extreme cases


It happens that all attempts to know the favorite flower fail. This means only one thing, you will have to start from the classics and give roses. Even if rose is not the most favorite flower girl, she is likely to say about it, taking the bouquet, and reveals the secret of its flavors. But before you order a lush bouquet of roses still find a way to make sure that girls are not allergic to the aroma of barbed Queen of the flower bed, after all happiness and joy from the gift, she may not experience.