You will need
lemon/lime;
fine iodized salt;
black pepper;
olive oil;
refined sunflower oil;
sesame oil;
butter;
Basil;
egg (protein);
mayonnaise/sour cream;
ceramic tableware;
2 metal bowls;
halo;
cold water;
plug;
tea spoon/diner;
wooden spoon.
Instruction
The first stage of cooking cleaning and the Ambassador
of caviar
. Caviar carp need to be cleaned from the films. This must be done carefully, so as not to crush the eggs. Then season with salt to taste and refrigerate 2.5-3 hours. Important that eggs are not very cold, so put it on the bottom shelf of the refrigerator.
After 2-3 hours, remove the eggs from the fridge and put it in a ceramic dish. Then pour 2 tablespoons of olive oil and stir with a wooden spoon. After you mix the ingredients into a homogeneous mass, add 1 teaspoon of sesame oil and whisk with a whisk. Beat the mass until then, until the two oils will not mix and won't mix with caviar.
If you don't want whipped caviar, you can try another delicious recipe. Ingredients take are the same as in the first embodiment. Also clean the eggs, add salt and leave in the refrigerator for 4 hours. Then add 3 teaspoons of sesame and 2 tsp of olive oil. Stir and leave in fridge for 30 min.
It remains only to shift the eggs to a beautiful dish and pour freshly squeezed lemon juice. You can use lime juice. Once everything is thoroughly mixed, refrigerate the caviar a lot on the ice, garnish with slices of lemon, chopped Basil leaves and pepper. In the end, you should have a pleasant taste caviar carp.
If you are not afraid to experiment, try to water your caviar with special sauce. To make it very easy, you just need to whisk 1 protein with 0.5 tsp salt, add 1 tbsp mayonnaise or sour cream. This sauce is perfectly emphasizes the taste quality of cooked caviar.
You can also use another recipe caviar carp. First, it needs to be cleaned and separating the films, put in a metal bowl. To spawn you need to add 100-150 g of butter and 100 g of sunflower refined oil, salt to taste. These proportions are given approximately a liter jar of caviar.
Further on a water bath on low heat, it is necessary to intensively stir the eggs with a fork, approximately 10-15 minutes of the Film are contracted and their very easy to pick up on the plug and separated from the calves. After the film was separated, caviar, carp will begin to take on an orange tint. Once all the eggs have changed color, remove the bowl from the water bath and continuing to stir, put in a bowl of larger diameter filled with cold water. If you overdo the eggs on fire, it turns white and is cooked — it will become hard and not tasty. After the eggs cool, put the bowl in the fridge. After the caviar mass is completely cool, it can be used instead of or together with butter for sandwiches.
Useful advice
To give the eggs a spicy taste you can use other herbs. If you don't like Basil, substitute it with thyme, mint or dill, but in any case not parsley.
Advice 2: How to cook eggs of carp
Carp caviar – a true delicacy which is almost impossible to spoil. Well cooked eggs will become the main decoration of the table on any occasion. Today there are a huge variety of recipes that you can surprise your friends and relatives.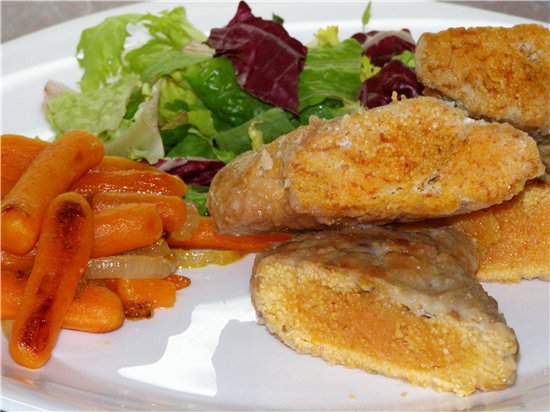 You will need
500 g calves;
1 liter of water;
50 g of salt;
1 tablespoon vegetable oil;
50 g green onions.
Pate caviar carp:
500 g of caviar carp;
2 eggs;
½ Lemon;
spices to taste;
0.5 kg of potatoes;
breadcrumbs;
fresh herbs;
50 g butter.
Pate "Ordinary":
300 g caviar carp;
100 ml vegetable oil;
50 g of lemon juice;
2 bulbs;
spices to taste.
Fried eggs carp:
500 g of caviar carp;
1 Cup flour;
100 g of vegetable fat;
spices to taste.
Instruction
Salted ROE of a carp. Caviar carp wash, dry, and free from film. Wipe it through a sieve or a meat grinder. Prepare the brine: in water dissolve the required amount of salt and bring to a boil. The brine cool and pour the eggs for 30-40 minutes. After that, the eggs, strain through cheesecloth and season with vegetable oil, garnished with chopped onions. Caviar, prepared thus, stored in the refrigerator for 2 days.
Pate caviar carp. Caviar carp wash, dry, peel from the film and mash with a fork. Add raw eggs, season and mix well, add lemon juice. Potatoes wash, peel and boil in salted water for 30-40 minutes. Mash it to a puree. In a greased pan put layers: bread crumbs, eggs carp, mashed potatoes and bits of butter. Bake the pate in the oven at medium heat for 20-30 minutes. The finished dish is put on a wide flat dish, garnish with fresh herbs.
Pate "Ordinary". Caviar carp wash, dry and peel off the film. Season with spices and put in a cooler for 3-4 hours. Then in a small enameled saucepan, place the eggs and whisk well with a mixer. Add the lemon juice and a little vegetable oil. Continue to whip to form a white foam. Onion peel and chop. 5 minutes until cooked add it to the eggs.
Fried eggs carp. Caviar carp wash, dry and peel off the film. Cut it into serving pieces and season with salt. Remove the eggs for 2-3 hours in a cooler, it should proselytise. In a pan melt the fat. Each piece of caviar, roll in flour and fry on slow fire from both sides in 10-15 minutes. Fried eggs can be served with mashed potatoes and sour cream sauce.
Advice 3: How to make mirror carp
All dishes are prepared with fresh mirror
carpand
tasty and delicious, but still delicious carp baked in the oven. It is less greasy than carp, fried in oil, and very flavorful thanks to the garlic and onions.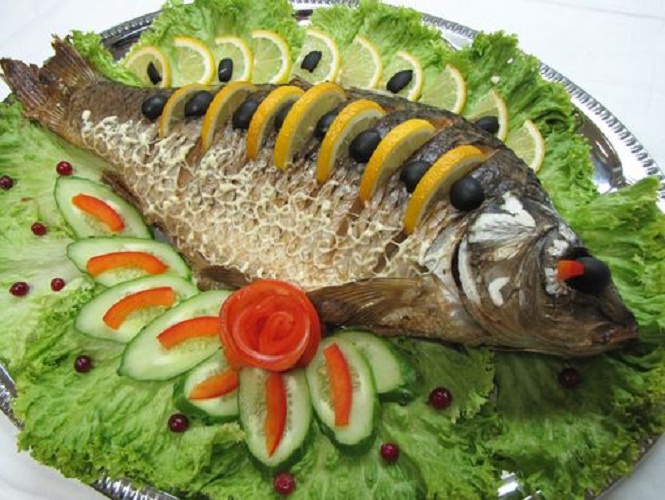 You will need
onions;
garlic;
black pepper;
cream margarine;
vegetable oil;
salt.
Instruction
Take fresh mirror carp weighing about 1.5-2 pounds. Clean it from scales, remove the gills and gut, rinse under cold water. Mix 1 tablespoon salt and 1/3 teaspoon of black pepper. The resulting mixture RUB the carp inside and out.
Clean 5-7 cloves of garlic. Make the tail and the back mirror
carp
nasechek some vertical depth of 1-1,5 cm, and paste the garlic. Peel a large onion and cut it into half rings. Pour 4-5 tablespoons into
the pan
, turn the fire and a little heat. Put the chopped onion and sauté it until soft. Abdomen mirror
carp
complete the fried onions.
Turn the oven and preheat it to 200 degrees. Melt 1/2 packs of butter of margarine in a baking dish and put in it carp. Every 5-10 minutes open the oven and pour baked fish margarine from the pan. If this is not done, mirror carp to turn out dry and not juicy. The willingness of the fish to check after 20-30 minutes, stabbing her in the thickest place with a toothpick. If the extracted juice is clear – the fish is ready, if not – you need to bake further. Serve baked carp from the best side dishes in the form of fresh or boiled vegetables, boiled potatoes or mashed potatoes. Cooking time 45-50 minutes.
Note
To bow not burnt, use a nonstick pan.
Useful advice
The freshness of the purchased fish can be easily identified by the color of its gills, if the gills are red the fish is not fresh. If it is pink the fish is fresh. It is best for baking to take a live carp.
Advice 4: How to cook salmon caviar
Sometimes purchased on the market or store neporochnoe pink salmon catches of salmon. Fry its not worth it, because when heated red caviar is white and becomes hard. The best salt it, nothing complex.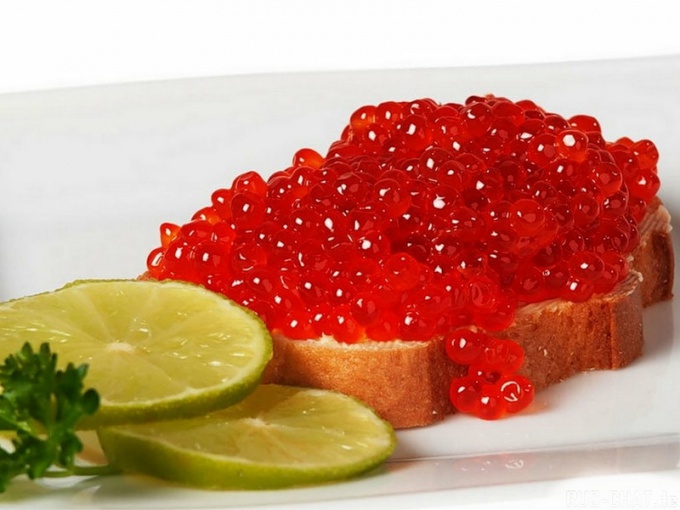 Instruction
The main rule is to free
the eggs
from the ovary, membranous bag, where she kept the fish. In industrial conditions, the fish factory,
the eggs
separated by rubbing it through a special coarse sieve. The house can be done easier. Roll bag made of several layers of gauze, put
the eggs
on the wrap and rinse with water. Rotate at this time
the eggs
around the bag. Thus, an unnecessary film will remain in the cheesecloth and the eggs will be crumbly, ready for salting. You can separate
the eggs
from the film, just put the ROE on a cutting Board and blunt knife to scrape the eggs. Some to get rid of the films, vigorously whisk
the eggs
a while a fork in the high container. You can hold the bag with the eggs in hot water and gently operativity it between his palms curled film will remain on the gauze. Sometimes salted
eggs
directly from the ovary, it is called astakhovy Ambassador.
After the ROE is prepared, prepare the brine. The so-called brine of a certain saturation for salting of caviar or fish. 1 kg calf will require 4 liters of solution. Pour into a saucepan 4 quarts of water and dissolve it in 1 kg of salt. Put on fire and boil about 6-8 minutes. All the salt has dissolved, the residue will be on the bottom. Cool the brine to room temperature and carefully pour it to the eggs, do not pour the sediment. Hold it in this solution for 7-10 minutes. If you plan to store it longer than two days - will survive a little longer, 20-25 minutes. Try the caviar, if it seems salted insufficiently, leave it in the solution for another couple of minutes. Then drain the contents of the pot into a fine colander or cheesecloth and allow to drip off brine.
You can add to ready eggs teaspoon of vegetable oil to the eggs do not stick together. Then put it in a jar and refrigerate for a few hours. The eggs are ready.
Useful advice
If you just poured fresh eggs with salt, then the salt will eat them and half of the eggs will burst.
Advice 5: How to cook perch eggs
Perch is a very common fish in most cases Ikryanoye. Caviar perch healthy and nutritious because it contains large amounts of protein, lipid, folic acid, potassium and phosphorus along with omega-3 fatty acids. From the eggs of the perch , you can cook very tasty dish – iranic.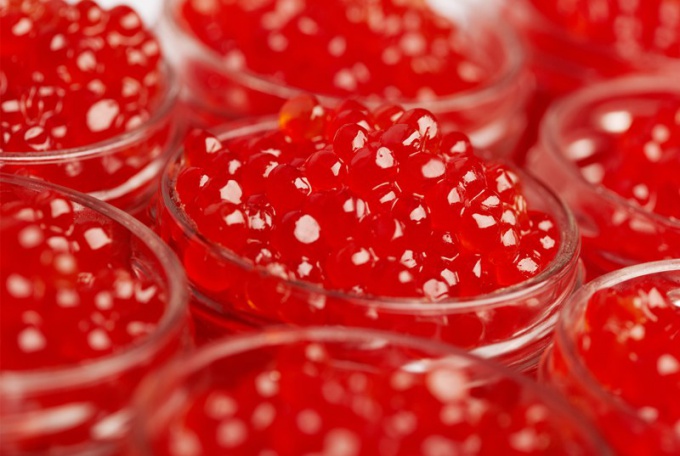 You will need
eggs – 2 PCs;
flour – 3 tbsp;
semolina – 3 tbsp;
salt
pepper to taste;
a little sunflower oil.
Instruction
Gently wash
the eggs
under a gentle stream of cold water below it has not collapsed. Clean
caviar
from the films. To do this, use a narrow and very sharp knife.
Place in a clean container and sprinkle a pinch of salt. Put long for salty caviar in the fridge for 1.5 hours.
Remove the eggs from the refrigerator and place it in the bowl of a blender. Within 30 seconds, beat blender, selecting the minimum speed.
Add in spawn eggs, salt and pepper. Again beat with a mixer the resulting mass.
Gradually pour the flour and semolina, carefully mixing the dough with a spoon. Blender you no longer need.
The consistency of the batter should be like regular pancakes, even a little more liquid.
Pour into the pan a little sunflower refined oil. A little rascality her.
Lay the dough on the pan with a spoon, bake like regular pancakes.
Ekrandaki fry the two sides until, until they become a delicious Golden color.
Ikryanoye put the finished pancakes on a beautiful dish and serve. As a complement to a dish you can prepare sour cream sauce. Note that ekrandaki very high in calories, and if you watch your figure, then you can spice up this dish with sour cream is not necessary.
Note
Very carefully and gently wash the eggs. Don't spend time on it. Because the eggs can be small particles of blood veins that needs to come off necessarily.
Useful advice
If you want to ikranite turned out not only delicious, but also very tender, then add to the dough a tablespoon of sauerkraut. Don't be surprised. Because the eggs in the frying time tends to become harder and harder. And here comes to the aid of sauerkraut, which Ikryanoye softens the dough and makes ekrandaki gentle. The taste of sauerkraut you feel, it combines very well with caviar perch.
Advice 6: How to separate pink salmon caviar from the film
Pink salmon caviar is found in the stores quite often. Eggs you want to pickle, however, there arises the problem of how to separate it from the films. Caviar of pink salmon is quite large, as all salmon. Therefore, the best method is the washing with water through a sieve.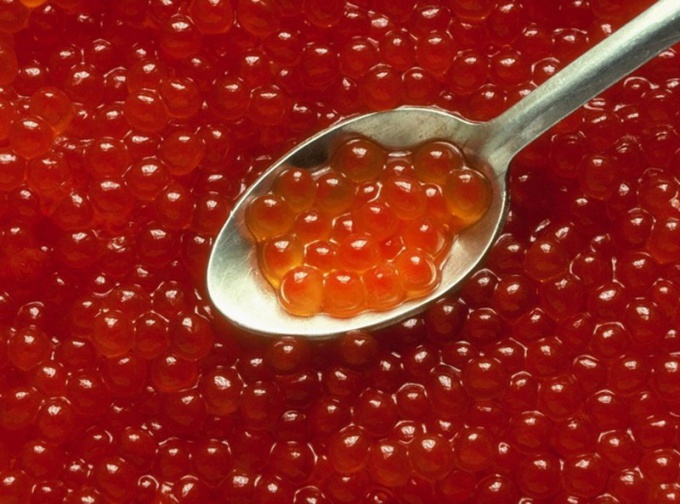 You will need
- 2 sieves;
- plug;
- 2 large bowls or pelvis;
- water.
Instruction
Take 2 sieves. One has to be with cells of such size that they freely pass the egg. The second - with smaller holes. Methods of processing of caviar of salmon fishes all about the same. A sieve with larger cells placed in the bottom of the basin or bowl. The dishes take a plastic or enameled. It is desirable to use an aluminum bowl. The plug is preferably made of stainless steel.
Remove the eggs. It can be in a plastic bag. If so, gently peel the film with a fork and vsporite bag. Try not to damage the eggs. Put the eggs in a sieve, distributing it more or less even layer.
Pour a layer of caviar clean, cold water. Sieve this should not be completely under water. The eggs may float freely, but don't fall into the pelvis through the top, otherwise the procedure will lose all meaning, because exactly the same on the walls will float and foreign particles. Carefully, trying not to crush the eggs, stir a few times the contents of the sieve. Large debris, blood clots and part of the films will separate themselves. Remove them with a fork. If the cells are large enough, the eggs will fall through them into the bowl, and all the junk will stay on the grid.
Take a more fine sieve. With it, strain the eggs in another bowl. Drain the water and replace with clean. Rinse the eggs directly in the pelvis, in the same way by removing the film and debris with a fork. Procedure is carried out until until the washing water does not become completely transparent, and among eggs not meet debris, membranes and clots. Remove dead eggs. You will see them immediately, they have a white or brown color. After you verify that no debris, and no films no more, and the water drains perfectly clean, put the eggs in a bowl for pickling.
Note
Repeated washing of the caviar before salting is a mandatory procedure. Along with films and other foreign objects in the calf can occur protecting - the larval stage of the tapeworm threat. In case of wrong cooking techniques she enters the human body.

Salted eggs must endure the quarantine period. It depends on the salt concentration.
Useful advice
Some recommend before washing rinse the eggs with boiling water. This method allows you to quickly separate the film, but caviar is actually welded and loses its properties. Dead white eggs becomes longer than during normal washing.
Advice 7: How to fry eggs carp
Thanks to a whole complex of vitamins and minerals contained in caviar of river fish, it is very useful. In addition, dishes of caviar are delicious and nutritious. It can pickle and can be baked in the oven or fry.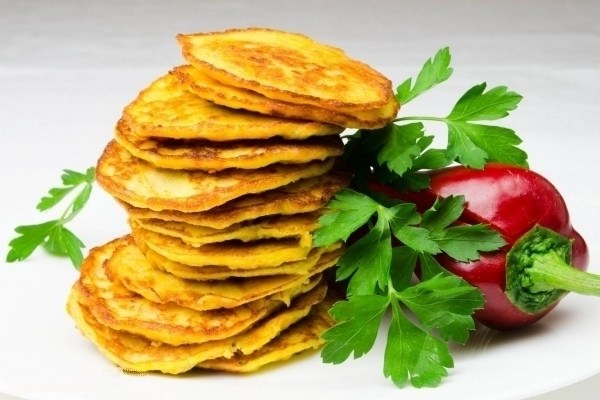 Fried caviar carp with vegetables


For the preparation of simple but delicious dishes from caviar carp will need:
- 300 g caviar carp;
- 1 onions;
- 1 carrot;
- 1-2 tbsp milk or cream;
- ground black pepper;
Sol;
- vegetable oil.

Clean the vegetables – onions and carrots. Finely chop onion and grate carrot on a coarse grater. Pour into the pan vegetable oil and fry in it the onion until transparent. Then add the carrots and, stirring constantly, fry the vegetables together for 5 minutes. Caviar carp wash and clean off the black film, which it can taste bitter. Then add salt, pepper and place in a pan with fried vegetables. Mix thoroughly, if necessary, add vegetable oil, and, stirring constantly, fry the eggs for 3 minutes. Then pour a tablespoon of milk or cream, again stir and fry the eggs for another 5 minutes. Then put the eggs carp with vegetables on a plate and serve.


How to make pancakes from the eggs


To make caviar carp good pancakes, you have to take the following components:
- 500 g of caviar carp;
- 2 eggs;
- 1 tbsp wheat flour;
- 3 tbsp semolina;
- ground black pepper;
Sol;
- vegetable oil.

First of all, thoroughly clean the eggs of the carp and remove the film. Then add a tablespoon of flour and 3 tablespoons of semolina, beat 2 eggs and stir it carefully until smooth. Add salt and pepper to taste. Pour into the pan vegetable oil and put on quiet fire. Once the oil is hot take a tablespoon of the prepared mixture and roll the pancakes in the pan. They are fried very quickly, literally for 2-3 minutes on each side. To the table ready pancakes serve with vegetable salads or mashed potatoes.


How to make caviar out of carp patties


To prepare tender cutlets of calf carp will need:
- 400 g of caviar carp;
- 1 onions;
- 3 tbsp semolina;
- 1 egg;
- 2 tbsp flour;
- pepper;
Sol;
- spices to taste;
- Bay leaf;
- vegetable oil.

Rinse the eggs and mash with a fork. Onions clean from the husk and finely chop or grate. Then mix it with the eggs and add the semolina, flour, salt, pepper, spices to taste and stir the beef patties. For consistency it should resemble thick cream. Preheat a frying pan vegetable oil and fry it cutlets and caviar. Then put them in a pan, add a little water and put Bay leaves. Cover pot, put on a quiet fire and cook burgers for 10 minutes.