Instruction
It is considered that with the costume combines clean classic shoes from black, brown or gray matte leather. The presence of shoes ornament jewelry with rhinestones or miscellaneous parts are considered invalid. The heel should be small or medium in size. Also not welcomed shoes with an open toe or heel.
Pick up shoes, guided by the color combination of shoes and clothes. The black business suit suit of the same color pumps, they will highlight your elegance. If you want to add femininity, wear Burgundy shoes. With a gray suit will combine well shoes several shades, not just black and brown. Please note on the classical model of a coffee cream color in combination with gray suit they would be appropriate in the office. They will refresh your look, especially in the spring and summer. To suit beige pick a comfortable brown suede pumps with either beige or black pumps with a low heel. Dark blue color suit would go perfectly with brown and black shades of the Shoe. If you picked out a costume mustard, maroon or red, then it is better to choose a classic shoes.
Also the choice of shoes affects the fabric from which tailored suit. The denser the material, the more strict must be the shoes. For example, tweed looks solid, therefore, require more massive models with a block heel. Silk jacket and trousers you can wear light summer shoes.
Useful advice
Grab a pants suit when I go to pick him shoes. So you will be able to determine not only the color and style of shoes, but the heel height to the pants being too short or long.
Advice 2: How to choose shoes to the pants
Stylish look — this color scheme and the overall style of the ensemble, and compatibility things. Pants are considered a convenient and practical clothing, has won a worthy place in womens wardrobe. Need to know the number of rules the right combination of pants and shoes.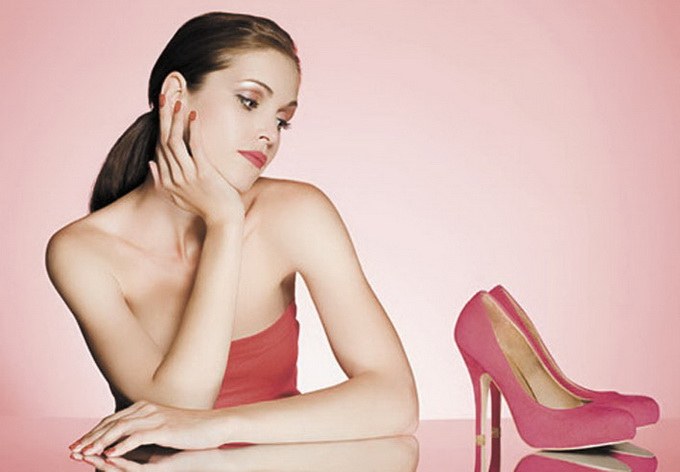 Instruction
Choosing shoes under pants, remember that you need to consider the features of your figure, the overall color scheme, clothing style, and most importantly — the style of pants and their compatibility with certain shoes.
Classic direct version of the trousers, perfectly combined with trousers, blouses and jackets, requires a high-heel or platform. The ideal option is a classic pumps heel. Depending on the solemnity of the situation can choose pumps or flat shoes, or elegant shoes. Remember that pants can not be combined with ballet flats, loafers and sports shoes. In cool weather stop your choice on the leather or suede shoes calm colors and with the minimum of decoration.
Lovers of bell-bottom trousers must clearly understand that wearing these pants only shoes with high heels, otherwise the flare will be reconstructed. Know that stylish and elegant flare looks at if from under the pants looks just a piece of footwear. Are appropriate clogs, wedge shoes.
With flared pants, sporty style is boldly wear sneakers. If you want to look taller and slimmer, give preference to shoes with heels or platform.
Skinny pants, a favorite of many girls and women due to its versatility and functionality, look great tucked into boots. Choose classic model of boots on a thin heel and a high riding flat shoes. In addition, the fit and ankle boots with heels or platform. Skinny look gracefully and with sandals and ballet flats, pumps and heels. A categorical "no" refers only to the combination with sneakers or any sports shoes.
Pants-pipes add a short jacket or a stylish jacket, a beautiful blouse, and the shoes select boots, sandals, high-heeled shoes.
Cropped trousers, allowing you to show a graceful ankle, look great worn with heeled mid-length and lace-up shoes with pointed toe. Summer is a good complement to the cropped pants will become the comfortable sandals. Not match each other heavy or bulky shoes and short pants. Remember that cropped pants should only be worn over shoes.
In the preparation of the image, consider the color scheme of your clothes and shoes. Black color pants goes well with black, beige, dark red color of your shoes. For grey pants pick beige, black, dark red shoes. Brown pants fit shoes brown, black and beige colors.