Instruction
The first thing you should pay attention when choosing crab sticks – their appearance and the data of the manufacturer. If the sticks look neat and smooth, and their packaging contains all the necessary information about the composition, date and conditions of storage, most likely before you a quality product that will not bring unpleasant surprises after thawing. Prefer crab sticks in the package. It protects them from external impacts, while maintaining product original taste and appearance.
Order crab sticks have not lost their richness, they need to defrost at room temperature. Remove them from the packaging and place on a plate. To release each stick from a plastic film is not necessary, it is better to remove after the product is completely thawed. This method of thawing is the most optimal to preserve all the useful and taste of crab sticks.
In cases where the sticks need to be defrosted quickly, you can use a microwave. To do this, loosen the crab sticks from all elements of the packaging and put them in a microwave safe container. Cover the dish with a lid and defrost in the oven using a "fish". During this procedure, a wand will lose some moisture, but their flavor is not affected.
If the microwave oven is not, and sticks need to be defrosted right now, you can use the following option. Hold the stack with crab sticks for a few seconds under running water. The water should not be too hot, otherwise the product will lose not only useful properties, but also the appearance.
To prepare rolls of crab sticks, you must first unfreeze them, and then hold it for a while (a minute) in a water bath or just for a couple. So crab sticks will reveal faster and better.
Advice 2: How to fry crab sticks
Due to the simplicity and speed of cooking fried crab sticks are one of the most popular dishes, which is suitable for both everyday and festive table. They turn out very tasty, tender and juicy.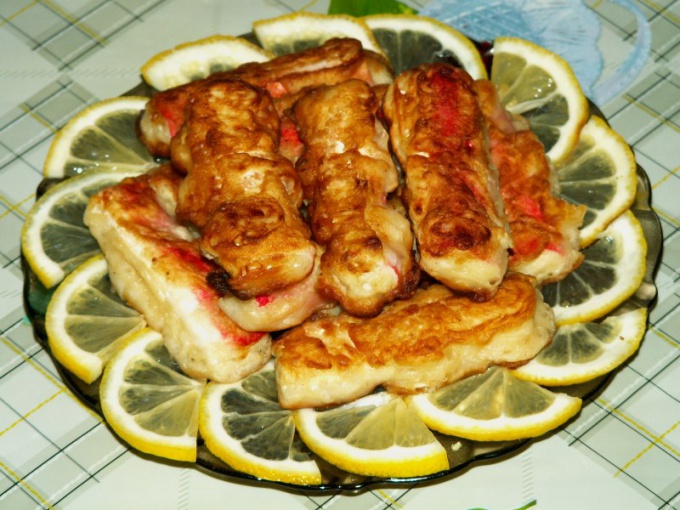 You will need
cottage cheese – 200 grams;
garlic – 4 cloves;
mayonnaise – 4 tablespoons;
beer – 200 ml;
water 150 ml;
eggs – 4 pieces;
flour – 200 grams;
salt – ½ teaspoon;
vegetable oil.
Instruction
Prepare the stuffing for crab sticks. Connect grated on a fine grater cheese and passed through chesnokodavilku garlic and mix thoroughly. To obtain a thick mass.
Crab sticks gently expand. In the middle of each put about 1 teaspoon of filling, flatten it out and roll the wand, giving it the original shape.
Prepare the beer batter. To do this, gently the egg whites separate from the yolks. Proteins put in the refrigerator. Yolks place in a bowl, add salt and a little mash. Pour the egg yolks water and cold beer, and lightly whisk the mass with a fork or whisk. Gradually add the sifted flour and knead the dough. The consistency should be the same as for pancakes. Chilled whites beat with a mixer into a thick foam, so that when you flip the bowl of beaten egg whites it is not poured. Add them to the batter and mix gently.
In a deep frying pan heat the vegetable oil. The amount of oil should be such that frying it completely covers a crab stick.
Stuffed crab sticks neatly to wear on a fork, dip in batter and fry in hot oil until Golden brown.
Useful advice
When buying crab sticks pay attention to their appearance. The surface should be evenly colored and feels elastic. The packaging should not be an icy crust. It indicates that the product has been re-freezing, and therefore, when cooking crab sticks will not be juicy enough. Also, try not to buy sticks in bulk, in this case, there is no guarantee that the product is fresh, as there is no information about its expiry date, manufacturer, and composition.
Advice 3: Can I eat crab sticks on a diet
During weight loss want to eat not only healthy, but tasty. Therefore, people struggling with excess weight, trying to think of different recipes that will help to diversify the daily menu. But not all low-calorie foods you can eat on the diet. For example, crab sticks one diet allowed and the other banned.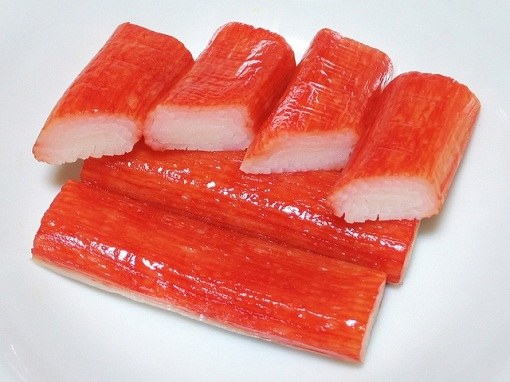 Crab sticks, what is it?


Unfortunately, the crab sticks in its composition do not have crabs. This product made of surimi - minced fish, and the cheapest. Marine life is thoroughly washed and treated, which turns the stuffing tasteless. To crab sticks have an attractive appearance and aroma? they add monosodium glutamate, and to extend shelf life and add more preservatives. Thanks to all of the additives, the meat acquires a pleasant taste, aroma and looks juicy, though superficially he doesn't look like crab meat. To illustrate on sticks applied bold stripes.

After all the manipulations get crab sticks or how to read the packaging, simulation. Of course, for a healthy diet this product is not well suited as nutritionists speak negatively about food production. According to them, all filled with additives and brewed and processed at the plant should be removed from the menu.


Crab sticks and diet


Calories in crab sticks a little. 100 grams of product 73 kcal. I ate crab sticks for weight loss? the answer is very difficult, it all depends on what diet is selected. For example, if the person takes off weight by counting calories, then a couple sticks for lunch to eat. The main thing is not to go beyond the norm of consumption of calories. Those people who follow a specific diet, then you need to look specifically permitted and prohibited products.

In any case, if during the diet people decided to eat crab sticks, before buying the product, it is recommended to study composition. In the first place in the list of ingredients needs to be surimi. If he stands on the second place, it is necessary to abandon such a product, minced meat in it at least.


Diet crab sticks


There is a diet for crab sticks. It is simple and not time consuming. In order to throw off the hated pounds? should be within 3-4 days to eat two products: crab sticks and yogurt. On the day allowed 200 grams of each product. All the food should be divided into 5 meals, the portions should be the same. Is recommended at regular intervals of time.
In such a diet the body gets only 300 kcal. A deficit in which a person begins to lose weight. During the diet need drink plenty of water and green tea. This will help to cleanse the body of toxins.