You will need
500 g beef fillet;
5 tablespoons breadcrumbs;
1 egg;
1 tsp ground cumin;
1 tsp ground coriander;
1 tsp dried oregano;
salt
pepper.
For meatballs with the addition of bacon:
300 g lean pork;
500 g beef;
100 g of fat;
4 tsp dry seasoning blend of coriander
oregano
cumin;
2 bulbs.
For meatballs
cooked in the oven:
400 g lean beef;
400 g of fat veal;
1 tsp salt;
0.5 tsp. ground black pepper.
Instruction
Lean chicken for
hamburger
Take a fresh beef fillet, wash, cut into pieces and grind in a meat grinder. Add in breadcrumbs, egg and mix, put the spices, salt and pepper, mix thoroughly again.
Moisten hands with cold water, divide the stuffing into equal parts balls, each ball to make round flat cakes with a thickness of two to two and a half centimeters. Heat the pan with a thick bottom and a little vegetable oil and fry the burgers on both sides for eight to ten minutes.
The hamburger Patty with the addition of bacon

Wash the meat, peel the onions, cut them into pieces, add chopped unsalted bacon, mince, minced salt and pepper, add the spices.
Form of minced flat cakes in the thickness half or two centimeters, the size of the bun, which will be invested Patty. Fry on high heat in a frying pan with a small amount of vegetable oil (no butter, just lay tortillas on a hot frying pan with a thick bottom, use a thick-walled pan with grid bottom topography) for two to three minutes on each side.
Burgers for the hamburger in the oven
Take a fresh beef sirloin and fatty beef, for example, intercostal meat, where meat and fat roughly in half. Chop, mince with a big grating, add minced salt and pepper, stir. Divide the stuffing into five
equal
parts, make round flat cutlets in the thickness half or two inches, put on parchment paper and refrigerate for two hours.
Preheat the oven to 250 ° C, put the chops on the grill, under the grate, place the pan, zastelil his paper (down fat). Put the grill pan in the oven for fifteen to twenty minutes.
Advice 2: How to cook burgers
The classic Burger is minced cutlet, put between two halves of buns. Invented the Burger was by the Americans in the early 19th century. The advantage of it is that the stuffing filler can be any based on taste preferences and availability of the products in the refrigerator. But to get started is to master the recipe for classic American Burger.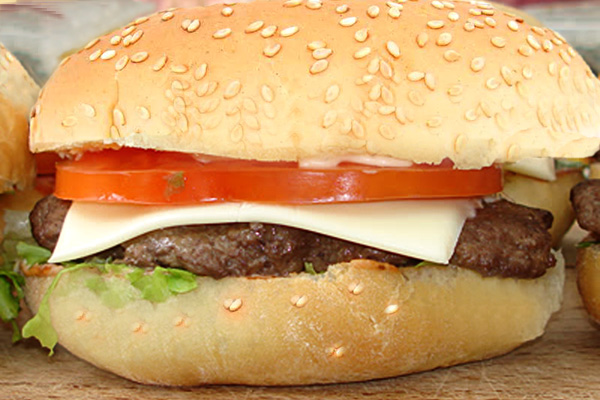 You will need
Buns for Burger - 6-8 pieces;

beef - 500 g;
onions - 2 PCs;
tomatoes - 2 PCs;
lettuce;
pickles;
mustard;
mayonnaise or Thousand island dressing".
Instruction
Burger buns are sold in the store. You'll need to cut it lengthwise, to make two semi-circular halves. Each half should be lightly stir-fried with flat sides. This can be done in a normal frying pan, adding a little oil. Do not fry the rolls for a long time, you need not wait for even Golden brown, the surface is only slightly set.
Very cake-Burger, prepare yourself. Make minced beef and onion, scroll them through a meat grinder, add salt and pepper to taste, beat in the minced egg, mix and form patties. They should be flat, not thicker than 1 cm, and the diameter slightly greater than the diameter of the rolls. In sale there are special forms-rings for the burgers, but maybe blind them and yourself.
Fry the meatballs on the pan, well, real American burgers for Burger fried on the grill. If you have the opportunity is great. If not, do not worry, your Burger will turn out not worse. Good heat the pan and put it on her hamburger. Fry it on one side, patiently waiting for the bottom part firmly "grabbed". Flip the cutlet should be the minimum amount of time, so, roasted it with one hand, flip to the other and wait for readiness.
Next, create your American Burger. On one of the halves of the buns, smeared with sharp mustard, place lettuce leaf, top with a ring of onion, slice of tomato and a slice of salted cucumber. You can just coat the lettuce with mayonnaise or
sauce
"Thousand Islands". Now turn the cutlets and second halves of buns. Burger is ready.