You will need
- yogurt;
- the egg;
- black bread;
- shower cap;
- dry herbs;
- mustard powder;
- vinegar.
Instruction
Gently reheat the finished kefir in a water bath or in a microwave oven. In no case do not boil it – the yoghurt will curdle. The fluid should be pleasantly warm. Wet hair and apply a yogurt from roots to ends.
Massage your scalp and put on a plastic shower cap. After 15-20 minutes, rinse locks thoroughly with running water. This procedure can be repeated one or two times a week. After washing, the hair becomes heavy, shiny and manageable.
To strengthen hair roots and to get rid of split ends, try to make a milk mask. Mix a glass of warm yogurt with a teaspoon of fresh yeast and spread the mixture on the head. Massage it into the hair roots, wrap them with a towel and wait at least 60 minutes. Rinse strands with warm water.
Treatment yogurt makes strands too heavy and "flat"? Improve the recipe. For example, add the yogurt and a raw egg. It will give your hair lightness and volume. A small amount of black bread, crumbled in yogurt, allow to rinse the hair up and provide them a fresh new look on how days.
Another problem kislomolochny baths for hair odor. Rinsing with normal water will not solve the problem. Try to add water to the mustard powder. Some people like rinsing with vinegar – moistened or Apple. Especially good floral infusions on the basis of vinegar. They are bred in equal parts of warm water, liberally applied to hair and don't wash off.
Great effect and medicinal herbs. Prepare an infusion of sage, nettle, chamomile or lime blossom. For a pleasant aroma you can add a little oregano, lemon balm or mint. Tablespoon of the mixture pour a glass of boiling water, insist half an hour under a lid, strain and
rinse with
a decoction of
hair
.
Advice 2: How to wash your hair black bread
In any supermarket or specialty store you can find some shelves, which displays rows of colorful bottles of shampoos, balms-conditioners and hair masks. You can choose whatever you want. Interestingly, and as our grandmothers easy and simple without all this fragrant and expensive "wealth", while having a luxurious head of hair? It's very simple. They used natural products. One of the great proven folk remedies for washing hair is black bread.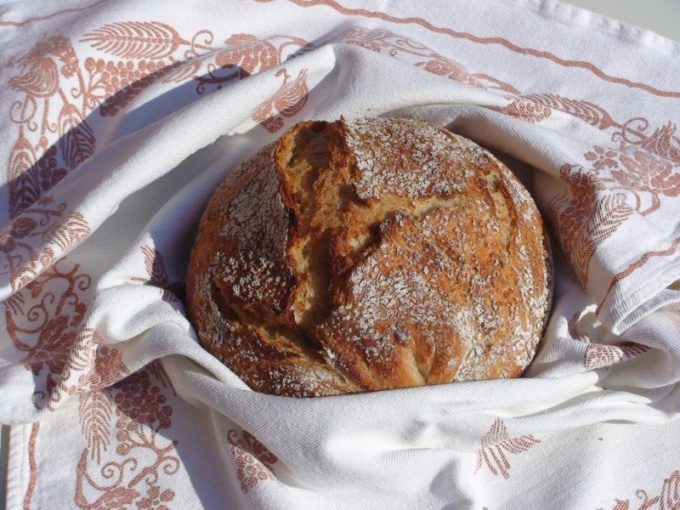 You will need
- rye black bread;
- dishes;
- water.
Instruction
Go to the store. You need to buy a loaf rye black bread. "Borodinskiy", "type" or any similar.
Cut off bread crust. Slice it into thin slices, or just break into small pieces. The amount of bread necessary for one throttling, depends on length of hair. If the haircut "a boy", then just one loaf, and if the hair is below the shoulders, you will have to use the whole loaf.
Slices or pieces of bread with the crust cut off (by the way, you can also use breadcrumbs) fold into a plastic, ceramic or glass bowl. Use of metal pans is undesirable.
Boil the kettle and let it cool for 5-10 minutes. Pour the bread is slightly cooled boiling water so that the water covered him completely. Cover the dishes with infused bread with a lid or cling film and set aside.
After 2-3 hours remove the lid or foil, mash the bread to a pulp and strain. Slush does not drain!
Bread paste (you can add a few drops of essential oils of patchouli, tea tree, rosemary or ylang ylang) wash the head and rinse it so that the hair left crumbs. After lubricate the head of the wrung. and leave on for 5 minutes. Again rinse thoroughly.
Rinse the head. It is best to rinse the hair decoction of nettles or water with lemon juice. Two litres of water squeeze juice of one lemon. This rinse will make hair Shine.
If you still have black bread, until the next wash store it in the refrigerator or dry bread to condition and store it in a fabric pouch.
Useful advice
If you have problems with hair and scalp (dandruff, hair loss) has proven to be a bread mask. 100-150 grams of rye bread, pour ½ Cup of boiling water and let stand 1 hour. After 60 minutes knead bread into pulp and apply this mixture on the head, and the top cover with plastic film or put on a shower cap.

After half an hour rinse with. Use shampoo or conditioner is not necessary. Just rinse thoroughly under running water.
Advice 3: How to cure hair after chemo
Kind gentle chemistry you wouldn't have done, your hair still felt a strong stress. Their molecular structure is completely changed, so they become dry, unpleasant to the touch, shove, lose their luster, bad to style and even fall out. Such hair needs extra care.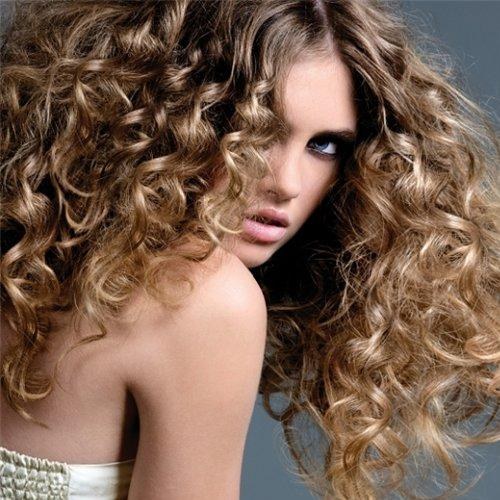 You will need
shampoo for damaged hair;
balm for damaged hair;
- 1 yolk;
- 2 tbsp of castor oil;
- 1 tbsp of burdock oil;
- 1 tbsp of cream;
- 1 tbsp of yeast;
- 1 tbsp of liquid soap;
- 1 tbsp aloe juice;
- 1 tbsp Apple cider vinegar;
- 1 tbsp of lemon juice;
1 Cup dark beer;
- 1 tbsp. l. roots of calamus;
- 1 tbsp. l. roots of burdock;
- 1 tbsp. l. hop cones
- decoction of leaves of nettle;
- decoction of hop cones;
- decoction of marigold flowers;
- a decoction of chamomile flowers;
- yogurt;
- yogurt
Instruction
To restore hair after a Perm in the first place pay attention to shampooing and styling. Wash and rinse the head of the recommended special shampoos and conditioners for damaged hair. Lay and blow dry the curls without using a hot dryer. This is an extremely aggressive method of treatment for lifeless hair. After shampooing do not squeeze the hair. Just hold them in a towel.
To moisturize, strengthen curls. making them silky and Shine be sure to use revitalizing mask. It can be as professional cosmetic products that contain panthenol, keratin, collagen, masks homemade. Such procedures need 2-3 times a week.
One of the universal masks for hair is considered to be a mixture of 1 egg yolk, 2 tbsp castor oil, 1 tbsp. of cream and yeast. The components are mixed gently reheat in a water bath and carefully massage into the hair roots. Half an hour later, remove the medium by shampoo. Rinse hair decoction of nettle leaves, hop cones, flowers of calendula, or chamomile.
Beneficial effect on damaged hair, the following mask. Take 1 tbsp. l. burdock oil, liquid soap and aloe juice. Warm mixture massage into the scalp, and after 30 minutes rinse with shampoo. As a conditioner use Apple cider vinegar: dilute 1 tbsp of vinegar in a liter of cool water. An alternative is the use of lemon juice. The solution is prepared in a similar manner.
In the treatment of hair permed widely distributed beer masks with herbs. They prevent hair loss and restore well hair follicles. For mixing you'll need a glass of hot dark beer, 1 tablespoon of the roots of calamus, the roots of burdock, hop cones. Insist for days, and then RUB into the hair roots a few times a week for 3 months.
For quick recovery of damaged hair, it is useful to rinse it with yogurt, buttermilk, yogurt or beer.
Advice 4: What if the hair quickly become greasy
Oily hair give people a very messy species. To look decent, the possessor of hair, prone to rapid contamination, you have to wash my hair almost daily. Agree, it is very tiring.

The cause of this common problem is excessive activity of the sebaceous glands. Sebaceous glands located in hair roots produce a substance called sebum. Sebum plays an important protective role, and in normal amounts is necessary for scalp and hair.

It is obvious that in order to get rid of greasy hair, you need to reduce the activity of sebaceous glands. There are simple methods and guidelines by which you can reduce the oiliness of hair in the home.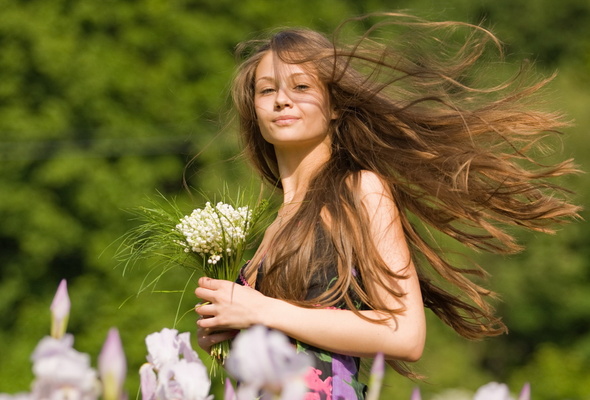 Instruction
The first thing you need to change the diet, reduce the amount of foods high in fat. Between nutrition and hair condition is a direct one. The transition to food with a predominance of low-fat products, without a doubt, will contribute to the decrease in the function of sebum.

There are shampoos for greasy hair specially designed to reduce the production of sebum. Constant use of these shampoos will play a role in solving the problem.
Use shampoos for dry hair is not recommended. As this will exacerbate the problem.
Also get involved in industrial balms-conditioners. Industrial conditioners are mostly made based on silicone. The frequent use of such conditioners, the hair becomes heavy and more greasy.
To wash the head need not hot water, as is customary, and slightly warm. Hot water provokes an increase in greasiness. It should also be possible to avoid drying hair dryer, especially hot air.

Do not use massage brush for hair, only combs. Massage brush distributes the fat throughout the length of the hair, hair get greasy.

Do not use such masks are widely recommended to combat the fat hair mask with egg yolk, yogurt, rye bread. A similar mask is not only effective, but also can lead to the deterioration of the situation.

Dry mustard powder has the property to dry hair. It makes sense to do a mask based on mustard once a week.
A clay mask will be very beneficial for the hair and prone to rapid contamination.
Clay mask will fit any. Need to breed you need for your volume of hair amount of clay with water to the state of sour cream. Evenly apply a clay mask on your hair. Cover the head with polyethylene, then with a towel. Keep the mask for 30 minutes, then rinse thoroughly with shampoo. A clay mask is recommended to do 1 time a week.
Homemade rinses after washing:
The first option is more suitable for light hair - chamomile tea with lemon juice. Two tablespoons of chamomile flowers pour a liter of boiling water. The cooled infusion is added 2 tablespoons of lemon juice.

The second option is the infusion of mint with Apple cider vinegar. One liter of water taken 3 tbsp. mint. Mint leaves pour one liter of boiling water When the broth has cooled, add two tablespoons of Apple cider vinegar.

Advice 5: How to lighten hair on the legs
Unnecessary hair on the legs, creating a lot of problems for women who strive to ensure that their legs look beautiful and well groomed. Hair removal through depilation or shave often leads to skin irritation and requires persistence – the vegetation getting more dense and hard. But there are quite effective ways of dealing with unwanted hair – their clarification.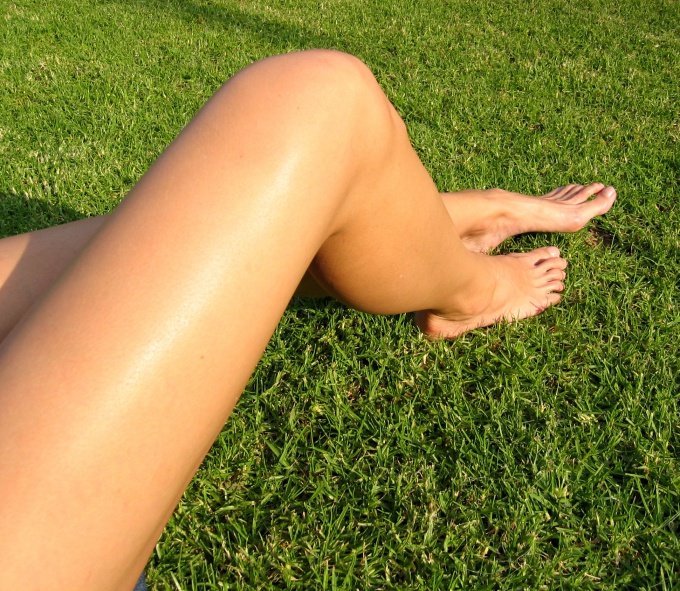 Instruction
Lightening hair with peroxide. Put one tablet peroxide in a glass container and macerate it and add a tablespoon of water and a small piece of soap. Then pour a mixture of a tablespoon of ammonia and mix thoroughly until the foam. This solution apply on hair and leave on for fifteen to twenty minutes. After clarification will soften the skin a moisturizing or emollient cream. Remember that this method is not safe, so you should use it with caution.
The bleaching is possible using a conventional hair dye. The principle use here is the same as when painting hair. But be careful when choosing the tone and color of the dye. After the procedure, the hair can acquire an undesirable color. To avoid it, and you can keep the mixture on the hair a bit less time than on the head. Don't forget to test the skin tolerance of the colorant. To do this, apply a small amount to the skin and to evaluate the result.
Lighten hair by using cosmetics. This procedure is usually carried out in special shops. In this case the skin does not suffer, but it will cost a pretty penny. There are also a lot of special gels, creams that lighten the hair on the legs. They can be purchased in the store, but first consult a dermatologist.
There is a natural way to bleach hair on legscan be done in a broth of lemon, chamomile, calendula, honey, vinegar and alcohol. And every day lubricate this part of the hair. Try also to mix twenty grams of cognac with egg and spoon of yogurt. Apply this solution on hair legs. The use of folk recipes do not hurt the skin, but the result may not be a hundred percent.