You will need
- white spirit
- alcohol
- water
- sponge
brush.
Instruction
In order to clean the corrector, you need to find out its composition. There are different types of correctors, which are characterized by their basis. You can find it by reading the composition, which must be specified on the bottle. You can just smell the bottle – it also helps you are unlikely to confuse the smell of acetone or alcohol. Corrector on the basis of water removed by water, alcohol – clean with alcohol (vodka, Cologne), if the basis of the acetone – try a liquid varnish remover, white spirit, acetone.
Before trying to wash a concealer with potent tools, the better to make a kind of training. Apply the concealer on unnecessary thing and try to clean it up. Only after you figure out what tools fits best – proceed to the removal of the corrector with the thing on which he accidentally hit. And even in this case it is better to drip a drop on a clean area and things to see – because potent drugs can damage the color of things, to spoil, for example, synthetic fabric, plastic.
Try to use to remove the corrector special liquid for diluting corrective means that are sold in stationery shops. If the basis is the same as the one produced by the corrector, spots will turn to scrub.
If chemicals are not helped to clean the corrector, is to use a mechanical – some markers will not dissolve in alcohol and solvent, but well rubbed with a brush or scraper. It's a laborious task to clean would be long, but the other way just yet. Gently cleans corrector particles embedded in the surface of things, trying not to damage the thing itself. Suitable sponges, brushes, scrapers, depending on what surface you want to remove a corrective tool.
Advice 2 : How to clean touch-concealer
Touch-concealer is a liquid or dry correction fluid designed to correct errors in any written work. There are bar staples, water, alcohol, emulsion based, as well as in the form of tapes of rollers with a dry concealer and solvent-based. If correction fluid gets on your clothing, the removal of pollution depends on its foundations.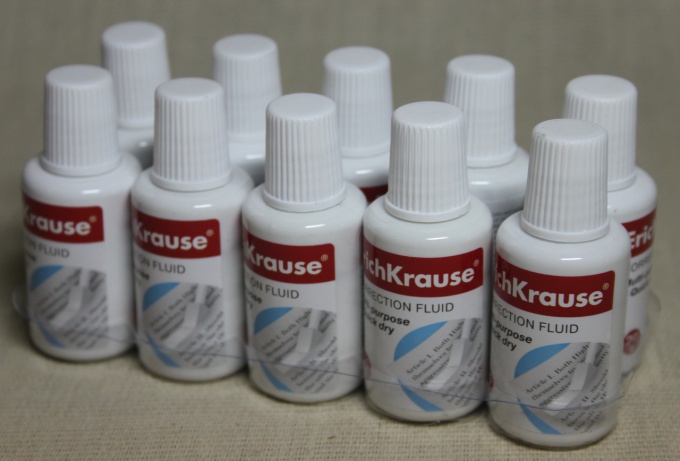 You will need
- alcohol-containing liquid;
- a cotton ball;
- soap solution;
- washing powder;
- acetone;
- gasoline;
- white spirit;
- kerosene;
- solvent;
- liquid varnish remover.
Instruction
If you have soiled clothes bar corrector water based, it washed off it will not be easy. Samite concealer under running water with soap, wash the product in the usual way, suitable for this type of tissues.
To wash things, soiled bar concealer alcohol-based, perform a preliminary removal of stains with alcohol, vodka, Cologne or a tonic alcohol-based. To do this, moisten a cotton pad in alcohol-containing liquid, wipe the place of contamination, wash a thing in the usual way.
Emulsion-based touch-corrector is a mixture of alcohol and water. To remove dirt, use alcohol-containing liquid. Put on the spot alcohol, Cologne, vodka or other products containing alcohol with a cotton pad, wash the product in the usual way.
The most difficult to remove concealer solvent-based. To remove it you will have to use aggressive means which are not suitable for all fabrics. Use thinner, acetone, white spirit, gasoline, kerosene or liquid varnish remover. Apply any of these funds on a cotton pad, wipe the stain, leave for 20 minutes, soak a new disc by any means, again, wipe the contaminated area, wash the product.
If you got a proofreader solvent-based silk, wool, acetate, velvet things, then give them to the dry cleaners or put in place pollution the application, as these tissues cannot use aggressive substances or instead of pollution you will get a burnt spot.
To remove the bar of the corrector with tape roller, soak the fabric in warm water with soapy solution for 30-40 minutes, press, remove the correction tape, wash a thing in the usual way, suitable for this type of tissues.
Advice 3 : How to withdraw spots from the bar
Barcode-corrector is designed to correct errors in any documents and written works. Can be water, alcohol or an emulsion composition, and is also sold in the form of strips solvent-based and corrects necessary records in the dry way. Spot from any touch-corrector it is impossible to derive the usual Laundry, so at first they should be treated.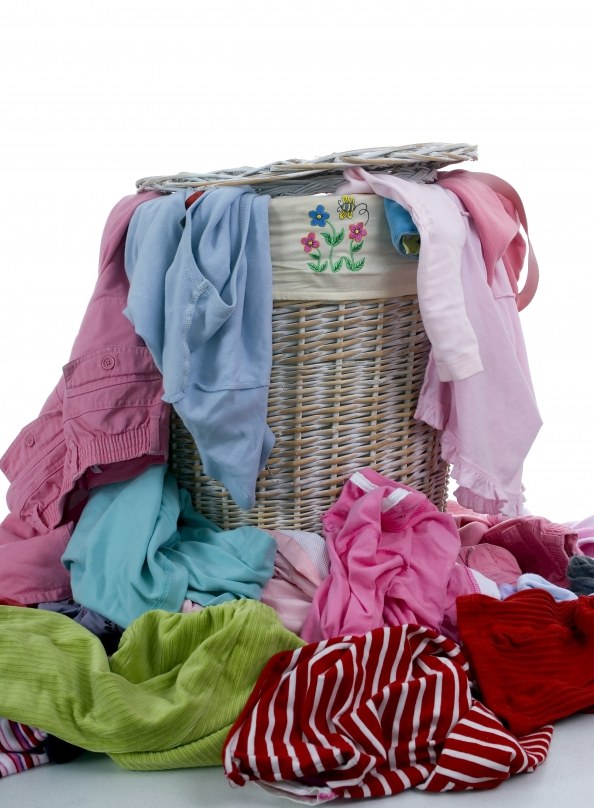 You will need
- a tool to remove the bar of the corrector;
- stain remover, designed to remove greasy spots;
- a means for washing dishes;
- gasoline;
- kerosene;
- white spirit;
the solvent 646;
- acetone;
- washing powder;
- Laundry soap;
soap "Antipyatin";
- alcohol-containing liquid;
- sponge;
- a cotton pad.
Instruction
Delete all your SMS corrector fabric with a special solvent designed to remove stains from the corrector. You can buy in any Department stationery. The most efficient way to acquire it together with the corrective composition, as even with the most careful work there is always a chance to get dirty.
If you have not bought the special tool, then remove the contamination from touch , water-based, using soap under the trade name "Antipyatin" or regular soap. To do this, moisten the place dirt, lather of specified funds, leave on for 30 minutes, wash the product in the usual way.
To delete a barcode based on the emulsion, use the tools, capable to grease stains. Use a stain remover intended for removing stains, dishwashing detergent, gasoline is a highly refined, mineral spirits, acetone, kerosene, solvent 646. To use stain remover to remove oily stains apply it on pollution, leave it for the time specified in the instructions, wash the product. To remove the stain by any diluents, wipe the stain with one of the solvents, leave on for 15 minutes, wash product.
Alcohol bar corrector remove any liquids on the basis of alcohol. This will suit medical, industrial alcohol, vodka, Cologne, toner or, in extreme cases, the toilet water. To use soak the contaminated area, wipe with a sponge, wash the product.
To remove dry bar corrector dissolve in warm water a handful of washing powder, soak the thing in 1 hour, wring, remove the tape and wash the fabric in the usual way which you always use for this type of tissues.
If you spill corrector on the basis of solvent to remove it in the same method as the corrector based on the emulsion, that is, the use of any solvents, but do not forget that any type of solvents can not be used on silk, velvet, acetate and other materials that can be dissolved together with a stain or fade. Therefore, before using any tools make sure in an inconspicuous area that you do not damage the fabric.