You will need
500 g fillet of pike;
100 lard;
1 onion;
1 egg;
black pepper;
salt.
Recipe No. 2:
500 g of fish fillet;
4 slices loaf;
0,5 glass of milk;
3 tablespoons breadcrumbs;
2 tablespoons butter;
2 tablespoons vegetable oil;
black pepper;
salt.
Recipe No. 3:
1 kg of fish;
1 kg of potatoes;
2 eggs;
3 onions;
salt;
ground black pepper.
Instruction
Recipe No. 1
Take 500 g of fish fillet. Rinse it under cold running water. If the fillets with skin, separate it from the pulp.
Mince fish fillet, onion and 100 g of pork fat without a skin.
Mix well minced. Add 1 egg. Season the ceviche with salt and ground black pepper to taste and mix it again. Ceviche is ready.
Recipe No. 2
Mince 500 g of fish fillet.
Cut off crusts from 4 slices of loaf. Soak it in 0.5 cups of milk.
Press loaf, mix it with fish forcemeat, salt and pepper to taste. Miss a fish and a loaf through the meat grinder 2 more times.
Add in minced fish 2 tablespoons softened butter. Mix everything carefully.
Salmon from minced meat cutlets, roll them in breadcrumbs and fry on both sides in vegetable oil until Golden brown.
Recipe No. 3
Delicious meatballs obtained from potato and minced fish. To make it clear from the scales and entrails of 1 kg fish. Remove the head and tail. Rinse the fish under running water.
Put the fish in the pan, completely fill it with water.
Cover pot, put it on the fire, Boil the fish until done, cool slightly her.
Peel 1 kg of potatoes, rinse and boil until tender.
Mince cooked fish, separated from the bones, warm boiled potatoes and peeled onions.
Salt and pepper potato fish meat to taste, add the 2 eggs and all mix well.
Salmon of the resulting minced meatballs and fry them in vegetable oil.
Dishes from minced fish, serve hot. Garnish them well suited mashed potatoes.
Bon appetit!
Advice 2: How to prepare fish burgers from catfish
Com - delicious and very healthy fish. Very few bones, scales absent. It's not fish, but the dream mistress. Besides the nutrients contained in the som, make it indispensable in the diet and those who aspire to a healthy lifestyle. And fish burgers from catfish, prepared according to this recipe and jump in the mouth. Before you know it, the plate was already empty. So delicious.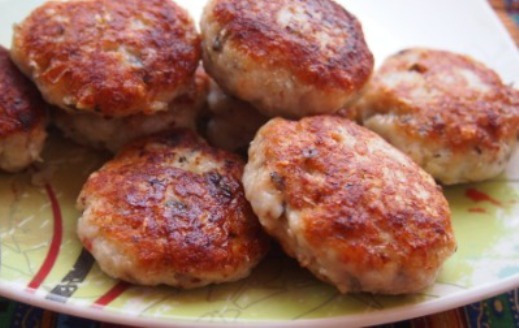 You will need
som 2-3 kg
- 500 gram loaf
- 2 large onions
- salt, black pepper to taste
- 1-2 eggs
- olive oil
Instruction
To cook the patties from catfish, cooking the fish in the following manner. Catfish carcass to gut, trim the fins and tail. To release from the bones with a sharp knife. To cut it into fillets. Cut into small pieces. Grind through a fine grate grinder. Mix well.
To fish burgers from catfish was tasty and juicy, you need to add onions. Clean it from the husk. Wash in cold water. Cut into small pieces. Mince. Add to fish forcemeat. Mix thoroughly.
Baton cut, put in a deep Cup and pour into it cold water. In five minutes the bread, squeeze and mince. Twisted loaf to put in the minced fish and mix well. Twist it together with the bread in a meat grinder. Add salt, pepper, egg and stir again thoroughly. To fish burgers from catfish was tender, you must add two tablespoons of olive oil.
Make small patties and fry them on both sides in olive oil in heated pan. Put them in a saucepan with a thick bottom. Add a little water and allow to writing a rolling boil on a slow fire for about ten minutes. Fish burgers from catfish is ready, lay out on a plate and invite everyone to the table.