Ingredients for the dough:
Flour - 1 glass;
Chicken egg - 1 piece;
Butter - 150 g;
Hard cheese - 150 g;
Salt.
Ingredients for the filling:
Chicken fillet - 300 g;
Fresh mushrooms - 400 g;
Fatty cream - 160 ml;
Sour cream - 160 g;
Hard cheese - 200 g;
Onion - 1 piece;
Flour - 30 g;
Parsley, dill, green onion (to taste);
Salt
Ground black pepper (to taste).
Preparation:
Flour hands to grind with melted butter. There also add eggs. Grated cheese and mix with flour. Salt.
The dough loves hands, and therefore he should as much as possible to mix. It has to be easy manageable. After kneading, leave for 25-30 minutes in the refrigerator
The onion finely crumble and fry gently in butter until obtaining the characteristic Golden tone.
Mushrooms cut into small strips, also fried in butter. You can fry together with the onions.
Chicken pre-boil and allow to cool. Meat and chop into strips, fry with mushrooms and onions.
The meat pour cream or milk. Salt stirring regularly.
In conclusion, pour in the filling and sauteed the flour and again stir until then, until the mixture zapustitsya.
The form of pre-greased with butter or sunflower oil. Then on the sheet lay the rolled out dough. Leave it in a pre-heated to 200 degrees oven for 25-30 minutes. It has a slightly baked.
A bit baked on the bottom of the pie to shoot the finished dressing. In conclusion abundantly across the width of the grated yellow cheese. Again send in the closet for 35 minutes. Insanely delicious cake is ready.
Advice 2: How to cook meat with mushrooms
A dish
prepared with
meat and mushrooms, very nutritious and insanely delicious. It perfectly quenches even the most ravenous hunger. Meat with mushrooms will enhance any holiday table or add a sophisticated touch to the usual dinner.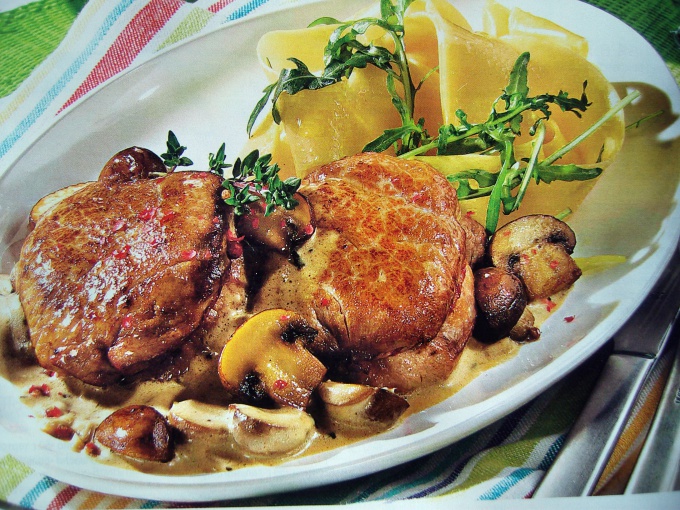 You will need
vegetable oil;
onions;
tomatoes;
salt;
pepper;
bell pepper;
carrots;
add chopped greens;
mushrooms;
cheese.
Instruction
Eight hundred grams of fresh pork or beef meat cut into small pieces. In a deep frying pan or saucepan, fry the meat (in a small amount of sunflower or olive oil). When the pieces of meat will become tasty crispy and Golden, add to the pan sliced thin half-rings onions. Add salt, pepper and spice with fragrant spices (to taste). Mix well and fry for another three to five minutes on medium heat.
While onions and meat are cooked, prepare the other ingredients. Sweet bell pepper cut into thin strips, finely chop the mushrooms and on a coarse grater grate the carrots. Then pepper, mushrooms, carrots and a couple of tablespoons of tomato paste put in the skillet and, stirring constantly, cook for five minutes. Then add three hundred milliliters of boiled water and simmer for thirty, forty minutes. Stir periodically and, if necessary, add water. Once the dish is ready sprinkle it with chopped herbs.
Eight hundred grams pork fillet cut into small plates. One onion cut into half rings. Well actually the meat on both sides and slightly sauté it in a pan with onions. After pork is browned, place it on a baking sheet. The fat melted in frying, also drain into the pan. Add salt, pepper and season with your favorite spices (to taste).
Sort, wash and boil
mushrooms in
salted water for ten minutes. Drain the water and finely chop mushrooms. Then on top of the meat spoon the mushrooms and onions. Then put tomatoes, cut into slices on top and sprinkle everything with grated cheese. Bake for thirty to forty minutes in the oven at a temperature of two hundred degrees.