Ingredients:
2 duck Breasts, weighing 0.5 kg;
150 g of ripe cherries;
sauce-teriyaki marinade;
4 tbsp soy sauce;
1 tbsp starch;
sunflower oil
a few sprigs of dill or parsley.
Preparation:
Duck Breasts wash, spread on a Board and cut into medium-sized slices of preferred thickness of 0.5-1 cm sliced meat rinsed again, then put in a bowl, drain all the excess liquid, pour sauce marinade Teriyaki, stir until smooth and leave to marinate at room temperature for approximately a quarter of an hour.
After this time the meat is to pour the starch. All good stir so that the starch is distributed evenly on all the slices of meat, and set aside for 5 minutes per side.
In a frying pan to pour sunflower oil and heat it.
Marinated breast of put in the hot oil and fry, stirring, for 5-7 minutes until browned.
Take ripe cherries and wash them thoroughly. Each cherry is divided into two halves, remove the bones and add to the pan with the meat.
The contents of the pan gently stir, season with soy sauce and fry again for 5-7 minutes. During this time the meat acquires the peculiar taste and dark caramel color.
Roasted duck breast with cherry cool slightly, pour into a bowl, garnish with fresh cherries and sprigs of greenery, serve with your favourite side dish.
Note that this dish is also perfectly suited salad or sliced fresh vegetables.
Advice 2: Recipes roasted duck legs
There are many various recipes for cooking duck legs. However, the most popular among them were and are those embodiments in which legs are just fried. This is the fastest and easiest way to make a tasty dish at home. But if this dish is to add one of my favorite sauces – evident, it's just exquisite.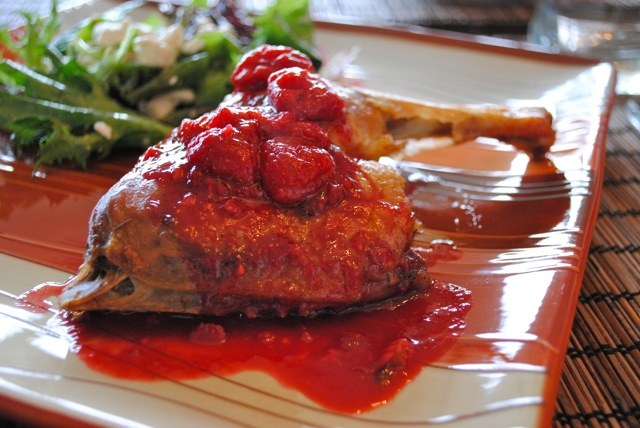 Fried duck leg with oranges and apples


Through the use of oranges and apples duck legs out very tender, soft and juicy. For this dish you will need:

- duck – 0.5 kg;
- onions – 1 piece (large);
- apples – 3 PCs;
- orange – 1 piece;
Sol;
- vegetable oil.

Pre-cut orange slices and onion half-rings. Peel the apples peeled and core and cut into rings (if desired, you can chop them up to small pieces). Preheat a deep pan, adding vegetable oil, fry on both sides of the legs until, until Golden brown. Then add the onion.

Salted, leave to protushitsya under cover no more than 10 minutes. Put on top of apples and cook with the lid closed for another 15-17 minutes. Then add sliced orange and leave the dish to stew under the lid for 10 minutes. Legs ready. Turn them off and allow to cool slightly.

As with any meat dishes, duck legs perfectly with mashed potatoes. They can also serve with a side dish of rice. When submitting, be sure to spread the stewed fruit over the meat. If desired, you can decorate the dish with a small sprig of Basil or cranberry.


Duck legs with raspberry sauce


For this dish you will need:

- duck legs – 2 PCs;
Sol – 1 tsp.;
- dried thyme – 1/2 tsp.;
ground pepper -1/2 tsp.

To prepare the raspberry sauce you will need:

- duck fat – 2 tbsp. spoon;
- garlic – 1 clove;
- raspberries – 1 Cup;
- dry red wine – 2 tbsp. spoon;
- red wine vinegar – 2 teaspoons;
- orange peel – 2 tsp.;
- sugar – 4 tsp.;
- juice of one orange;
Sol;
- ground pepper.

The duck fat you can get in the process of cooking duck legs.

To start, cut the duck legs of any excess fat, then with a sharp knife make a shallow longitudinal incisions. RUB the legs with salt, thyme and pepper. Then put them in a non-metallic container, cover with a towel and leave for 1.5-2 hours at room temperature, or store overnight in the refrigerator. This will allow the meat should be promarinovatsya.

Before you fry chicken legs, lightly rinse them with water after which Pat dry. Legs fry on preheated griddle until Golden brown.

While preparing meat, there is time to make the sauce. With the help of a blender, combine 2/3 Cup raspberries, sugar, orange juice, zest, wine and vinegar. You should get a mushy mass. Take a small pot or bucket, filling it with duck fat, lightly fry the finely chopped garlic. Add the pre-cooked crimson mass and stirring constantly, boil for about 3 minutes until thick.

After add the remaining raspberries and simmer for another 1 minute. Add salt, pepper and remove from heat, allowing to cool slightly. Ready duck pour the sauce on top and serve hot with rice or potato side dish.