You will need
- shells from the eggs – 10 PCs.;
- chicken broth or beef – 0.4 l;
- gelatin — 20 g (1 sachet);
- sweet Bulgarian pepper - 1 PC.;
- canned corn – 250 g;
- ham or chicken – 250 g;
- eggs – 3 PCs.;
- parsley leaves – 1 bunch.
Instruction
Fresh eggs and wash thoroughly, preferably with soap and water, rinse and dry. Gently with a blunt hand make each small hole about 1-2 cm in diameter. The contents of the eggs pour into a container with a lid. Part use this recipe, and the rest in other dishes. The shell thoroughly dry inside. It will serve as a mold for the filler.

Take the gelatin and let soak for 10 minutes in a small amount of warm water. Then strongly heat on a slow fire until dissolved, but do not boil. Then mix it with the broth and strain.

Sweet pepper wash, remove seeds, cut into beautiful small cubes. Also shred the ham. Three eggs without shells, cook in a water bath boiled, finely chop. A jar of corn, open and drain all the water. The ingredients help in different capacities, without mixing.
Within each shell, drop a few (2-3) sprig of parsley, then put all ingredients by layers: pepper, eggs, ham, corn. Pour broth and refrigerate until fully cured. When jellied eggs fully cure, gently clean them from the shell.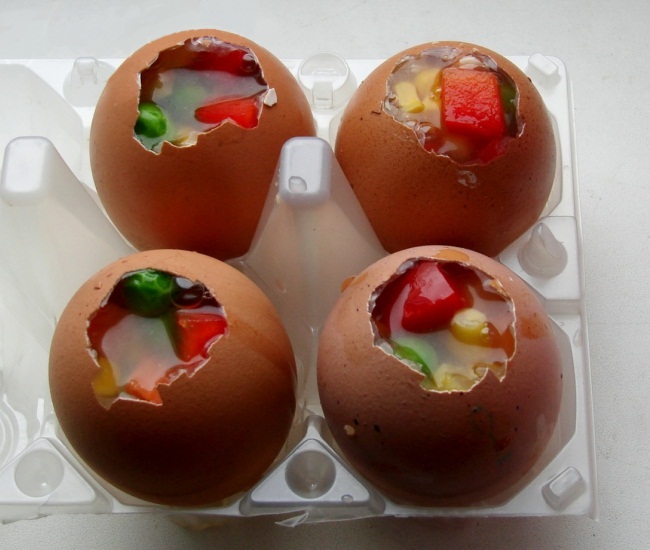 Serve this dish on a festive table on a large flat dish, decorated with lettuce, other greens, beautifully chopped fresh vegetables.
Note
Today there are special molds for cooking eggs without the shell. They can be purchased via the Internet. Can use this device.

Useful advice
If you have pre-decided that on the occasion you prepare this recipe, the egg shells you can collect gradually and in advance, when the everyday use of eggs in cooking.