Classical herring under a fur coat
To prepare a classic recipe herring under a fur coat will need the following ingredients: fat herring, if it is small, it is possible a couple, or take a ready-made fillet; 3 or 4 potatoes, 2 medium size beets and carrots, 1 onion, mayonnaise.
Herring cut into fillets: it is necessary to remove skin and discard the bones. Of course, you can buy ready-made fillets, but it loses the taste of whole oily fish. This option is only good if you have limited time. Then the herring cut into small pieces.
The potatoes and carrots to boil, it is imperative in uniform, just before cooking they should be carefully washed with a brush. Also boil the beets.
Cooked vegetables cut into small cubes. Perfectly smooth cubes would happen if you cut food using Jizerske. Well, quite simple method, but that doesn't make the taste worse, it's just grate the vegetables on a coarse grater.
Finely chopped onions should be parboiled, but again it's a matter of taste, someone omits this point. After all, the onion and herring is not a products-antagonists.
The layers in the herring under a fur coat is a controversial issue. You can even call it controversial, as some prefer to start building a pyramid of potatoes, while the approval of the other first layer has to be herring, and after she is dressed in her fur coat. A matter of taste. But maybe still worth a try to prepare a dish other than your way, then there will be nothing to compare. It may be that the taste of the salad from the order of layers does not depend, and then the dispute becomes meaningless.
So, herring under a fur coat, layers:
A flat bottom plates lubricated with vegetable oil and it is spread a layer of potatoes.
Then it is coated with a layer of the onion.
Next is a layer of pieces of herring.
The herring cover the layer of carrots.
The final stage is the beet. It seems that this point of criticism, no one should.
Don't forget to fluff the layers of mayonnaise.
Herring under a fur coat roll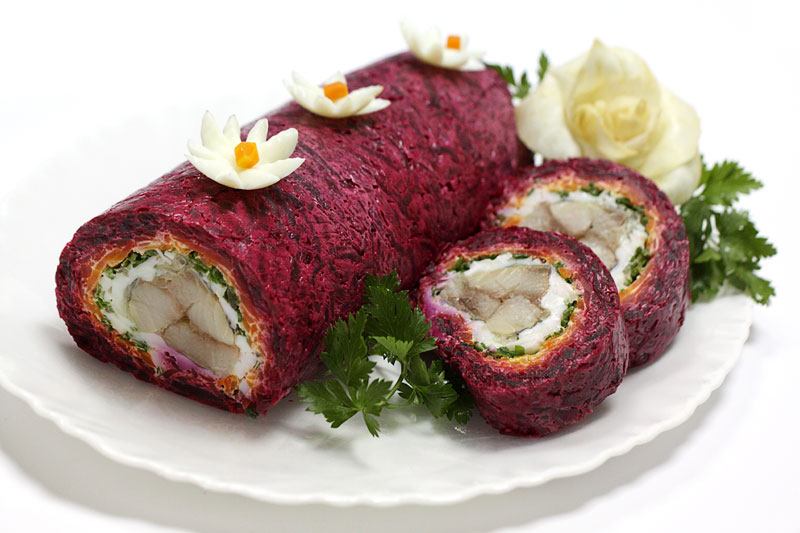 So as herring under a fur coat salad traditional, because I want to submit it in a slightly unusual way. You can move away from the classics and prepare the herring under a fur coat roll.
Ingredients for the salad remains the same: 2-4 beets, the same amount of carrots and potatoes (amount of vegetables depends on their size); 1 herring, 1 onion, mayonnaise. You can add to the taste of the eggs.
All the vegetables are boiled in their skins, beets separately. Then cooled, cleaned, rubbed on a grater in different dishes.
The fish is cleaned from the bones and cut into small pieces. Shinkuem onions fairly finely, then mix with herring. Eggs boil, cool, peel, chop at the ball-cutter or three.
Lay on the working surface of plastic wrap and spread it with layer of beets. Shape of a rectangle. The next layer will be carrot, do it already and thinner than the previous. Mayonnaise. Before that, if necessary, salt.
Then in the same way distributed on top of carrot layer of potato. He also is greased with mayonnaise. Spread potatoes on top of egg layer, too thin and narrow. Herring with onions is laid out in a rectangular strip in the center.
Connect the ends of the rectangle with the help of cling film, pressed edge, the resulting salad "herring under a fur coat" roll put into the fridge for a few hours.
To prepare the herring under a fur coat is not difficult, it just takes some time. Those who adapt to make this salad and can not imagine a holiday without it, it may be advisable to bring in a dish an unusual touch, adding a layer of apples or some sauerkraut.