For the preparation of puff pastry rolls in the production conditions used metal or tin cones. If you are going to cook at home cupcake-a tube, housewife first encounter the need to purchase such products. Not so long ago finding them was pretty simple – cones were sold in all hardware stores. If you wish, you can make homemade cones from the materials available.
How to make cones for making tubes
Using conventional tools like hammer and pliers you can make good cones. As the material for they fit well-washed tin cans for canned meat and condensed milk. Such cones is not enough for one decade. They don't even have to fix well, just pull down to the desired shape. Deformation in those conditions, which will be used products, they are not threatened.
When neither this option, you can make cones out of cardboard or office paper and normal food foil. A piece of cardboard or paper, take a paper bag, cut it sharp part and fix it with a stapler in order not turned. You can flash this place thread, but not through, and only on the side where ends the paper. Wrap the cone with aluminum foil.
How to make rolls on homemade cones
When work on the workpiece cones is finally over, you can start making tubes. Buy or make puff pastry at home. Gently roll it to a thickness of 5 mm. Cut into strips – they should have a thickness of about 3 cm, length of 30-40 cm test Strips screw on the cones overlap. Prepare a baking sheet – cover it with parchment paper or spray with water, depending on what his material.
Put the future rolls on a baking sheet, seam test should be at the bottom. Tubes better bake according to the following scheme. Place the baking sheet in a preheated 240 degree Celsius the oven, hold it for 10 minutes, then reduce oven temperature should be 160 degrees. Bake the rolls for another 20 minutes. With cones they have to remove hot – use oven gloves. Sometimes the tubes get moist inside. If necessary, you can dry them in the oven and no cones – put another 10 minutes in the oven and hold at a temperature of 60 degrees.
The cones are made before preparation of the tubes, do not disassemble and do not dispose. If you like homemade cakes, they will come in handy again and again.
Advice 2 : How to make pizza from puff pastry
There are no features of pizza on
puff pastry
. The main thing is to roll out the dough in one direction so as not to disturb the structure and provide uniform lifting of it during baking. The rest is no different from the usual process of cooking pizza. If you take a
puff
yeast dough before cooking let stand at room temperature about 1 hour.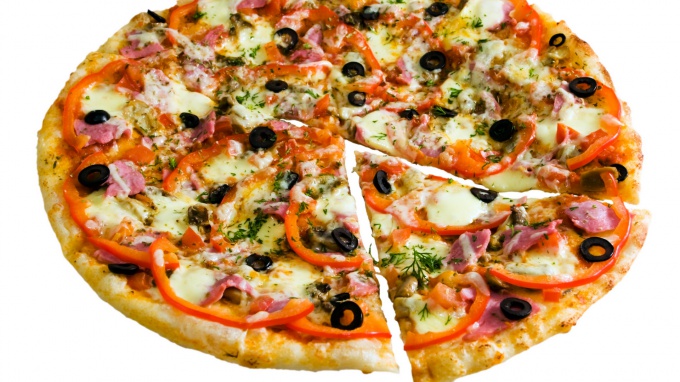 You will need
150 gr of bacon or salami;
200 g of cheese;
1 bell pepper;
2 medium tomatoes;
50 grams of olives;
1 onion;
1 clove of garlic;
2 tablespoons of mayonnaise;
2 tablespoons ketchup;
1 teaspoon Basil.
Instruction
Roll the dough out in one direction according to the size of the form.
Grease the molds with oil and place the dough on it.
If you have puff pastry, then cover the form with a towel and put the dough to raise in a warm place for 1 hour.
Mayonnaise mixed with ketchup.
Garlic peel and pass through a masher.
Add the garlic to the mixture of mayonnaise and ketchup.
Thin slices cut bacon or salami.
Tomatoes cut into thinner slices.
Onion peel and cut into thin rings.
Remove pepper seeds and stalk and slice it into thin strips or cubes.
Cheese need to RUB on a large grater.
Brush the risen dough with sauce of mayonnaise and ketchup.
Put half of the tomatoes, layer of onions, layer of bacon, and bell peppers and the remaining tomatoes.
Sprinkle everything with Basil and put olives.
Cover the pizza with grated cheese.
Bake the pizza in the oven at 180 degrees for 30-35 minutes.
Advice 3 : How to make puff pastry pies
Pies of puff dough obtained, as a rule, more gentle. For their preparation you can use a variety of toppings: onion and egg, cabbage, meat, jam etc. it All depends on your tastes and mood.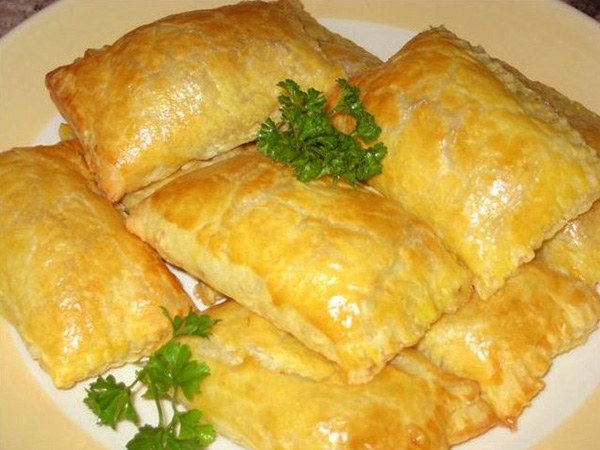 You will need
green onions (300 grams);

boiled eggs (2 pieces);
puff pastry (500 grams);
butter (2 tablespoons);
flour;
salt to taste.
Instruction
For the preparation of puff pastries with onion and egg to prepare stuffing. Wash the herbs and finely chop. In a small pan melt the butter. Saute onions on low heat for 10-15 minutes. Eggs peel and grate on a coarse grater. Mix all the ingredients. Stuffing salt.
Prepare the workspace to prepare the pies of flaky dough. Sprinkle the table with flour. Puff pastry roll with a thickness of 0.5-0.7 cm Select one of the two ways of cooking pies.
1 way. Cut the dough into small rectangles or squares (size 5х7см or 5x5cm) and lubricate them slightly with water. Neatly on one half of the square, place pre-cooked the filling, about 1 teaspoon. Cover her second half of the dough and tightly press the edges to seal.
2 way. Slice the dough into ribbons with a length of 10 cm and a width of 5 cm Evenly put the filling in a thin layer. Gently wrap the dough in rolls.
The finished cakes lay on a baking tray lined with special paper for baking. You can buy it at a specialty store. Preheat the oven to 180-200 degrees. Place baking sheet for 20-30 minutes. This time should be enough to get your cakes turned Golden brown.
Serve cakes made of puff dough with onion and egg warm. As drink is perfect hot tea or coffee. Small cakes made of puff dough will appeal to both adults and children. Your loved ones, family and friends will appreciate your cooking skills. Bon appetit!
Useful advice
Try also to cook a puff pie with canned fish and rice with steamed cabbage, meat, cabbage and mushrooms. Diversify the usual recipes, adding its own flavor to familiar dishes.