You will need
Hair dye, oxidizer, gloves, clamps, hair clips, brush for painting, water.
Instruction
There is a misconception that to dye my hair ashy color can only be blonde. In fact, natural light brown and even dark brown hair respond well to the ash color. More cautious should be those who have already dyed hair in red or brown color. Instead ash can get green or purple. So brunettes and brown are recommended when painting on ash to do a wash and hair from the previous color.
To give hair an ashy hue get a special permanent paint. Prepare the dye as recommended in the instructions. Now armed with a brush for painting and distribute the pigment evenly over the entire length of hair. Start staining from the top, separating strand by strand. Then go to the back and further down. Follow the staining of the lateral strands. Temporal, frontal strands and bangs in the paint last. Soak the dye on hair for the prescribed time, rinse and shampoo your hair. After that apply conditioner.
Note that the staining is bad for the condition of the hair: they become dull and lifeless. So for a month before staining spend intensive therapy: do different moisturizing mask for hair and use the healing balm. So, hair will be prepared for painting.
Some time after coloring gray color can give a yellowish tint. To prevent this, use a toning shampoo for grey hair. Toners also help to eliminate green shade obtained after dyeing. Often one rendering procedure will not solve the problem. However, the course of treatment with a toning shampoo will permanently remove the yellowing and other undesirable color.
The first time it is recommended to perform staining in gray color with a specialist to learn all the details of the procedure. Professionals recommend to perform hair lamination after painting them in gray color. This procedure will allow you to maintain a beautiful shade for a long time: up to three months or more. If you have dark hair, it is recommended to make a clarification. Apply a lightening product on hair on all length, but the roots have not yet touch. Keep the bleach for half an hour, and after that apply it on your roots and comb through hair with comb from roots to ends. After 20 minutes wash the hair with shampoo. Do lightening just for dirty hair.
About a month after coloring the hair roots is already noticeably growing back. Then it becomes a visible difference between the shades. Repeat the staining procedure. But this time you want to paint only the roots. Use paint the same color and please note that now you need to dye natural hair. Therefore, the tone can still vary, if you did the dyeing of the bleached hair. In this situation, you need to repeat the procedure of clarification. And then to paint the roots in a light tone.
Because of the constant chemical exposure gray hair requires special care. Be sure to use a vitamin mask to nourish hair, wash your hair only with soft water and rinse with extracts of useful plants.
Note
Paint with an ashy shade that perfectly fits to your grey hair or very light by nature.
Useful advice
It is not necessary to paint hair in ash color for those who have dark skin and Eastern appearance.
Advice 2: How to achieve light ash hair color
Ash is one of the most hazardous and demanding shades. But at the same time, it is the dream of many women, because it gives the image of sophistication and cool soft. To vykrutasy into a nice ashy color of hair is very difficult. But there are a few secrets how to achieve the perfect color.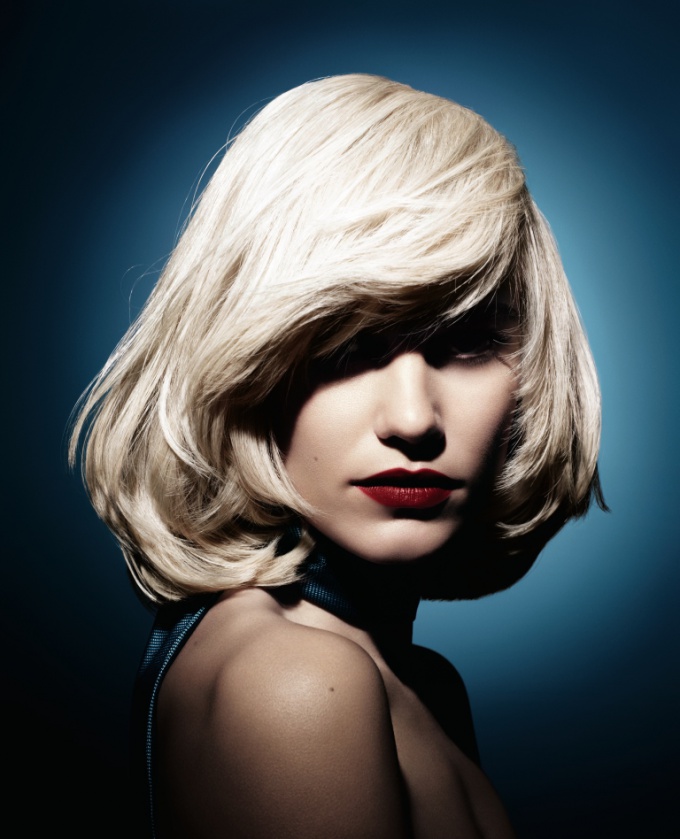 You will need
- paint;
- special hairdressing tools;
paint discoloration.
Instruction
This color is perfect for girls with a cold type of appearance. Before you dye your hair grey, make sure you are fair skinned and with blue eyes. Also the skin should be in perfect condition. After all, ash strongly emphasizes all the flaws on your face. Moreover, it even enhances these defects several times. In addition? you need to remember that ash can significantly wear out their owner. This will happen if a woman has wrinkles.
Care hairAMI and hydration - the key to successful staining in gray color. After all, to get it, I need more than one procedure. And each of them greatly spoils the quality of hair. And even if the color is even after several colourings, without moisture the hair, you look dry and lifeless.
To get the ash color on dark hair- Ah, they first need to lighten up. However, to trust such a procedure better professionals, not to spoil your hairs still in the initial stage of becoming ash-blonde blonde. Colouring red, light brown and dark hairin ash, very often get a greenish and yellowish tint. Dealing with it will help toners ash, purple or silver. They'll just turn down this shade to help even out the color. The easiest way to become the owner of the ashy shade of light blonde. To achieve a noble tone by painting the hairs with no additional bleaching.
The gray color - the color of the mysterious, but very naughty. In addition, when stained difficult to achieve the desired tone, so it is also very capricious in care. Experts recommend: if you want a little longer to keep the color after coloring - make a lamination. Then the gray color will not fade for 3 weeks. Besides, it is necessary to preserve the color to use delicate shampoo for colored hair. Adhering to these recommendations, you will be able to create an image of a mysterious woman, cool and gentle at the same time.