You will need
To make baked onion:
- onions — 5-6 PCs.;
- 5-6 tbsp of olive oil;
- salt (to taste);
- spices (to taste);
- baking form;
- the oven.
To prepare onion baked with cheese:
- onions — 2 PCs.;
- 100 g of cheese;
- 30 ml of olive oil;
- ground pepper (to taste);
- salt (to taste);
- grater;
- baking form;
- the oven.
Instruction
Onion peel, big onion cut in half or into 4 pieces, small can be left untouched. Baking tray brush with olive oil and place the onion. Pour chopped cloves olive oil or any other, but olive oil gives the onions a special flavor and aroma. Have to water so that the onions were covered with oil. In a dish add salt and spices according to your taste, mix well.
Pre-heat oven to 200oC, place the mold with the onions and bake until the ready state within approximately 40 minutes. In the process of cooking the dish should be upside down. That bow is completely ready, you can learn what he will gain a Golden brown color. Remove from the oven, leave to cool. Serve baked onion directly in the form in which you wrote it. Baked onions will become sweet and delicate taste and will appeal not only to children but also for adults.
A delicious meal will be onions, baked with cheese, cook that, you can follow this recipe. Peel the onion, cut into 6 equal parts. Preheat the oven to 280оС, cover the pan with a baking sheet, and gently place the onions and bake for 25 minutes. Cheese RUB on a fine grater.
After 25 minutes, remove from the oven the onions, put in a refractory form and top with cheese, then put and bake again until, until cheese is fully melted and will not cover the dish with the crust. Then sprinkle with pepper and salt and drizzle with olive oil. This dish can be served as a standalone, in the form of a delicious side dish or a tangy and flavorful snacks. Sweet onion flavor combined with the cheese perfectly complement any dish.
Even if you don't like onions because of its bitter taste, then baked on the proposed onion recipes you'll love its sweet taste and aroma. Cooking time is about 30 minutes.
Prepared by the method of roasting onion keeps all its nutrients and can lower blood sugar and cholesterol in the blood, so people with diabetes, having atherosclerosis or hypertension, you must include this dish in your diet. Fried onion is useful in various female inflammatory diseases. Baked onions contains potassium, zinc, iron, cobalt, essential in blood formation, mineral salts and plenty of vitamins.
Advice 2: How to make a bow not bitter
Onion onion is an indispensable component of many delicious dishes. But he is too bitter, tears already welling in his eyes. However, it's not so bad. A little cooking trick, you will be able to enjoy crisp and not bitter onion.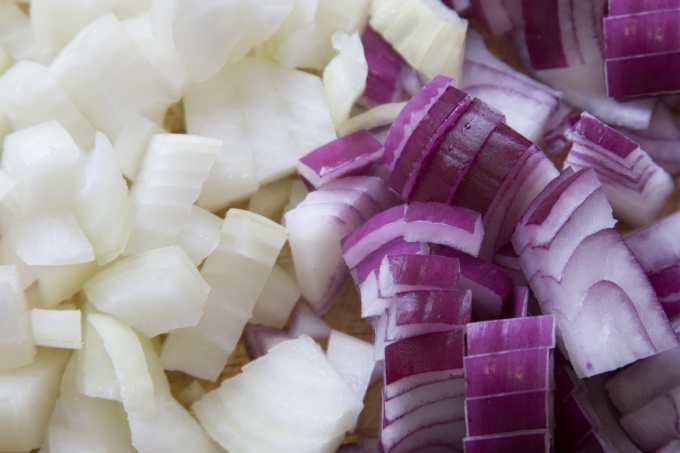 You will need
Water
Vinegar
Apple cider vinegar
Bay leaf
Allspice-peas
Lemon
Vegetable oil
Salt
Sugar
Instruction
There are several ways to fight off the bitterness from the onions.
Slice onions onion rings or cubes. Put onions in colander and scald it with boiling water. This is the easiest and most famous way to make onions less bitter. It is often referred to in recipes with daring combinations of onionand pomegranate or onionand orange.
Another way to achieve the same goal – to pickle onions. To do this, chopped onion , put in Apple cider vinegar and keep it for fifteen minutes. Fifteen minutes later, remove onions from vinegar and use it as it should be according to the recipe of the dish you are preparing.
There is a slightly more complicated way to fight off the bitterness from the onions. To do this, cut onion rings, fold it in a colander and scald with boiling water.Fold the scalded onions in an enamel bowl and pour vinegar so that the vinegar covered the whole bow. Soak onion in vinegar for fifteen minutes, drain in a colander and allow the vinegar to drain out. Ready, crispy and juicy onion can be added to the salad.
A combined method to fight off the bitterness from the onions. Boil water, add boiling water, vinegar, Bay leaf and fragrant pepper. Chop onion rings, put it in a bowl and pour the cooked marinade. Keep onions in the marinade for twenty minutes. Drain onions in a colander and allow the liquid to drain. Onions treated this way are perfect for fish salads or snacks.
Another interesting method that allows you to convert bow from a component of salad into a full-fledged savory snack. However, for salads, this bow is also quite suitable.Boil water and let the boiling water cool slightly. Squeeze the water lemon juice. Add salt, sugar, vegetable oil. Pour this marinade onion, cut into rings, and keep it for twenty minutes. On one bowovico you'll need a quarter Cup of water, medium lemon, teaspoon of salt, teaspoon of sugar and a teaspoon of vegetable oil.