Instruction
The sea cock can be prepared in various ways. Cooked in a double boiler, its meat added to salads. Well fillets of sea cock with the sheet, juicy salad, eggs, greens, fresh cucumbers, with a dressing based on lemon juice and olive oil.
As a warm appetizer, the sea cock is prepared fried in breadcrumbs or batter, and is served on sticks of bamboo. This fish goes well with sour-sweet citrus sauce. In the form of cold snacks prepared carpaccio of sea cock dressed with a sauce made from parsley.
Also a sea cock can be baked with spinach or apples, and served as a hot dish. Fried meat with mushrooms and onions, it is, moreover, the taste goes well with cheese. On this basis, the fillets can be baked under the cheese or cook in a pot. A delicious soup with cheese and slices of fillet of sea rooster, grilled.
Gurnard is a very expensive and rare fish. To sell this type of fish, you need to have a special permit. It is almost impossible to acquire rooster available for sale, except from private dealers.
Gurnard listed in the Red book and catch him banned. Because of that, on the black sea resorts and not cook dishes from it, despite the fact that it is found near the coast. If you are still lucky to get a sea-cock, apply the recipes recommended below, to prepare delicious dishes from these fish.
You can cook poached sea cock. For its preparation you will need 300 grams fish, 200 grams of mayonnaise, a few cloves of garlic, 50-100 grams of vegetable oil, pepper and salt.
Clean the fish, pepper and salt. Do across the back a couple of notches, into which put half of the garlic cloves. Pour oil to a small pan. After that, the fish need on one side sprinkle with flour. When the fish is laid out on the baking tray, pour it with mayonnaise and cook for 20 minutes in the oven.
In addition to the above method, you can cook the fish for a couple. You will need 2 fish, a little olive oil, one lemon and the tomato, salt and pepper, and fresh Basil.
The first thing you need to pour the tomatoes with boiling water and peel away the skin, then remove seeds and cut into cubes. Pieces of the same size should also cut lemon (without peel), mix it with tomatoes and oil, and then season with salt and pepper. You should cook fish using a double boiler, transfer to a plate and pour the cooked sauce. Gurnard is ready.
Advice 2: How to cook fish in the pot
Dishes, baked in pots, always have a special refined taste, and an unusual form of presentation will surprise even the most demanding guests. Delight your family with fish, baked in pots.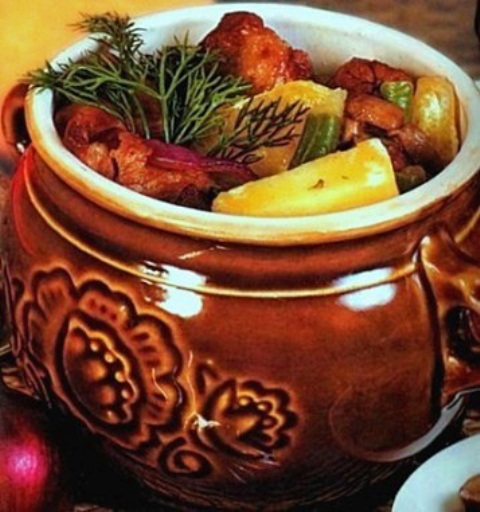 You will need
potatoes 4 PCs.;
onion 2 PCs.;
sour cream 100 g;
cheese 100 g;
salt;
pepper;
vegetable oil 4 tbsp
or
fish fillet 500 g;
potatoes 4 PCs.;
frozen mixed vegetables 400 g;
water 2 tbsp.;
spices;
fish broth cubes 2 PCs.;
greens.
Instruction
The first option baked in pots with fish is very delicate and soft. Thinly sliced fish and the potatoes have a nice creamy flavor thanks to the sour cream and butter. When this recipe is properly baked fish will just melt in your mouth. Take 500 grams of fish fillet and cut it into small pieces. Raw potato peel, wash and cut into thin strips. It is desirable to use young potatoes.
Prepare 4 ceramic pots for baking. At the bottom of each pot, place one tablespoon of butter, then evenly arrange the fish fillets. Add salt and pepper to taste. Then put fish potatoes. Again season with salt and pepper. Add a little finely chopped onion or garlic. Put 1 tablespoon of sour cream. Under the influence of temperature it will melt and impregnate the potatoes a nice creamy taste.
Fill a pot 1/4 of the boiled water, top with grated cheese. Close the pots and put them in the oven for an hour. Bake at 180 degrees. Serve hot.
Vegetables – perfect side dish for fish. Prepare a light, but hearty dish of fish and vegetables baked in ceramic pots. Cut fish fillets in small pieces, season with salt and pepper it to taste. Put the fish in the pot. Top off with frozen vegetables. Peel potatoes, cut into cubes, put on the vegetables. Add salt, pepper and add spices to taste: nutty seasoning, coriander, paprika, ginger. Dissolve fish bouillon cubes in warm water, pour this water to a pot and cover them with a lid.
Put the pots in the oven and bake for one hour at a temperature of 180 degrees. For 10-15 minutes before cooking, open the pot and sprinkle the dish with chopped greens.
Useful advice
Remove the pot from the oven for 5 minutes until cooked: heated cookware to continue to cook the dish out the oven. Let the pot stand for 5-10 minutes, then serve hot.

Try instead of lids to cover pots scones from the dough. You get flavorful bread.