You will need
computer;
- Internet connection;
page in social network "Vkontakte";
phone.
Instruction
Sign up for the TV show "Let them talk" as the spectator or the hero. In the audience can get virtually anyone. Moreover, you for it also and surcharges. Turn on the computer and go to the Internet. Go to his page "Vkontakte". If you don't have your page in this social network, create it.
If you for any reasons do not want to create a page "Vkontakte", then ask friends or family members to let you use their account. Find a group called "Let them talk 10.07.2014 channel". To do it easy enough in the search bar enter the name of the group. In this group given the phone +7-916-574-3840 a man named Alexander. This phone is an entry for the participation in current-show "Let speak".
Alexander please call or send an SMS, although for greater certainty, you can do both. After some time, you should receive an SMS with the answer recorded or not. If not written, then you still have a chance to get into the Studio. For shooting in the program at about 14:00 on the day of the record come with your passport to the address: Moscow, ul Akademika Koroleva, D. 12. You can call if there is a shortage of audience members. Don't forget to take entrance ticket. After filming the TV shows upon presentation of this ticket you will pay from 100 to 500 rubles.
If you want to get on TV as a hero, then you need to visit the site 1-channel. Here, go to the tab "Projects" and in the search bar type the name of the TV show "Let them talk". Go to this project page and select the tab "Participate". Here you can find the online application form. Fill it in and send for consideration to the management of the project. If your story will interest the editors, you will receive an e-mail or to the specified phone number a message stating that your request has been accepted and you are invited to participate in the program.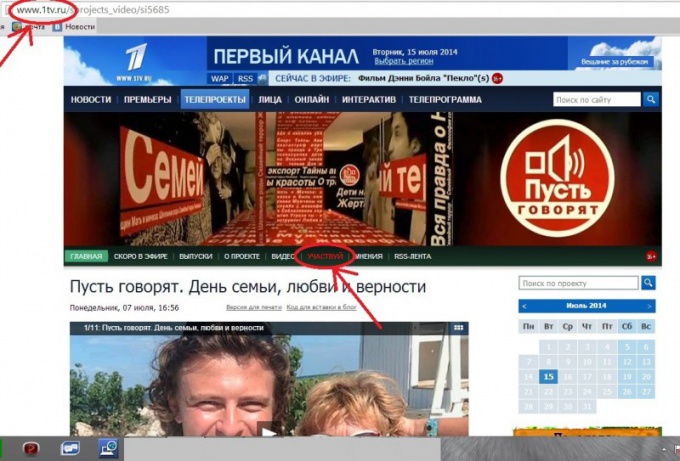 On the same site at the bottom and at the top of the phone +7 (495) 617-76-28 by which to contact the leaders of the project. Dialing it you will have to introduce themselves and state the purpose of your call. After telling your story, you will call or send a message with the answer.
Note
To sign up for the program as a viewer would need a permanent residence permit or temporary registration in Moscow or the Moscow region.
Useful advice
It is best to participate in the hero program, complete the form on the website and then call.

Going to the shooting program, you need to clothing business style.