Instruction
Fakes do not possess the properties of amber, but successfully imitating its appearance, occur very often. To distinguish natural amber in color, form and transparency. Amber is of three types: opaque (this includes foam and bone amber), translucent (in this category amber there are concentrations of voids, giving a cloud of turbidity) and completely transparent. Forge with equal success all three categories.
If natural amber is to RUB pure wool, it will get electrified. exactly and will attract pieces of thread, dust, paper. With fake the effect will be much weaker. Simulation can be defined with the help of saline solution, but this method is only suitable for loose amber. Stone put in a salt solution, the fake will sink, while amber rests on the surface. Determine the authenticity, by using the magnifying glass, the power needs to be at least tenfold. Wavy formation that appears when the sintering of the particles, are fake. Thus it is possible to distinguish amber from various types of polymers and plastics.
Much more difficult is to distinguish amber from Copal, with which they are similar in color and form. The Kopal call used in the manufacture of varnishes fossil resin. When heated, the smell of digging unpleasant, and amber highlights like the clove flavor. Copal melts more easily and is not electrified by friction. In essence he is an immature resin and its composition is identical to natural amber, but it is very soft, the dent it can leave sometimes even with a fingernail. If you put on a stone a drop of alcohol and the surface becomes sticky is dug. The Kopal stains from acetone, amber no. If digging is treated in an autoclave, it acquires all the properties of natural amber and to distinguish a fake is even more difficult.
Pressed amber is another common alternative to amber. The product is obtained by processing small pieces of amber with amber flour adding color. At a temperature of 200-250oC and high pressure amber melts and becomes a homogeneous mass, retaining virtually all of the properties of amber. The microscope experts note the changing shape of the bubbles and overall character structure, now resembling a mosaic or a patchwork quilt. This amber, in contrast to the natural, softened under the influence of ether - the surface becomes sticky. It is believed that after heating special natural sequence and polarity of the molecules is lost, and it is characterized by the ability to cure many diseases.
Advice 2 : How to choose amber
Despite the fact that
amber
is not a gemstone, since ancient times it serves as an amulet and ornament. In ancient times, he attributed the miraculous properties and the ability to heal many diseases. Unfortunately, today there are a lot of fakes of this gem. How to choose genuine
amber
, not cheap useless fake?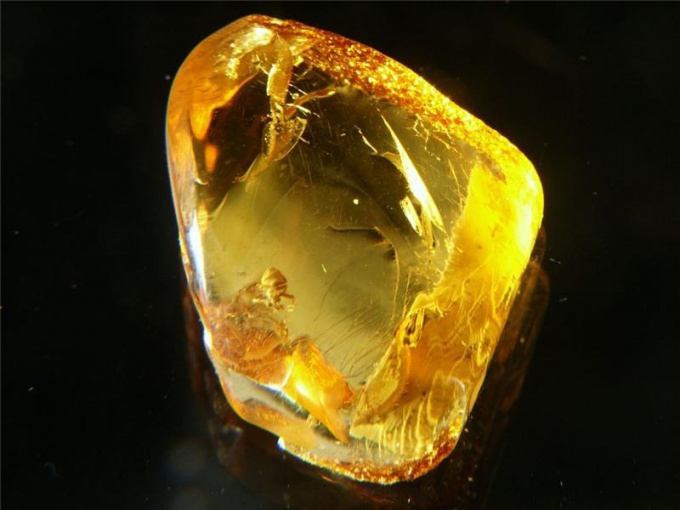 Instruction
Look closely at amber. You should know that in fakes, as a rule, are present in abundance air bubbles, and the color of the product uniform throughout its length. Natural gem, especially if it is not subjected to heat treatment, has an interesting color transitions between shades.
Weigh the piece of amber. Amber is one of the lightest semi-precious stones. The weight of large amber beads may only be 50 g. Glass and plastic imitation much harder. Besides, it feels colder than natural stone.
RUB the piece of amber on cloth. Natural stone in this case becomes negatively charged and begins to attract finely cut paper or a hair. If the electrification happens, before you fake.
Attach to the surface of the stone a red-hot needle. If you felt a specific smell of rosin is a natural gem. The sharp smell of burning plastic will point you to the artificial origin of the "stone". Also be aware that when involved in a fire , the amber comes on for three seconds and continues to burn strong flame after it recovered from the fire.
Make a saline solution. To do this, dissolve in a glass of water 10 teaspoons of salt. Immerse amber in the liquid. Natural stone will float to the surface, the forgery will lie on the bottom of the glass. Be sure to rinse the gem in running water after this experiment, otherwise it produces a salt crust.
Cut a small strip of the products from behind or just in an inconspicuous place. It is recommended to do this with a sharp knife or razor. Natural stone will slightly crumble. Artificial likely to srazhatsya soft shavings.
If you see in amber is quite a modern fly can be assured of forging.
Advice 3 : How to distinguish real amber from fakes
Amber is one of the oldest gems used by humans, is quite popular for thousands of years. Very often, the stores can meet its imitation and clever forgery. The most reliable method of testing stone for naturalness is infrared spectroscopy. Consumers can only use the "popular" methods.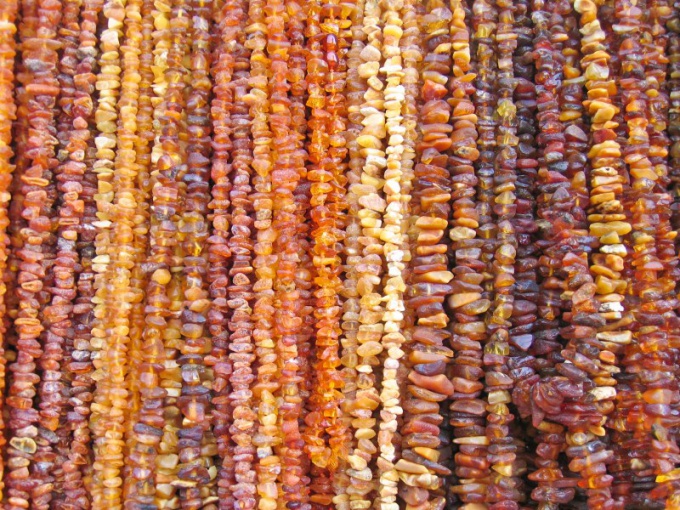 Instruction
Sprinkle on the stone a drop of acetone or alcohol. If the surface will stain or it will become sticky, so before you dig "young" is not stable
amber
that can be extracted from resins of contemporary trees. Keep the acetone on the stone for more than three seconds to amber dimmed by prolonged exposure to chemistry.
Light amber chips or shavings. You should feel a pleasant smell, something like the scent of Church incense. Synthetic analogue of amber will exude the smell of burning rubber, accompanied by dark smoke. Mild swipe the knife across the surface of the stone. With natural sprinkling a small crumb, and simulation – spun wool.
Pour a glass of water, add 3 tablespoons of salt and drop it on the bottom of a piece of amber. Natural stone needs to rise to the surface. Don't forget to wash after this stone with water, so that it formed a salt crust.
RUB the stone to give it a negative charge. If in this state, he will not take even a slight electrifying, so you're holding a fake.
Put the amber under UV rays. Under their influence the natural stone will Shine a bluish color. Milk white color distinguishes these artificial stones as ambroid and digging. Synthetic imitation will have any other color.
Consider the inclusion (inclusion) present in the stone, paying special attention to the insect trapped in it. Wings of prehistoric bugs and flies should be disclosed, which is a sign of the struggle for life ancient insects stuck in the resin. Counterfeits inside the stone already placed the dead insects, filling their plastic.

Note the appearance of an insect: having even a cursory knowledge of entomology, you can determine that could not get into the stone in connection with inappropriate age, habitat and appearance.
Advice 4 : How to distinguish natural amber
Amber is one of the oldest used by man, the precious stones. Due to the low hardness of this stone is perfectly polished and polished. Ornaments of amber are made for hundreds of thousands of years and is unlikely to ever cease to be fashionable and up to date. However, recently more and more in products from this stone across its forgery and qualitative simulation. To recognize a real
amber
in several ways.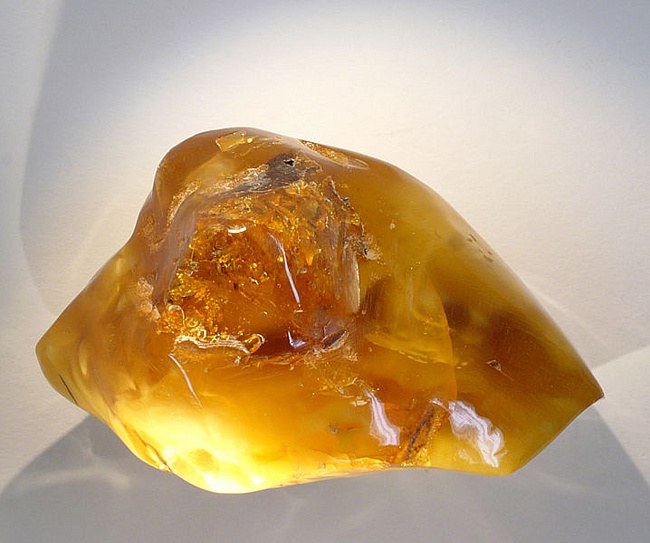 You will need
- 250 ml of water
- 10 teaspoons of salt
Instruction
Make a saline solution. To do this, take 250 ml of water and stir in 10 teaspoons of salt. Dip in a solution of amber, if it will surface, it means that you have purchased is not counterfeit. Modern resin and plastic different from amber higher density, so they will sink to the bottom.
Try to determine the authenticity of amber using the method of heating. Take a small sample of the product. Place in a closed test tube and heat. With the appearance of a sharp synthetic smell, you know that you have purchased plastic products. The strong aroma will indicate that the item is made of resin. Real amber gives smell of pine needles.
Sometimes when buying amber jewelry can be purchased dug. Copal is a young amber, whose age is counted not in millions, but hundreds of thousands of years. Also digging can be prepared from the resins of contemporary trees. To distinguish from the real Copal amber drip drop of alcohol in the product and apply finger. If the surface is dry – amber sticky – digging. In the absence of alcohol, use acetone: pour the product and leave for 3 seconds. Then wipe a drop if you have the spot dug.
Use the method of static electricity. It is most common when you choose amber jewelry. RUB amber, it needs to acquire negatively charged properties and begin to pull the various pieces, such as paper. However, many plastics have the same properties, but if the product is not "alectrosaurus", then it's fake.
Notice of inclusion (inclusion) in the amber products in the form of plants or insects. Genuine amber wings of flies exposed and the imitations, the flies caught on sticky tape, already dead is filled with resin or plastic. Funny look in the product group of insects that just won't be able to get it, either by habitat or age.
Advice 5 : How to determine the authenticity of the stones
When buying jewelry for the authenticity of the stones quite often raises some doubts. An experienced gemologist or jeweler can easily determine the authenticity of any stone. But not always, the buyer has the opportunity to seek the advice of a specialist. Accordingly, the question arises on how to determine the authenticity of the precious stones themselves.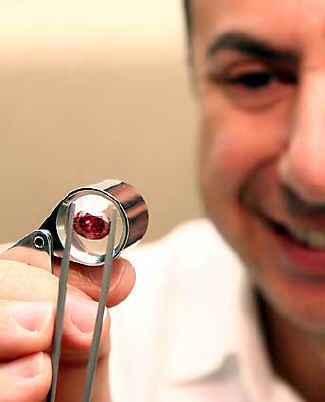 Instruction
To determine the authenticity of precious and semi-precious stones at home, you must know some of their features. Buying emerald, carefully examine the surface of the stone. In its structure should be visible distinctive pattern. Do not buy a stone that has in its drawing a spiral or tubular patterns, most likely it is a synthetic fake. Buying emerald, take him in hand – to touch, he, like many natural gemstones, should be quite cool.
Choosing ruby, don't be tempted by the stone bright color of blood for a small price. Rubies of large size with bright saturated color are very rare and the cost can get close to the diamonds.
Topaz the feel is smooth and slippery, but despite the fact that its surface can be easily polished look on the stone's natural imperfections. If the seller offers you absolutely pure Topaz, before you synthetic fake.
Sapphire is the stone that is fake much more often than other precious stones. When buying you must be very careful. To touch the sapphire should be cold, like emerald. Synthetic fake, you will notice gas bubbles.
To determine the authenticity of amber can help you get a piece of woolen cloth. RUB it stone – natural will beat the current, attracting the dust, thread and so on.
Fake pearls are way too available price, real pearls for cheap not buy. If you have the opportunity, try pearls on a tooth, the real stone will creak.
Choosing the amethyst, it is necessary to carefully study the structure of the stone, which must have natural defects and blotches.
If you go to the jewelry store to buy jewelry from precious stones, to begin with please be a tenfold magnifying glass. With its help, you better consider natural defects and blotches, which have a natural gemstone.
Advice 6 : How to identify amber
Amber
is one of the most respected human stones, known since time immemorial. Fashion it still fails. Often there are imitations and fake amber, so it is advisable to buy jewelry made from this stone from trusted and reliable vendors. It will also be useful the ability to determine real amber.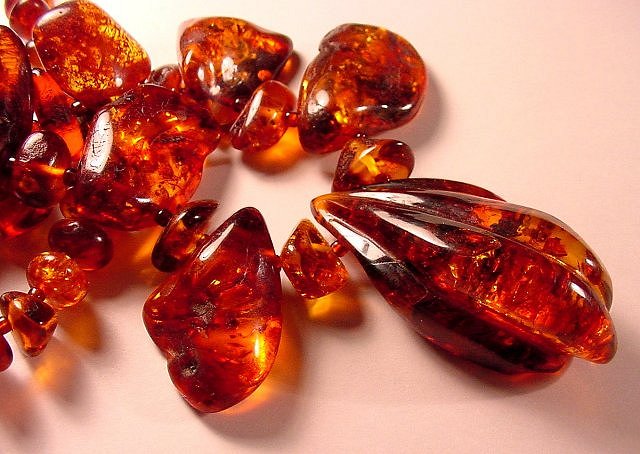 Instruction
Imitations of amber are usually made from Copal, plastic, celluloid, glass and synthetic resins. Often a fake put internal inclusion, simulating a fossil of an insect or a leaf of an ancient fern, which should increase the value of the stone.
To identify a fake note not the product (for example, in place of the holes of amber beads). Fake amber is easily crumbles and breaks off. If you heat the crumbs the product of artificial material at the tip of a knife, they will emit the unpleasant characteristic odor.
Another way to check the authenticity of amber is to put it in strong brine, where it needs to stay on the surface, while in pure water it sinks.
A professional with special equipment, will reveal the imitation is even easier – natural amber under UV light, emits blue light.
Young or "immature" amber called Kopal. Age digging is usually not millions of years, but only a few tens of thousands. Modern technologies allow to dig, identical to natural stone, resin trees.
In order to distinguish Copal from full amber in an inconspicuous area of the product, apply a drop of alcohol and apply to this place the finger. The sticky surface will give digging. The second method of detecting dig – apply for a couple of seconds a drop of acetone on the surface of the inspected material. If in this place there is a spot, we are dealing with Kopal. This method should be used with caution as prolonged exposure to acetone even natural amber can remain the spot (it is removed by polishing).
Keep in mind that counterfeiting of plastics should be distinguished from natural pressed amber. Only a small fraction of produced natural stone has large dimensions; a large part is a small pieces of stone, were treated by extrusion. Upon closer examination, this amber seems composed of small pieces, but it's still a natural material with inherent natural properties.