You will need
- 2 tablespoons of borax;
- 60 g of white glue;
- food coloring;
- 0, 5 cups of hot water;
- ¼ Cup of warm water;
- 1.5 cups foam balls;
- plastic container (pack a ziploc);
Instruction
Mix in a separate bowl borax with hot water. It is necessary to mix until, when the borax is completely dissolved. In a separate container, connect the white glue with warm water. Mix thoroughly. Then add in the glue mix food coloring.
Next, take a plastic bag with a plastic fastener or plastic container (pack a ziploc) and pour in a mixture of glue and attach the foam balls. Also put a mixture of brown and tightly close the bag.
Shake the bag well so that all ingredients are thoroughly mixed. You can create a ball clay of different consistency, while adjusting the amount of borax and water.
Advantages of ball clay:
- he does not stick to hands;
- very pleasant to the touch, develops fine motor skills;
- easily formed parts and joined to each other and do not take;
- clay air dry, so you can detach the parts and attach again;
- can be disassembled back DIY by color and put in jars that are only slightly miscible with each other;
- the result is a creative and interesting crafts.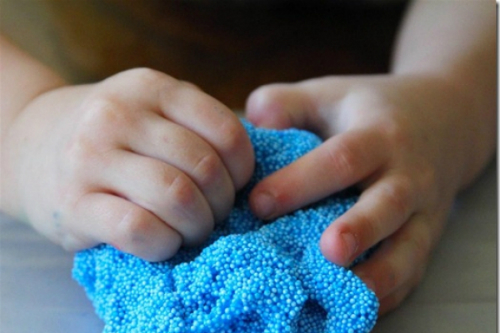 For the manufacture of three-dimensional shapes it is recommended to use a frame. To use as the frame can be tightly crumpled paper.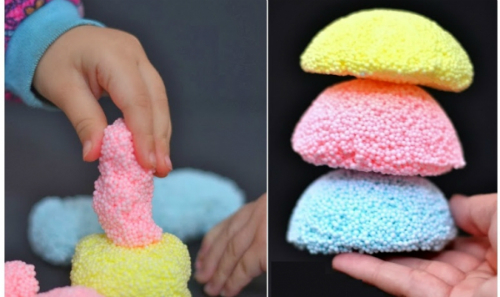 Ball clay is perfect to fill stained-glass Windows, creating applications on the cardboard, to decorate the surfaces of vases made of glass, coating of plastic bottles, cups, cardboard boxes. It adheres to almost any surface.
Advice 2: How to make playdough at home
Material for sculpting —
plasticine
— like children, because of this plastic mass can create a lot of interesting. Now, however, it is produced from synthetic chemicals and artificial color dyes, which, in turn, can cause an allergic reaction. Alternatively, clay craftsmen invented plastic mass for moulding of natural substances at home.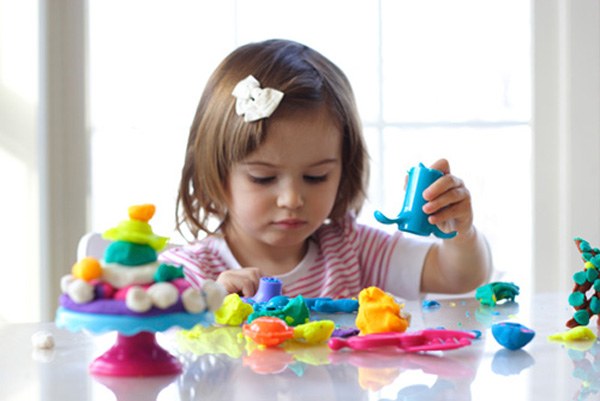 The recipe of the clay with starch
To make a plastic mass for moulding, take:
- 2 cups of flour;
- 1 glass of water;
- 1 Cup of salt;
- vegetable oil;
- 1 tablespoon of starch;
- food colourings;
- PVA glue.
Pour into a deep bowl the flour and salt. Then gradually add water, knead the dough. To mass add starch, PVA glue and vegetable oil. Mass knead for a long time and thoroughly, for its consistency it should resemble a cool dumpling dough.
To dye homemade clay in the desired color, use food coloring. Sprinkle the powder in water before adding it to the flour with the salt, then knead the mass as described above.
Store plastic mass is necessary in the refrigerator. Wrap it in a bag and place in a plastic container. However, long store homemade playdough is not necessary, a maximum of one week.
From this clay, you can make any crafts, Souvenirs, magnets, and so on. Products air dry and become solid, so to re-home the clay to use would be impossible.
If you add in the clay few drops of essential oil, he will gain a pleasant aroma.
Recipe with flour and salt
To make homemade clay for this recipe 1 Cup of flour you will need:
- 0.25 Cup of salt;
- 1 tablespoon vegetable oil;
- 0.5 cups of water.
Pour water into the pot, put it on the fire and bring to a boil. Add salt, flour and vegetable oil. The mixture is thoroughly stir to avoid lumps. Cook the mass over a slow fire until thickened. Then put the dough on the table, let cool a little and while it's still warm, knead until elastic state. Important condition - the finished clay should not stick to your hands.
This mass can also be colored during cooking food dyes, acrylic paints and gouache, as well as sculpt from white and ready to paint crafts
If added to the mixture during preparation, a few drops of glycerin, the prepared clay will get Shine.
Clay microwaved
Homemade playdough can be cooked in a microwave oven. Mix in bowl 1 Cup salt with no additives and 2 cups flour. To the mixture add a tablespoon of vegetable oil and half Cup water.
A lot of carefully mix and pour in a special form for the microwave. Cover the bowl with a lid and place in oven for 5 minutes at medium power.
Form remove from microwave and allow the mass to cool slightly, then knead the clay, cover it with cling film and leave to rest before you start to mold it.