You will need
For the first recipe:
- 700 ml vodka;
- 4 tablespoons of sugar;
- ammonia-anise drops.
For the second recipe:
- 700 ml alcohol 96%;
- 25 g of flowers of black elder;
- 100 g of anise;
- 400 g of sugar;
- 550 ml of water.
Instruction
Based on the "craftsmen" have figured out how to make Sambuca himself. There are 2 main prescription. The first is fast and simple. You need to take a bottle of vodka, to remove it dispenser and add 2 capfuls of ammonia-aniseed drops. Merc – cap of this bottle.
Now you need to put in a vodka bottle and a funnel to pour the sugar. Close the bottle stopper and shake the contents several times to the sweet crystals melted.
Very interesting way of drinking Sambuca. Once the drink is ready, you take a wine glass, add 2 coffee beans and pour 50 grams of Sambuca. Now the glass is carefully placed sideways on the glass.
Next, you need to take a lighter to burn the contents and twist wine glass, lying on its side, holding it by the stem. Then it is uniformly warmed. Now we have to put it on the leg, tightly cover the top with glass to extinguished the fire and drink, biting coffee beans.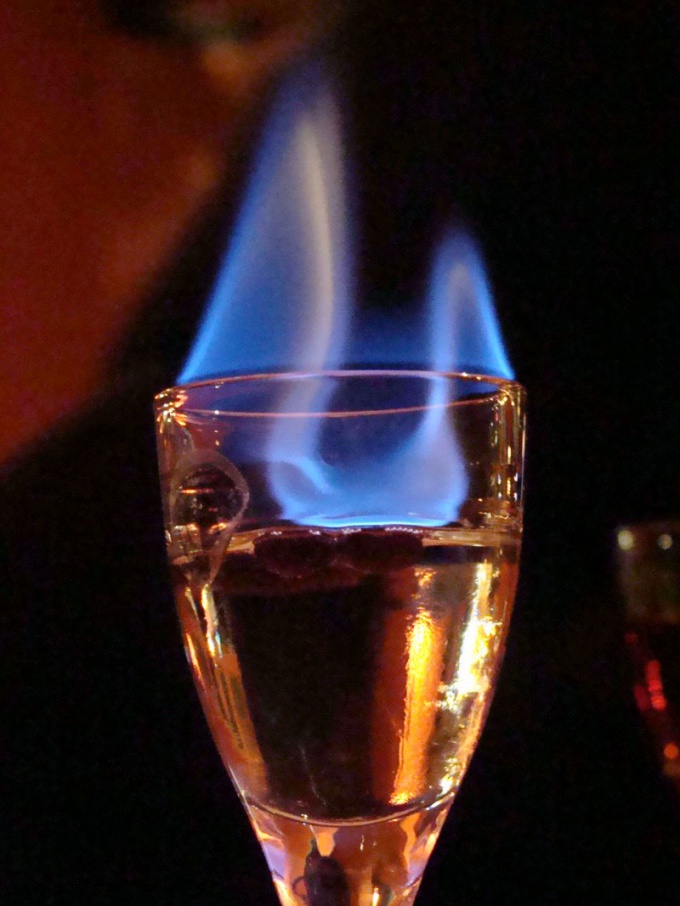 The second method is more complicated, but the drink is closer to the original. Add the spices into the alcohol and stir. Now the liquid can be poured into a bottle, cover it and store it in a dark place for 5 days.
After this time, prepare the sweet syrup. In a saucepan pour the sugar and pour in 250 milliliters of water. Put the dishes on a small fire, bring to a boil, stirring occasionally. From the surface of the syrup is required to remove the resulting foam. When it ceases to stand out, then the sugar syrup is ready. It is necessary to remove from fire and cool.
In aromatic alcohol, pour 300 ml of water, add sugar syrup, stir and pour it all into the distiller. Emerging from his first 50 milliliters of Sambuca is poured out, and the remaining 700 pour in 1-2 bottles and clean for a week in a dark place. After that you can taste homemade Sambuca.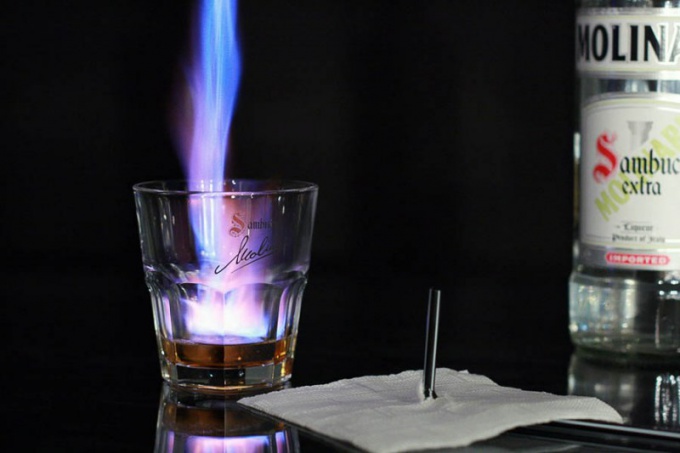 Note
Attention! "Flaming" Sambuca need to do taking precautions not to burn down the apartment and not to cause harm to your body.
Useful advice
Elderberry and anise better to buy in reliable shop or in a pharmacy, and not on the market, to be sure of the authenticity of the spices.