To the question, how many characters have with Furby, do not meet even the manufacturer of interactive toys. However, most owners claim that change the nature of Furby is possible in four different ways.
Characters
Furby are the following:
- an old softie;
crazy crank;
- an evil villain;
star of the stage.
To change the nature of the Furby can, making him certain manipulations. To make Furby kind, it is often necessary to stroke and speak kind words. It can be sometimes to feed, to stroke her back and tickle the baby's tummy.
In this mode, the Furby is at the time of first inclusion. To make Furby evil character, you should pull its tail, shake and turn over. In his eyes, after a change of temperament will flame, he talks rough voice and an evil laugh.
To change the nature of the Furby, making it crazy, constant feedings, tickling and turned over. In this mode, his eyes are different sizes and constantly spinning, and the laughter gets a little crazy. Also weird Furby makes funny sounds indecent.
Furby, which often include music, allow you to sing and dance, becomes a star of the stage. In this mode, the monitors, the eyes of the toy can be seen Bouncing notes.
Thus, to change the nature of Furby at any time, you do not need to wait for too long. After a few minutes, a kind of communication with the toy you can see how it will stand forever, his eyes often Samolet, he utters the phrase "My change". After the Furby opens his eyes, you will see the owner of the character has become Furby.
Advice 2: What can he do Furby
The history of toys Furby began in 1998. Even then, the toy can laugh, tell a few funny phrases, to vibrate, to eat. In 2013, the market was a new batch of furry animals, talking in Russian, allowing fans of the toy in Russia has become much more. So what is able to do a Furby toy?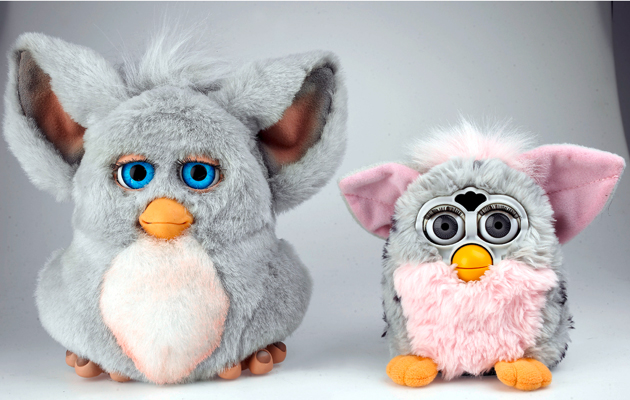 Under the fur a little Furby on the back, under the tail, on the belly and the head is equipped with special sensors that react to touch. If the pet toy tickle or pull the tail, it will immediately react with a funny sound, or even an entire phrase. This makes Furby look like a living pet.

Furby speaks the native forbescom language translator which is in the instructions for use of toys or in a special Appendix. Fluffy can learn a large number of new phrases in your language if it is active to talk, to show him cartoons and include songs.

Furby makes a variety of different actions. It reacts not only on the pats, but on words, music, noise. Toy Furby can sing and dance, to respond to the turning and falling, pull ears. You can feed Furby, stuffed it into his mouth thumb. However, he is quite precocial.

Interactive animal very emotional. To find out what mood is Furby, a small little screens in your eyes. They are circles, stars and hearts, when Furby is happy and in a good mood, and when he's angry – at the little screens you can see the flames and bombs.

Character Furby can do a good, evil or a little crazy. Good Furby sings songs and laughs cute, evil, constantly mumbling and actively expresses dissatisfaction, and inappropriate – funny farts and burps.

To make the game more diverse with Furby using the app developed for ios and android. Thanks to him a toy is possible to feed several hundred different dishes, and entertain his musical moments, put to sleep, and much more.

If with the toy for a long time not to talk, then she falls asleep, informing his master about this sentence "my sleep", or "my bed", funny yawn, eyes closed and snoring.

Two Furby can communicate with each other, make friends and even fall in love.

And Ferb its owner can make unique thanks to the ability of the toy to constantly learn. Furby runs on batteries, but has no buttons on and off, so even when you change batteries, it will save your temper and will remember everything he taught. If the owner wants to teach Furby from the beginning, its settings can be reset.

Thus, Febri knows how to make the life of its owner exciting and varied. This animal will never cease to be a true friend, always maintaining the conversation and responding to the communication.
Advice 3: What is the difference between Furby
In 1998 in the toy market emerged a funny little Furby, he was able to sing, dance, speak and respond to touch. In those years he made a splash on the toy market. Since that time there have been several generations Furby. However, in 2012, there are new toys, able to speak the Russian language. Before buying a pet for their child, many parents naturally want to know what is the difference between Furby.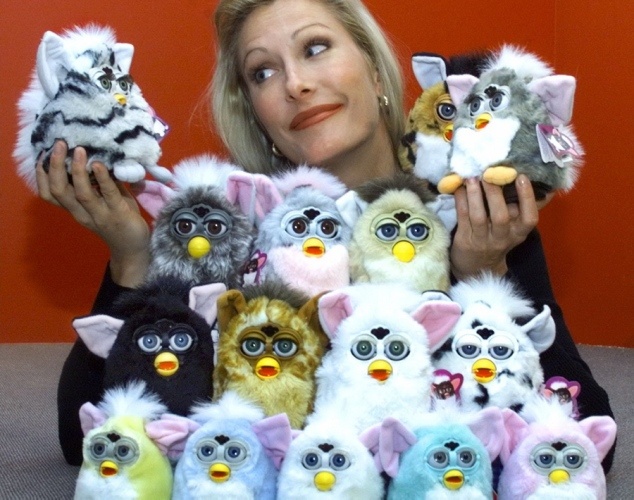 Furby new generation very different from their predecessors. They became fully interactive and able to learn. If talking with funny toy constantly, she will speak Russian phrases except those who already know in their native language – verbose.

The new Furby also change the character. The child's behavior depends on how it is treated. Good Furby becomes stroking, evil – turned over and twitching tail, crazy – from the frequent feedings, the star of the scene – the constant music listening.

Russian-speaking Furby different colors. There are so-called "cold wave" and "warm wave". Furby cold wave have colors: blue, black, white, and warm waves of red, purple, yellow. Also in stores you can find a Furby with a tuft. The color scheme of these toys are more diverse – they are presented as 12. However, all these modifications Furby is no different, except for color. Their characters, abilities and capabilities are the same.

In Russia you can buy Furby friends. This is a more budget version of the toy. It differs from an ordinary Furby that has only one character and can not change it throughout life. The new model is called the Party Rocker Furby (Furby Party Rocker) and it has four versions: Loveby, Scoffby, Fussby, Tvitby.

The manufacturer of Furby toy company hasbro, inspired by the significant increase in sales, decided to release in 2013, another new product on the market: Furblings (Play) and Furby Boom (Furby Boom). These animals snakes differ somewhat from the Russian-speaking models of Furby 2012.

Furby Boom – the third generation of a favorite of all kids toys. The main difference of this model is that toy when you purchase will be packaged in the egg of the same color that the baby Furby. It's not just a new original toy's packaging, and a sign that the Furby will be able to reproduce.

Real baby birth new Furby boom will not be able to, but a virtual baby on the screen of the mobile device with a special application – please. The maximum number of children that will be able to give birth to a Furby-mother – fifty. They both will be able to grow on the screen of the phone will have its own character and color coloring. With kids Furby you can play even in travel, when the toy will stay at home.

Kids Play will be similar to Tamagotchi. For them, it will be necessary to care for: feed, entertain, and improve health. They can even have their own names.

The app for the Furby Boom for good infant care also can earn virtual money – ferracci that you can spend on virtual accessories.

But what would have been different Russian-speaking Furby from each other, one thing is certain – they can become excellent buddies for a child for the rest of his life.
Advice 4: How to make Furby good
Furby – a great interactive toy that will become a perfect friend for any child. She is able to change character depending on how she communicate. Furby can do a good, evil, crazy Joker, the star of stage and back.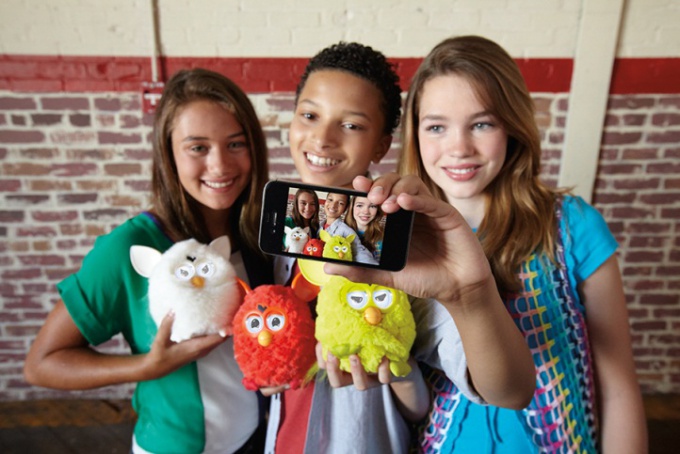 All Furby initially identical and do not differ depending on the color. They can sing, dance, speak in their native language peruse, learn Russian words, respond to touch, eat, listen to music.

When you first turn the Furby is pretty good. His eyes blink circles, hearts and birds. His voice is very gentle and he's happy and calm. He laughs and sings songs.

To make Furby evil, you can, if you often feed him, pull the tail to turn. This version of the character of the Furby is that the sounds it emits become rough, appear in the eyes of the bombs and fire. He was laughing maniacally, shouting "lol" and may make inappropriate sounds.

Furby to evil to do good, it must be ironed on the head, tickle baby tummy, gently talk to him.

To make Furby crazy you can, if you shake it, flip it upside down, tickle and feed. In this mode, he will burp and fart and laugh. His eyes will spin and go in different directions.

If the toy constantly play music, you can make Furby a star singer and dancer. His eyes appear mischievous touch, it will hum a merry song and dance to a lively tune.

If Furby will be able to do good, evil, crazy, or a star, we can see how blink his half-closed eyes, hear the phrase "My change!" and meet the new character toys.
Advice 5: How much is a Furby
Interactive Furby toy for the child will be a great friend and interlocutor, especially if for any reason parents do not have the ability to have a pet. Many people wonder how Furby. However, before looking for the answer to this question, you should understand that there are varieties of toys in the sale.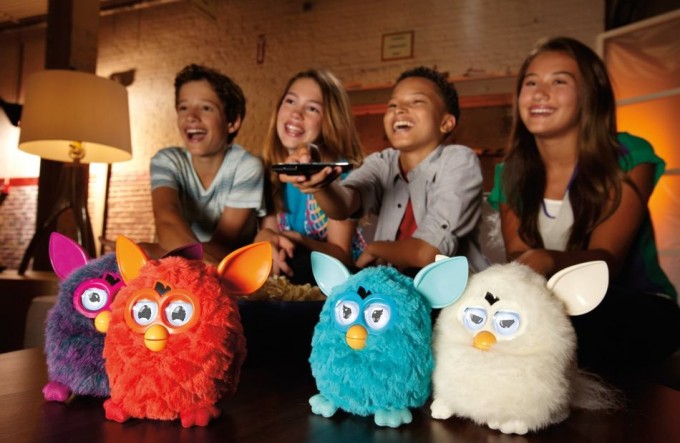 How much is a Furby cool and warm waves
Toys Furby appeared on the market a few years ago. They were able to publish various sounds, to sing, to dance, to respond to the touch.
In 2013 in the shops of Russia, the company has put a modified Hasbro interactive toy that not only has in its lexicon a few phrases in the Russian language, but also able to learn new words and sentences. Furby, which speaks Russian, has many variations of colors. Its price does not differ depending on this characteristic. These toys are in major baby chain stores from 3500 to 4500 rubles. At the same Furby you can purchase are cheaper during different promotions. Also best purchase you can make if you buy a toy complete with set of accessories. Furby for sale carrying bags, glasses, pillows, headphones and more.
How much is Furby Boom
At the end of 2013, the company Hasbro went on, elated with their success on the Russian market of interactive toys, has released a new product - Furby Boom. This toy has all the features and abilities of a regular Furby. The main difference is that it can multiply. Furby Boom interactive lays eggs in a special application that you can install on a tablet or phone, the eggs hatch into little Furblings. The eggs and the babies require care, they also need to play.
Toy Furby Boom costs about 4000 rubles.
How much is a Baby Furby
The usual Furby (including Furby Boom) can change its character depending on how you behave with him the owner. He can be evil, good, crazy and fun. However, this toy is not affordable for all parents. But it currently is not a problem. Together with Furby Boom on the market there are mini versions of Furby and his friends, who cannot change the nature, but also fun talking, dancing and singing songs. Such a toy can be bought for 1,000 rubles, or a little more. Little Furby initially have inherent in them a special character, they can freely communicate with other interactive counterparts and successfully to understand them.