You will need
computer;
- directions;
- entrance tickets;
- camera.
Instruction
Select the focus of the event - it will be entertaining, or educational? Choosing the first, you will be easily involved in the world of all kinds of children's entertainment in Moscow you can find at every step: children's playgrounds in shopping centers, ice rinks and roller rinks, amusement parks, VVC, Park "Izmailovo" Park "850 anniversary of Moscow", "amusement Park Carousel" and "Chudograd" at metro station "Culture Park" "amusement Park Carousel" on the metro "Park Pobedy", Park "Sokol'niki" Park "Kuzminki", the Park "Babushkinskiy", as well as numerous regional children's parks. Here your child will be able to roll on the rides, jump on the trampoline and eat cotton candy.
Choosing the level more difficult, you can give your preference to aquariums, zoos, museums, vintage cars and toys. In addition to the well-known zoo in the center of Moscow, there is also a petting zoo "grandmother Lived", which is located at the exhibition centre, directly behind the fountain "Friendship of Peoples of the USSR". Here your child will be able to get in touch with nature, to pet and feed the animals. The zoo includes a guide who will tell your kid about the life of animals and their habits.
"The Museum of retro cars on Rogozhskoe Shaft" opens its doors for young technology enthusiasts. Your baby will be able to trace the evolution of the car and maybe after visiting the Museum, it will have a new hobby. As is "Lomakov Museum of vintage cars and motorcycles", which is located in Lublin. "Art-pedagogical toy Museum" will be interesting both girls and boys. Here you will see exhibits that began to gather in the early XX century. Girls like to visit the "Museum of unique dolls" that on Pokrovka. These museums give the child the opportunity to plunge into the history, but only until another of his children's world.
Many Moscow theatres hold performances for children. Chamber music, puppetry, interactive, they offer a wide variety of children's activities. Many of these children are direct participants, which helps to liven up their imagination and is a guarantee that they certainly will not be bored.
In one weekend you can take your child in a special child development center where not only your child, but you will be able to learn a lot. The child can train the fun games, developing him as a person, and you will help to adjust the approach to education, if you have such a need. In such centres there are special workshops that help to build the right relationship between parents and children and to develop a harmonious personality.
Experiment and be creative to educate children. During the period of active physical and mental development of the child it is necessary to constantly obtain new information. You can come up with various games that will comprehensively develop the child. Give the child an example of a manifestation of creative ingenuity, let your baby from childhood is learning to solve various problems, which will subsequently help them in adult life. Do not limit yourself to monotonous activities and trips just for entertainment. The sooner you will be able to identify the child's tendencies to a particular sphere of activities, the sooner you can start to develop them.
Note
Take warm clothing if you are unsure of the weather.
Have a fallback if your child doesn't have to taste the event. In the choice of format entertainment please note the age restriction.
Useful advice
Consider the child's best interests, not push, give him his choice, because he is a separate person. Alternate entertainment with educational activities.
Advice 2 : Where you can go to the child on vacation
The holidays are a happy time that student can spend exclusively on entertainment, fun and leisure. And it must be done very thoroughly, because there again waiting for the next school term with homework and daily lessons in school. But where do you go for a child on vacation, so he could walk alone, without parents, while they are busy at work?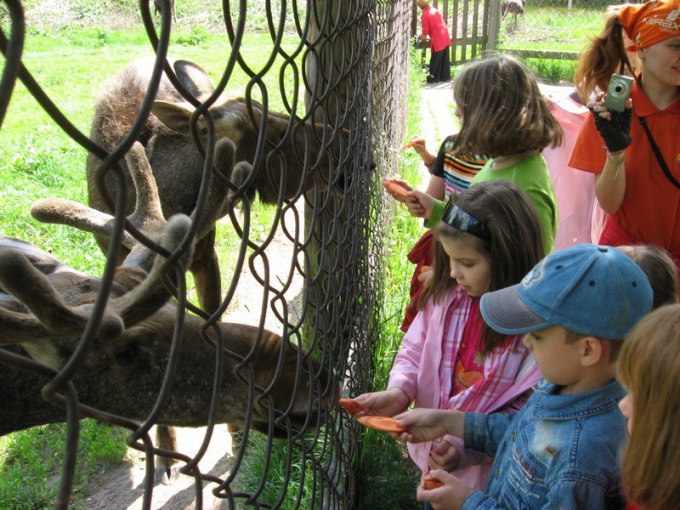 Instruction
Children of first and second class to walk around town, entertainment centers, water parks, the river need accompanied by an adult. The older pupils, those who are able to move independently around the city, knows the rules of the road, is well-versed on the ground, can be together with your boyfriend or girlfriend to visit, for example, the circus. Usually circus groups come to the school holidays in the city with an ambitious programme, trying to entertain tourists children.
Go with the same guys as you, for a matinee of the movie in a 3D cinema. Or visit a theatrical production in a puppet theater that is also very interesting.
In zoos the students are always very interesting and fun. Be sure to check to see if the animals in your town mobile zoo of a major regional center, or if you have the city's own zoo. Follow safety rules of behavior in cells and animals. If it says that the cage with the animals should not get too close, don't do everything exactly the opposite.
Visit the Park with children's rides, go carting centre to ride the bumper cars, capture of home videos and go with friends to a roller rink. If it's cold outside, spend 2-3 hours in the children's entertainment center (these centers are usually located in large supermarkets).
There are places that you can visit will increase your knowledge, broaden horizons. It's all kinds of exhibitions, museums in your city. If you haven't been in any of the museums, be sure to visit it. You'll learn a lot about the history of the region in which you reside, about its flora and fauna, attractions and famous people who lived in your area.
Exist in the school holidays, special day trips organised by travel agencies. Ask the parents to buy for 1-2 day ticket you in this tour. You can go together with a classmate or a classmate. These tours are conducted either in the same city, or in areas nearby. Teenagers during the tour entourage and show you the sights of cities, nature protected areas, talk about them, answer the questions of students.