Potatoes, whole baked
For roasting in a slow cooker, take the tubers are small in size. Peel and wash. Preheat the slow cooker, pour into a bowl with a little vegetable oil, put the potatoes. Salt it, add seasoning to taste. Sprinkle the potatoes with vegetable oil, close the lid multivarki, put the mode "Pastries" 50 minutes.
That the potatoes were browned on all sides, using half-hour program, open the lid multivarki and turn potatoes.
Put the ready baked potatoes in a deep plate, pour melted butter, if desired, sprinkle with finely chopped greens.
Baked potatoes with cheese in a slow cooker
Very quickly in a slow cooker you can prepare potatoes baked with cheese. Take 1 kg of potatoes, 3 sausages, 50 g cheese, 1 teaspoon spices (herbes de Provence), ½ tsp dry garlic or 2 cloves fresh, 2 tbsp vegetable oil, 1 teaspoon of salt.
Peel and wash the potatoes, cut into thin slices and place in a bowl multivarki. Add vegetable oil, garlic, pepper, herbes de Provence, salt and mix. Grate cheese on a grater and sprinkle them over the potatoes. Set the mode "Pastries" 1 hour every 20 minutes to stir the dish during the cooking process. Add ten minutes until tender slices of sausage.
Sweet potato baked with meat and mushrooms
Potato baked with meat and mushrooms, you will need: 1-1,2 kg of potatoes, 500 g any meat, 300 g of fresh mushrooms, 200 g sour cream, 100 g cheese, 1 tomato, 1 onion, 2 tbsp soy sauce, salt, herbs, spices for meat to taste.
Wash, cut the meat into small pieces, put them in a bowl, add two tablespoons of sour cream, same amount of soy vinegar, salt and spices to the meat, stir and leave for 2 hours. Peel and slice the onion into half rings. Wash the champignons and cut them in slices. Pour into a bowl multivarki vegetable oil. Saute the onion and mushrooms until soft in the mode "Roasting".
Prepare the potatoes, cut into slices. Put the slow cooker sauteed onion and mushrooms, place in a bowl, half of the sliced potatoes. Dilute sour cream with a little water, add spices. Salt the potatoes, pour sour cream, put a layer of marinated meat on a layer of potatoes, which also need salt. Slice the tomatoes slices and put them on the potatoes, add the herbs and grated cheese.
Upon completion of the program you can leave the dish in a slow cooker for 30 minutes in the "heating"mode.
Close the slow cooker, setting on 50 minutes mode "Cakes". The finished dish is not that worse than in the pressure cooker.
Advice 2: Cheesy potatoes in a slow cooker
Potatoes with cheese, cooked in a slow cooker, is not only a great dish, but also a great side dish to various meat dishes. A potato suitable for a festive feast, and for a regular dinner in the family circle.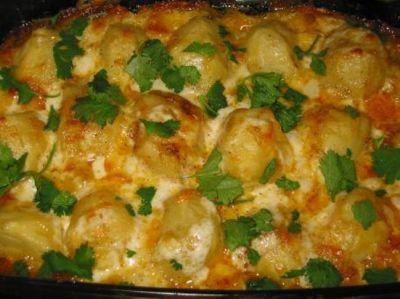 You will need
- 500 g of potatoes;
- 100 g of mayonnaise (preferably homemade);
- 100 g of any hard cheese;
- 30 g of butter;
black pepper, salt and seasoning to taste;
- 1 clove of garlic;
- 3 sprigs of dill
Instruction
Medium-sized potatoes peel and wash thoroughly under running water. On each potato to make several uniform sections (distance between sections approximately 1 cm).
The sliced potatoes to coat with mayonnaise so that it fell and made the cuts, then sprinkle with salt, pepper and spices according to your taste.
Grease the bowl multivarki butter and put in it the potatoes so that the incisions were at the top. Choose the multicooker program "Multipower" or "Baking" (depending on the kind of slow cooker) and set the timer for 40 minutes.
While the potatoes are baked, grate the cheese on a coarse grater and add it to the slow cooker 10 minutes before finishing the cooking.
The finished dish sprinkle with fresh herbs and crushed garlic, then bring to the table.
Useful advice
Potatoes with cheese, cooked in a slow cooker, can also be served with fresh vegetables.
Advice 3: How to cook round potatoes with sour cream and greens
Potatoes were introduced in Russia for more than two centuries ago. During this time there were invented many dishes with this nutritious and delicious product. This root vegetable is served often also as a separate dish or side dish. To do this, it can be prepared with sour cream and fresh herbs.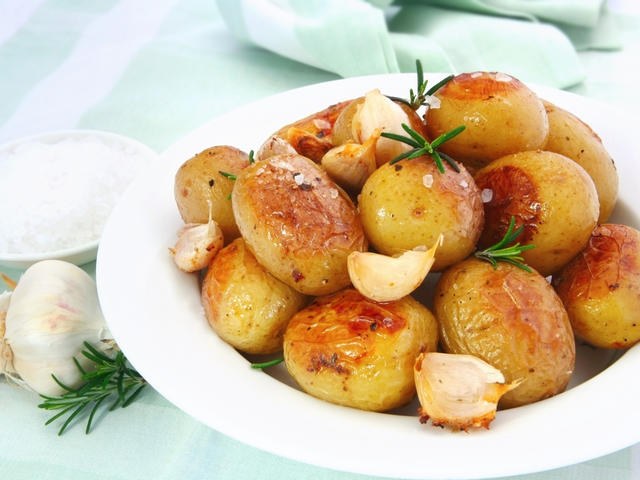 The rules of cooking delicious potatoes with sour cream and greens


To cook the potatoes round as a whole, it is important to choose the tubers are small and always the same size. Then the dish will turn out much faster, and the potatoes are cooked evenly.

To create beautiful dishes is very important not to overcook the potatoes. It should retain its shape but be soft.

Fill the cooked potatoes with fresh herbs is at the very end. Otherwise the dish will not be as fragrant. Potatoes perfectly combine the dill, green onion, oregano, rosemary.


Boiled potatoes with sour cream and fresh herbs


To prepare this dish you will need:
- 500 g young potatoes of equal size;
- 2 liters of water;
- 1 teaspoon butter;
- 2 tablespoons of sour cream;
- a bunch of dill.

Potato peel, wash thoroughly under running water and add to the pan. Cover with water, bring to a boil, remove the foam and cook until tender. It is very important that they do not seethe, and retained its shape. 10 minutes before the end sprinkle with a little salt potatoes. Then drain the water, put in a saucepan the butter, sour cream and finely chopped dill. Cover pot and shake it several times to keep the contents mixed.


Baked potatoes with mushrooms in sour cream


Ingredients:
- 500 g of potatoes;
- 200 g mushrooms;
- onions;
- 1 tbsp. tablespoon butter;
- 150 ml cream;
- 200 g of sour cream;
- ½bunch of dill and chives
- salt and spices to taste.

Round small sized potatoes, boil in their skins until soft. Then peel, put in a baking dish and season with salt. Half rings of onion and coarsely chopped mushrooms lightly fry in butter. Add sour cream, cream, salt and spices. Bring to a boil, and then pour the sauce potatoes. Put the dish in a preheated 200oC oven and bake for 20 minutes. Ready potatoes with mushrooms sprinkle with dill and chives.


Young potato in sour cream in slow cooker


Ingredients:
- 6-8 potatoes;
- 150 g sour cream;
1 teaspoon nutmeg;
- 100 ml of water;
- 1 teaspoon butter;
- black pepper and salt;
- 2 cloves of garlic;
- parsley and dill.

Potatoes thoroughly wash and put in slow cooker, pre-oiled. Add salt, pepper, sprinkle with ground nutmeg. Add water, sour cream and carefully mix. Select the mode "Suppression" and set the time to 1 hour. When the potato is ready, place it in a deep dish, season skip through the press garlic and chopped greens. Serve before it gets cold.
Advice 4: How to bake potatoes with chicken in the slow cooker
The slow cooker
allows the hostess to cook delicious and healthy meals with minimal time and energy costs. One such simple and healthy dishes is potato baked with
chicken
.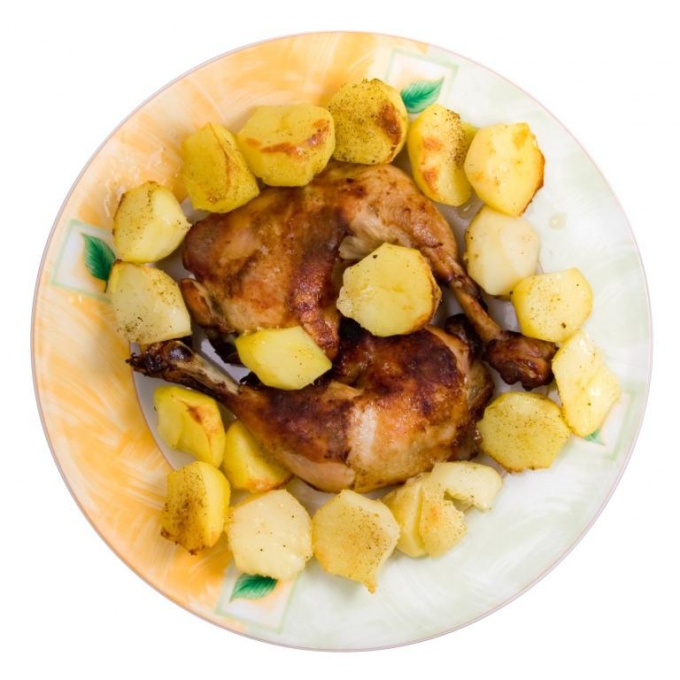 You will need
chicken legs – 2 PCs;
the potatoes – 7-8 PCs;
onions – 2 PCs;
vegetable oil;
salt;
black pepper;
red pepper;
greens.
Instruction
Legs salt and pepper, leave them for a few minutes for impregnation. Remove the skin of potatoes, cut the tubers in half or quarters. Lightly salt the potato slices. Slice onions rings.
In the bowl multivarki pour a little oil, put into it the chicken, potatoes, and onions. Turn on the "Baking" for 40 minutes. After 20 minutes, open the lid and carefully turn chicken legs. It is necessary to obtain a Golden crust across the surface of the chicken.
The finished dish remove from the slow cooker and sprinkle with finely chopped parsley, dill or cilantro.