You will need
500 g chicken liver,
1 large onion,
1 large carrot,
1 egg,
2 tablespoons sour cream,
2 tablespoons corn or flour,
sunflower oil for frying
salt
pepper.
The liverworts of beef liver
0.5 kg of beef liver,
200 g of fresh bacon,
4 eggs,
flour
salt.
The liverworts of pork liver
300 g pork liver,
1/2 Cup rice,
2 onions,
pork fat net,
1 Cup cream (20 %),
salt,
ground black pepper,
vegetable oil.
Instruction
Fritters chicken liver
Rinse the liver clear from the films and pass along with purified onion through a Mincer with a fine grid. Carrots grate on fine grater and add to the liver. Then add the flour, sour cream, egg, salt and pepper, mix thoroughly (corn flour should be swell for 10-15 min.). Preheat the pan, pour oil, put the pancakes and fry on both sides until Golden brown.
The liverworts of beef liver
Soak liver in water, rinse, remove the film and ducts, cut into large chunks. Mince the liver and fat, add slightly beaten eggs, salt, flour. Add the flour in such quantities to get the consistency of dough for pancakes.
Liverworts lay the spoon on a heated pan with vegetable oil. Fry one side, flip to the other and close the pan with a lid turn off the heat and leave to walk under cover in a warm place.
The liverworts of
pork liver
Wash the liver, Pat dry, cut into pieces and mince, add salt and pepper stuffing. Wash rice, boil water, put back the rice and one onion, add salt, boil until tender. Mix the minced liver and rice until smooth.
Take the pork fat netting, cut it into squares, put in the middle of each square stuffed with rice and liver and turn into the envelope. Put the pan on the fire, heat, pour vegetable oil, fry on both sides of the liverworts and put in a deep pot.
Wash the remaining onions, peel, cut into cubes, fry in a small amount of vegetable oil and add together with cream in a deep pot to the liverworts. Simmer the liverworts together with onion-cream sauce for 10 minutes.
Advice 2: How to cook tender and juicy liver
Lovers of delicious homemade food often ask how to cook liver, so it was soft and juicy. There are a few simple recipes that will allow you to achieve this and to please the family favorite dish.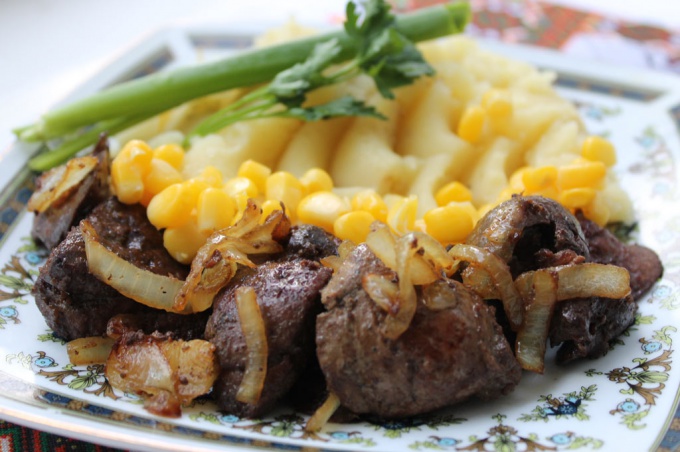 How to cook a tender and juicy chicken liver
You will need:
0.5 kg chicken liver;
3 onions;
1 carrot;
4 tablespoons of sour cream average fat content;
salt and pepper.
Soft and juicy chicken livers in sour cream is one of the most famous varieties of meals. Chicken liver is considered the most soft and pliable in preparation, so it is enough to wash to hold in cool water for 30 minutes, after which you are ready to begin cooking. Clean it from the bile ducts and films, cut into small bars. Season with salt and pepper.
Cut into small cubes onion and carrot, then saute over medium heat until Golden brown. Roll in flour the liver slices and fry in vegetable oil in a separate pan until crisp. Add the onion and carrots, then simmer for 15 minutes on low heat, covering the pan with a lid. Periodically add a tablespoon of water to the dish did not burn well, and it was extinguished.
Add to the liver 2-3 tablespoons of sour cream and simmer another 10-15 minutes, stirring occasionally. Check out the finished dish on the stiffness. If you want the liver was softer and more juicy, you can add 1-2 tablespoons of water and one to hold the fire longer, until the dish will not match the desired flavor.
How to cook tender and juicy pork liver
You will need:
0.5 kg pork liver;
5 tablespoons of flour;
2 tablespoons of mayonnaise;
2 tablespoons sour cream;
1 onion;
spices.
Pork liver has a high content of blood, which makes it more bitter than chicken. Rinse the liver, it steep in cold water for 1-1. 5 hours. Then remove the veins and rinse again under running water. Cut into small cubes, so that in future they are well cooked and become soft and juicy.
Roll liver in flour, adding salt and spices. Heat a pan and fry the liver in vegetable oil. Please note that at this stage the dish should not be brought to a fully ready state, so take out the liver, when she will devote plenty of juice, and arrange on a plate.
Cook the sauce for further stewing pork liver. Pour into the pan a glass of water, then bring to a boil. Add mayonnaise and sour cream, stir. Place in the boiling sauce over the liver slices and diced onion. Simmer for 20 minutes until the dish has reached the desired degree of softness.
How to cook tender beef liver
You will need:
500 g beef liver;
2 carrots;
2 bulbs;
3 cabbage leaf;
1 tbsp milk;
1 tablespoon buckwheat;
pork fat mesh;
salt.
Beef liver is the most hard and bitter, however it is quite possible to cook delicious food in the form of so-called liverworts. Cook in salted water buckwheat. Clean the beef liver from the film, cut into cubes and soak in milk for half an hour. Cut the onions and carrots and fry in vegetable oil. Miss liver slices and vegetable sauté in a meat grinder or chop in a blender. The resulting mince mix ready and add salt to taste.
Cut the pork fat grid squares 10 × 10 cm, Wrap them in a tablespoon of hepatic masses, making some semblance of cabbage. Billet fry in vegetable oil until crisp, then place them in a pot or heat-resistant form, zastelil her cabbage leaves. Pour in a bowl a small amount of boiling water, cover with foil or a lid and cook in a preheated 180 degree oven for 20 minutes.
Advice 3: How delicious to cook beef liver
Incredibly healthy the liver – a great base for hearty dishes, especially during the spring beriberi. Want to diversify the usual menu and tasty to feed the whole family? Prepare beef liver in a spicy tomato sauce or make an aromatic liverworts.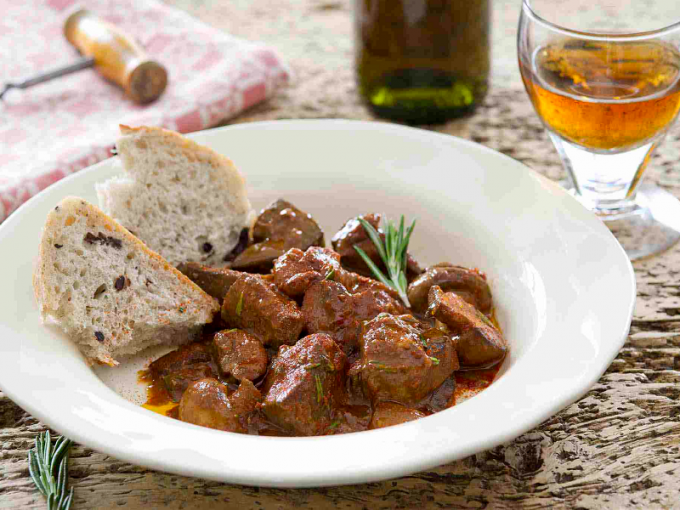 Beef liver in tomato sauce


Ingredients:
- 700 g beef liver;
- 1 onion;
- 3 cloves of garlic;
- 1 tbsp of potato starch;
- 1/3 tsp of dried ground ginger, paprika and black pepper;
- 1 tbsp. water;
- 1 tbsp of tomato paste;
- 1 tsp of honey;
- 4 tbsp of soy sauce;
- vegetable oil;
Sol.

Wash the beef liver, place it in a deep bowl or container and pour cold water so that it completely covers the meat by-product. Leave it on for 20 minutes, then slide onto a paper towel, dry, free from film and cut into small wedges. Will peel onion and garlic cloves, cut into thin half-rings of the first, second grate on a grater or crush in a special press.

Dissolve in half a glass of water starch and stir so that no lumps. Whisk the soy sauce with a little warmed honey and tomato paste. Mix the liver with the garlic, pour starch liquid and marinade, stir and leave for 20-30 minutes.

Heat the vegetable oil over medium heat and fry the onions until Golden. Remove the liver from the tomato-soy liquid with a slotted spoon and add to the pan. All simmer 3-4 minutes, stirring constantly with a wooden spatula, then pour in the marinade and half a Cup of hot water. Simmer the dish for 5 minutes, the sunflower it if necessary, and season with spices. Turn down the heat to low, close the pot with a lid and cook the liver for another 1-2 minutes. Remove it from heat and allow 5-7 minutes to infuse.


The liverworts


Ingredients:
- 500 g beef liver;
- 1 tbsp. buckwheat;
- 1 tbsp. milk;
- 2 bulbs;
- 2 carrots;
Sol;
- pork fat mesh;
- vegetable oil;
- 3 cabbage leaf;
- boiling water.

Boil the buckwheat in salted water. Detach the liver from the backing and soak in milk for half an hour. Slice onions and carrots and fry in vegetable oil until soft. Skip the vegetable sauté along with chopped to pieces a by-product through a meat grinder or chop in a blender. Combine the minced meat with buckwheat, a good stir and salt to taste.

Fat cut the mesh into squares of size 10 × 10 cm fold them in 1 tbsp of the hepatic mass as cabbage rolls. Convolution fry in vegetable oil until crisp. Put them in a pot or a small ovenproof form, pre-zastelil it with cabbage leaves. Pour in a bowl of boiling water to one third the height, close it with a lid or foil and place in a preheated 180oC oven for 20 minutes.