You will need
- the passport;
- visa;
- ticket;
- ferry ticket;
- hotel reservation;
- medical insurance policy.
Instruction
If you are going to visit Ibiza, the first thing to get a Schengen visa. Contact your travel agent or submit it yourself at the visa application centre of Spain. Before applying check your passport. It needs to be valid for at least 90 days from the date of completion of the trip.
There are two ways to reach the island. This can be done by plane or by ferry. In the summer season (June to September) from Moscow to Ibiza once per week to fly direct Charter flights the airline Transaero Airlines. Journey time is just over 4 hours. If you decide to visit the island during this period, take care of tickets in advance. Visit specialized sites that are selling tickets for Charter flights. For example, http://www.chartex.ru/ etc Examine details and get your ticket.
To fly from Moscow to Ibiza is possible with one or two stopovers in Barcelona, Madrid, Munich, Frankfurt, Paris and other cities, bought the ticket for regular flights of the airlines Iberia, Spanair, Lufthansa, Air Berlin, etc. Foreign airlines operate flights to Ibiza all year round. The ticket price ranges from 10,000 rubles, depending on the airline, the time of year and the number of interchanges.
To purchase a ticket, visit the websites of the airlines or Agency sites selling tickets. Do this well in advance as the best options are sold out in the first place. Examine possible routes for the requested dates and compare the prices. Prepare your passport and credit card and book a flight. The itinerary receipt will be sent to your email address listed in contact information.
Book your hotel using the online form on the website of the selected hotel or an international hotel booking systems.
Purchase a medical insurance policy. Remember that it must be valid on the territory of the Schengen countries and have a minimum coverage of 30,000 Euro.
To get to Ibiza is by ferry.
From Barcelona
, Valencia and other cities to Ibiza ferries. They go several times a day. The estimated cost of a ferry ticket is € 90. In addition, the island can be reached by boat from Mallorca, having paid 70 euros for the ferry.
Advice 2 : Carefree Ibiza
If you ask young people about what kind of foreign resorts the most fashionable and youthful, the answer is unequivocal - this is Ibiza, an island in the Mediterranean sea.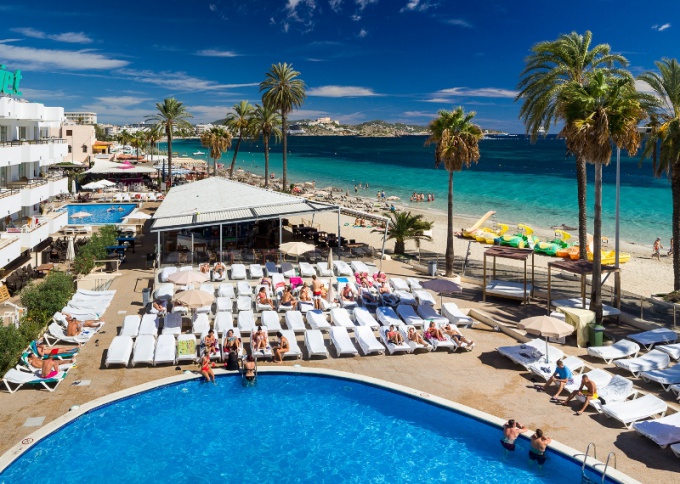 Life in Ibiza is in full swing, begins to boil at the beginning of summer and reaches its peak in August, when there is not enough space for visitors even in the largest clubs.
Don't go to Ibiza just to relax on the beach and night life, while here you can take a dip in the warm sea. The rest can be part of an interesting tour of the capital. Night life on Ibiza is in full swing. Parties are held everywhere and without interruption, can be private parties in bars, clubs and restaurants and can be open directly on the beach. And every night in the capital, a parade that attracts young people in night clubs.
Ibiza is the biggest club in the world, which has a capacity of 10 thousand people. There are just popular clubs, discos. In the morning, after the party, you can go to the coast. Ibiza has beaches for naturists and the beaches for holidays with families and children. There are wonderful distant beaches, which can be reached by car or scooter.
Ibiza has many historical landmarks, trendy boutiques, bars and restaurants. Ibiza are just perfect for those who are young, energetic and is always in motion and looking for adventure. Besides, tourism there is very well developed, almost as well as club parties.