Instruction
If you have finally decided to take a puppy home, you take only three months or younger. Small adult dogs usually do not attack, but against the older puppies can not only be aggressive, but to act accordingly – to jump, to bite, to fight.
The first few days keep the animals in separate rooms, do not connect with each other. After a couple of days, you can swap them so that they are not met. For example, ask a family member to transfer the puppy in the room where there is a dog while you're out with her. Let it the ban that room, and came back, the dog will live in the other. So they will quickly get used to the smell of each other. If you notice that the dog tends to react to foreign scent – barks and growls, punish and scold her. Any manifestation of aggression is necessary to prevent punishment. Some owners believe that a vicious dog can be calm, uttering gentle words and trying to pet them. But because the animal may think that you approve of his aggressiveness.
After a few days, introduce your puppy and dog with each other. Adult be sure to hold while on the leash but do not pull it. If you see that she is aggressive, punish her, tell them to "sit." Let the puppy sniff around the dog, stopping her displeasure. The first time such a "session" should not last more than ten minutes, and then take the dogs in different rooms. Several times a day arrange such meetings for 10-15 minutes and only in your presence. It will take two to three weeks before the adult dog gets used to the puppy.
Make it clear to the dogs that one of them you're more important than the other. For example, if they both growl at each other, first punish the younger, even if the beginning of the first adult. The older the dog, feed first, walk first puppy, pay a little more attention and affection, make sure she was getting his bone or toy. Feed the dogs separately. They grew accustomed to in the pack was a hierarchical relationship, so if they clearly know their position in the family, problems will arise. But do not let an adult dog beginning to behave like a leader. You – the owner of both dogs and needs to show his leadership in front of them. Behave according to the rule of first come and go in the door, ignore the dog when she asks for food or bothering you, disable to lie on the couch or chair.
Few weeks both dogs get used to each other and start to behave calmly. If aggression is no longer there, you can leave them alone in the absence of the owner. Conduct training the puppy, but don't forget to spend more time with an adult dog. Over time, you get to make friends with a dog and a puppy.


Useful advice
Avoid serious clashes or fights between a dog and a puppy, then aggression is likely to increase.
Advice 2: How to make a kitten with a dog
Most of the animals in the wild, trying to avoid contact with members of other species. Different Pets also are not always able to live under one roof. How to make friends with the dog a little kitten?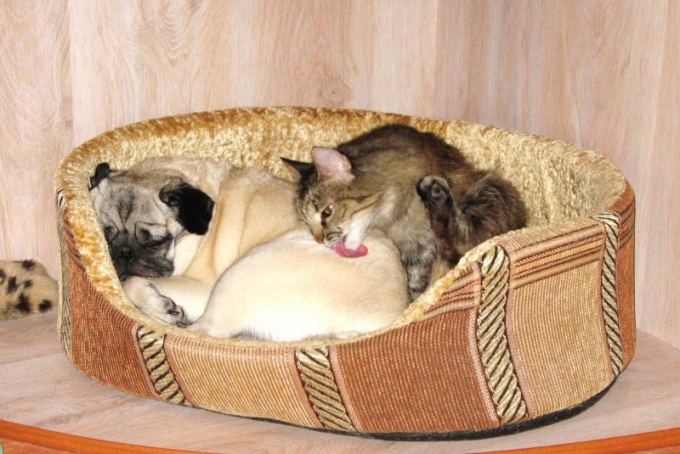 Instruction
If having an adult dog, you decided to bring home a kitten, keep in mind that for most animals it is the stress, and sometimes serious danger. Typically, the host feels a pet that appears first in your family. Easier when your dog is well socialized and you'll be well-adjusted, sociable disposition. This dog can get along with any living creatures, he may even make friends with the kitten. Cats are much more individualistic, but they can be good neighbors to other Pets.
True friendship between animals of different species is very rare. But mutual tolerance, shared interest in games, the absence of conflicts between household Pets is very real. However, some precautions are required. Monitor the process the first meeting of a kitten with a dog. Don't force Pets, give them the opportunity to first study each other at some distance, and then quietly sniff.
Select for each animal a place to sleep, a bowl for food, to prevent conflicts between them in the struggle for property. At first, feed the Pets in the same room but in different places. Thus the pet will gradually get used to the smell of each other, associating it with something positive. Dogs usually eat food faster, leaving his bowl empty. Cats often do not eat enough food. So remove the bowl of the kitten after he ate to avoid eating dog remnants of cat food.
Pay equal attention to both animals, not to give them a reason for rivalry and jealousy. Accustomed to each other's Pets often play and sleep together. Heat-loving cats use the dog as a "live warmer". At the same time, licking his fur, clean the members of the cat family often begin to wash the dog.