Instruction
There are several ways to draw a family tree, but no matter what method you choose, first you need to collect the necessary information about your genealogy. Get a notebook and write down all the information that you are aware about their ancestors. Talk to relatives, talk to grandparents who remember and know much more. Try to learn as much as possible, look at old photos.
Select the family tree – it is ascending and descending. In the first case, begin collecting information with the main entity that is directly from you, and then go in ascending lap of his father, grandfather, great-grandfather and so on. This kind of pedigree is typically used when researchers have no information and have to move from the known to the unknown. It is therefore advisable to choose him.
Select the method of registration of the family tree. There are now special programs that allow you to artistically arrange it. One of the most popular programs is GenoPro – it is used even genealogists, doctors, teachers and other researchers in the field of genealogy. To download this software on the site http://www.genopro.com. More easy-to-use programs – the Tree of Life, it allows you to store multimedia data, has search, sorting of information, provides statistics. The website of this programme http://www.genery.com/ru. Program gives the ability to quickly and easily make family tree simply by typing the necessary information in the provided for her shape.
Much more interesting and fun to draw family tree by hand, because things made by hand, are expensive. Relatives will definitely appreciate this work. Here, too, there are several ways. Search the web for a suitable picture of a tree that will form the basis of your design work. Prepare photos of relatives in the electronic form. Use any graphic program to place pictures on the tree in the correct order. Add labels under each photo, mark the date and place of birth, historical events. On the side of the tree, you can make a timeline to demonstrate the development of your family throughout the history of the country. Take place for rare family photos, family crest (if any), information about the history of the genus.
Another way more creative. If you are great at drawing, draw the tree that will perfectly fit your pedigree. Pre-count the number of branches, the branches, the height of the tree. Make first a draft and then transfer the tree on cardboard or drawing paper. Attach photographs and fill in the same way as in the previous paragraph.
Advice 2: How to make a family tree
Compiling a
family
(genealogical) tree is a fascinating pastime that helps you to learn a lot about his ancestry and to perpetuate information about their roots, and then transfer this information to their children. The easiest way to make ascending tree – one that will start with you and grow by adding information about your ancestors.

You will need
A sheet of paper, writing subject, materials from the family archive
Instruction
Take a sheet of paper, place it horizontally and at the bottom center of the sheet label itself. Myself swipe up two lines in opposite directions. On one of them write the information on the mother, on the second – about the father. Continue to develop the tree to the sides and up, writing there the information that they know about grandparents and other relatives. It will be a rough draft of your family tree.
Using lines to indicate family ties between parents and children, and with the help of double lines or plus sign" - communication between spouses. You can specify only minimal information about the family (names, dates of birth and death), but it is better to Supplement it with information about the profession, place of birth, hereditary diseases, etc.
When your knowledge of the relatives are exhausted, contact your older family members on the maternal and paternal lines. Also, use family archive: photo books, death certificates, employment records, letters, etc. Make copies of all important documents as well as photographic portraits of each member of the family. Complement your tree on the information submitted.
When the family no longer can help, go to the local files. There you can find information about those ancestors and where your tree is broken and perhaps learn something about their life and about their parents. Also a good source of information about ancestors can serve as a parochial (Church parish) of the book.
If you feel great difficulty in self-search of information, you can contact one of the specialized firms, where for a fee you will collect information about your ancestors, will see the story of your family and even find long-lost relatives.
When the quantity of collected information will satisfy you, and a rough draft family tree will seem to you enough volume, you can proceed to the final stage – the transformation of the obtained information. For this you can use a sheet of drawing paper of large format and draw (or paint) the genealogical tree manually, if desired, glued to photos of relatives.
If the design manually seems too long and time-consuming, you can use one of the many computer programs that allow you to quickly and easily make an electronic version of the family tree. The result of your labors can be printed, put online or simply to save disk space.
Advice 3: How to make a family coat of arms
Family
coat of arms
is a special symbol that unites all representatives of the same genus. Several centuries ago he was given great importance today, create a symbolic image is optional.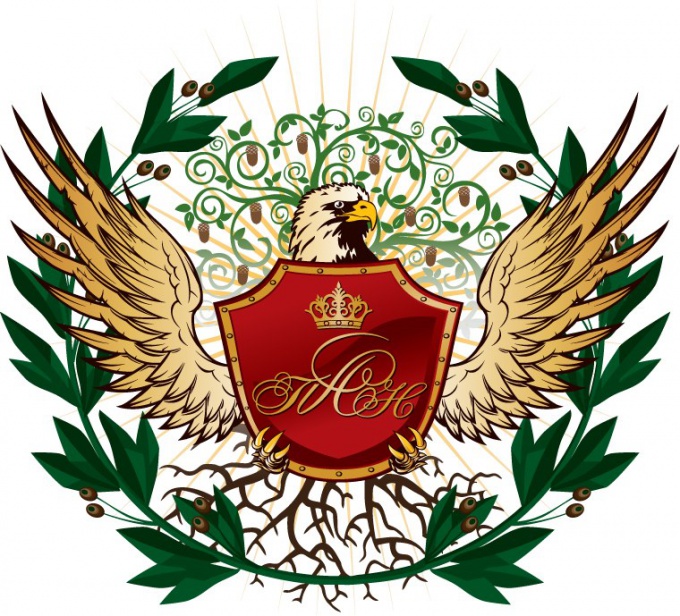 Instruction
Look in the sources available to you information about the origin of the family. Perhaps you belong to the few nobility and your kind in ancient times had been the coat of arms. In this case, it can pick up and move to the modern materials, without making a new drawing.
If you want to create a coat of arms with a clean slate, you must define the values of your family, her service to the society and distinctive characteristics. For example, if someone in your family designs military aircraft, the center of the figure you can place an image of a fighter.
Consider what illustrations will be needed to accurately characterize these values. If you can't pick your own, ask for help to other family members, after drawing up the coat of armsand is a collective creativity.
Learn the basic shapes that are traditionally used in heraldry, and stop at one of them. Its contours give the symbol of awareness, will not allow to confuse it with the other object of arts and crafts.
Stop on a certain set of characters you plan to portray inside the shape. They should not be too much, to prevent an overabundance of small details that will create a feeling of some chaos. You can come up with any plot, and also to split the total field into separate sectors, each of which will be dedicated to one family member.
Take a sheet of paper, transfer it a picture of the coat of arms. If you do not know how to draw, ask relatives or friends to help you. Paint the image.
The resulting laminate arms – it needs to be solid, this will allow it to be well preserved for many years.
Optionally, complete your coat of arms motto, which is typically written in a separate box below the main figure. It is a short concise phrase, and valuable to your family. In parallel, compose a few words about what is depicted on the coat of armse and why have you chosen these characters.