Instruction
Options two cultivation: from seed kiwi fruit, store-bought, or from cuttings purchased at the nursery. The first method will allow you to plant, but the fruit of it you hardly wait. This is due to the fact that kiwi fruit is a tropical vine that is propagated dioecious. That is, it has male and female plants. To distinguish gender creepers colors is very difficult. Here you need to be experienced botanists. But it may happen that you get lucky and one of those seeds that germinate, grow plants of different sexes. Of course it is better to buy cuttings from cultivated plants grown in the conditions of your climate. They are guaranteed to blossom and bear harvest.
Let's start with the seeds. Select the store most ripe, delicious fruit. They should be smooth, soft, flawless, in one word, the best representatives of their varieties. Remove the seeds and eat the pulp, that is not lost. Now they need to be washed and dried, put in a layer of toilet paper. Then prepare sterilized sand (it in contrast to the soil can be boiled) and mix with seeds and refrigerate in the area of chilled meat for a couple of weeks that the seeds stratifitsirovannoi.
After two weeks the seeds with sand you need to shed a pink solution of potassium permanganate and mix it with the sterile soil. Sterility to avoid destruction of young seedlings by fungi. The soil can get ready designed for tropical vines (Passiflora) and hold in a water bath for 2 hours. Then take a container with holes in the bottom, put a small 4-5 cm layer of soil and sow the seeds of kiwi. Sprinkle them with earth and put into a warm place.
Kiwi seeds germinate quickly and very amicably. Now the main thing is not to let the ground dry out. Moisten the seeds by the pallet.
When the plants reached 10-12 cm will be time to replace them in a separate container, otherwise they will slow down in development. Since the roots of kiwi are located in the upper layer of the earth, it is better to choose wide shallow pots. In the summer take them to the balcony, and better get to the country, may they gain strength. These fruit vines don't really like bright sun, so put them in partial shade.
If your geographical area the warm climate, the vines can be planted in the open ground. Have seedlings of kiwi form the trunk and crown, as in grapes. First leave a barrel length of 60 cm, and from it form a crown of 4-5 skeletal branches, on which will grow fresh shoots. It will have to be removed throughout the growing season. Kiwi love watering and spraying. They don't get sick or anything, so and spray the different solutions do not need them. However, they are demanding to fertilizers. For the season 1 adult plant "eats" 100-120 kg of decomposed manure. But and please it you will have delicious fruit. Don't forget that kiwi dvodomna, so put on 5-6 female plants one male. If you have grown a lot of male plants, it is possible to instill in them the buds of the female, they will go to growth and will bear fruit.
Whichever method you choose, any experience will be helpful. Who knows, maybe starting with kiwi, you'll divorce at home or at the cottage a tropical garden?
Note
Kiwi vines can be successfully grown both indoors (with adequate lighting) and outdoors. Mature plants can withstand up to 15 degrees below zero. So for the winter they can bend to the ground and cover with leaves or sawdust, you can dig kiwi and hide in the basement until spring.
Useful advice
In order to grow kiwi at home, use ripe berries, choose the seeds, thoroughly wash residues from pulp and stratify. Next, the selected seeds and the washed berries, kiwi should be kept in moist sand from 2 to 3 weeks, you will need to withstand temperatures to not fall below +10 and did not rise more than +20
Advice 2 : How to grow kiwi from seed
Gone are the days when kiwi was a rarity. Now this hairy green fruit you can buy at any farmers market or even arrange his plantation at home. If you are not able to acquire root suckers or cuttings, you can grow kiwi from seed. The best time for sowing is from March to may.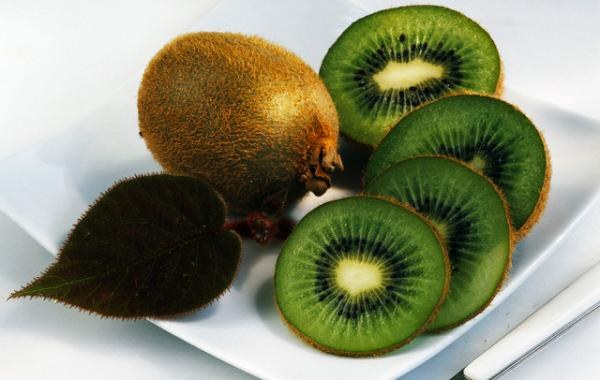 Instruction
Select the store most ripe kiwi. The fruit should be soft, smooth, without flaws.
Wash the fruit and cut it into several parts. Gently knead the flesh. The resulting slurry throw in a Cup of warm water, stir and let it settle. Repeatedly rinse the flesh is gone, and the bones will remain to float on the surface.
Put the seeds of a kiwi on a napkin. After 2-4 hours, they will dry up. Wrap seeds in cotton wool or tissue and place in a saucer. Add a little hot water – it needs a good soak material but not to spill out when you tilt the container.
Cover the seeds with foil and put in a warm Sunny place. Night film better to lift or even remove. In the morning top up with required amount of water. After 7-10 days the seeds of the kiwi fruit should come up soon.
Take a flower pot and pour on the bottom a little clay pellets. The soil is better to take ready designed for tropical vines. Soak it in a water bath for two hours. In holes with a depth of 5-10 mm, put 2-3 seeds. Lightly sprinkle them with earth, water with water at room temperature and cover tightly with foil. Put the tray in a warm Sunny place.
After 3-6 days the first shoots. From unpromising and unnecessary germs it is better to start to save already at this stage. Water moderately and only separated by water. Winter shoot growth of kiwifruit slows down, and it only needs to be watered 2-3 times per month. During the growing season (spring and summer) the plants require more moisture, so watering should be more often – 2 times a week. In addition, in the hot summer kiwis need to be sprayed.
Don't forget to thin out the plants, otherwise they will interfere with each other. In the early stages they can just pull out of the ground. A little too late to do it will not work, because the root system of kiwifruit growing fast enough. The best option would be to trim the unwanted germ.
When the plants reach a height of 10-12 cm, transplant them into separate trays. If not, their development will slow down.
In favorable conditions, flowering and fruiting kiwi from seed starts on the third or fourth year.
Note
Kiwi is a dioecious plant, i.e. it flowers are either female or male. To get fruit, you need to have the shoots of both sexes. While kiwi will not bloom you will not be able to find out what sex the plant it is not enough for fruiting.
Useful advice
In vivo kiwi shoots reach upward to the sun. In room lighting is sunlight they can get only one side. If you want to plant kept a straight silhouette and had evenly developed crown, use artificial vertical illumination. You can also every 2-3 weeks to turn it clockwise 10-15 degrees.

Kiwi protect from direct sunlight – they can cause burns on the leaves!