You will need
two-component rubber for casting flexible silicone forms, such Pentalist -720, clay, brush, vaseline, container for mixing glue, rubber gloves.
Instruction
Make clay molds of the head shape of your chosen character. First it is necessary to draw on paper, then sculpt accurately maintaining proportion to your size. Usually a rubber mask worn on the head as a whole or have a back slit for ease of use.
Cover made of plasticine form and separated with petroleum jelly.Connect to capacitance components of the adhesive, mix thoroughly, being careful not to have air bubbles. Compound (two-component elastomer) consists of a paste of the base and catalyst-hardener. Strictly follow the mix ratio described on the packaging. Mixing is required to dissolve the hardener. It is better to use small portions.
With a brush apply the mask form a thin layer of ready mixture of two-component rubber. Wait until air bubbles and the rubber will begin to stiffen. Mix another batch of paste and hardener.
Cover the mask form with several layers of two-component rubber. Make sure that the last layer was done carefully and neatly.
Wait until dry mask, approx 24 hours. Then with a sharp knife cut holes in it for eyes, nose, mouth. Razreshite the mask with paints, glue additional items (if necessary). Make a well in the mask slit at the back and remove it from the workpiece.
Wear the mask will be in 72 hours. Before first use, wash the mask in warm water with soap.
Useful advice
Don't wear the mask for more than 2 hours at a time. Rubber is not breathable, so the skin can sweat, resulting in pimples and rash.
Advice 2 : How to use rubber paint
Each year used in the construction of more modern materials, one of which can be considered a rubber paint. When applied it forms a thin film, resistant to moisture and adverse external conditions, it can be used both on the street and in premises.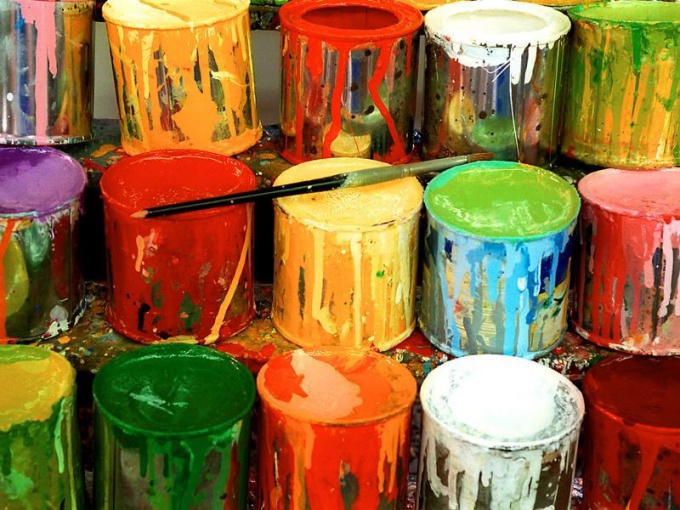 You will need
- rubber paint; - filler mixture; - universal ground; - a degreaser; - color; - cushion; - brush; spray gun; putty knife; - abrasive cloth; - a tool for grinding.
Instruction
Before you buy rubber paint, carefully read its scope. Rubber paint is used to cover almost any surface – concrete, plaster, brick, drywall, wood, chipboard, hardboard, tiles and even asphalt, galvanized steel and asbestos cement. However, it is not necessary to use for painting furniture, floors, window frames and doors.
Prepare the surface for painting. Thoroughly clean it, if necessary, remove dirt, chalk, grease and oil spots, old paint residues. If the surface is very oily treat it degreasing agent. Best will be the paint on puttied and polished surface, but don't forget to clean it from dust formed in the process of grinding.
If you want to paint the rubber paint on the surface previously covered with oil or alkyd paint, sand it to a matte state. Wash with soda solution or sodium phosphate, rinse with water, cover with universal primer and air dry.
Open the jar of paint and mix it thoroughly. In General, to dilute the rubber paint is not desirable, but if it is strongly thickens, it can be made more liquid with water. If necessary, add the color, in this case, the paint should be stirred with a special tool or nozzle on the drill, otherwise to a uniform color will not succeed.
Apply on a dry surface the first layer of paint with a roller, brush or spray (ambient temperature should not be below +5 degrees). Wait for complete drying of the layer (from 30 minutes to 3 hours, depending on humidity and temperature) and apply a second coat. In General, to create a smooth durable surface is required 2-3 coats.
From time to time stir the paint as it can flake. Rinse tools immediately after work, avoiding drying. Due to the fact that the paint has many properties of rubber, it can be given any shape, and it will not crack even when bending, stretching or exposure to frost.