You will need
fresh green peas;
lamb;
bow;
tomatoes;
potatoes;
garlic;
Bay leaves;
salt;
pepper.
For the second recipe:
frozen peas;
frozen mixed vegetables;
bow;
paprika;
vegetable oil;
potatoes;
seasoning for soup;
pepper;
salt;
noodles;
greens;
sour cream.
For the third recipe:
fresh green peas;
meat broth;
bow;
celery;
potatoes;
smoked sausage;
bacon;
thyme;
black pepper;
Bay leaves;
cloves;
parsley.
Instruction
If you want to make a hearty meal, prepare
the soup
the next. Rinse and sort through 300 grams of fresh green
peas
. Put in a pot of water 500 grams of lamb and simmer 20 minutes on very low heat, removing foam as necessary. While the meat is cooking, peel 2 medium onions and slice into strips. Put onion and green peas in a saucepan. Scald with boiling water 4 fresh tomatoes and remove the skins, chop. Wash and rinse 400 grams of potatoes, cut it into small cubes. In 15 minutes after you put the peas in a saucepan add tomatoes and potatoes, and season soup 3 chopped cloves of garlic, a few Laurel leaves, salt and pepper to taste. Continue to cook until cooked potatoes.
Prepare a light soup of green peas. For this defrost is 200 grams of vegetable mixture and 300 grams of peas. Finely chop one large onion and fry it until dark Golden brown in vegetable oil in the pan in which you cook the soup. Sprinkle over onions two teaspoons of paprika and cover with water, to not burnt. Cut into cubes 2 potatoes and add to the onions. Give it a little boil and sprinkle your favorite seasoning for soup and pepper and salt. Then put enough noodles and cook until tender. Decorate the soup with chopped greens and serve with sour cream.
Another version of the soup with green peas – a spicy and savory. To cook it put 400 grams of fresh green peas in a saucepan and pour 500 grams rich beef broth, add about one liter of water and put on fire. While the broth is boiling, peel two onions, slice and place in a saucepan. Slice 3 stalks of celery, chop 2 peeled potato, cut into cubes 2 smoked sausage and 150 grams bacon. In boiling broth put celery, potatoes, sausages and bacon, reduce heat to low. Spice the soup with a pinch of thyme and three peas of black pepper, cover the pan and cook until until the soup becomes thick. A few minutes before the end of cooking, add 3 Bay leaves and 2 cloves. Ladle into soup bowls and garnish with chopped parsley.
Advice 2: How to cook soup of green peas with rice and meatballs
Soup from green peas with rice and meatballs at the same time nourishing and light. Variegated appearance blends perfectly with a rich taste. To prepare this soup is better to use fresh green peas.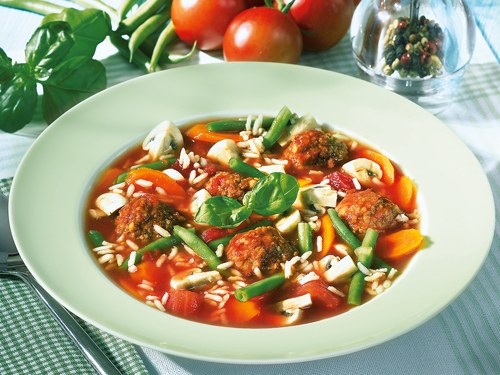 You will need
- 250 g pork
- 100 g of rice
Sol
- canola oil
- ground black pepper
- 250 g of green peas
- dill
- soy sauce
- 1 egg
- 2 cloves of garlic
- 2 liters of chicken broth
Instruction
Rice cover with water in a ratio of 1:2 and cook until tender in salted water. The liquid should be almost completely covered.
Garlic finely chop and sauté in oil. Cut meat into small pieces and mix with the egg. From the mass form small meatballs.
In a saucepan, pour prepared chicken broth. Bring it to a boil. Add fresh green peas, meatballs, rice and garlic. Boil the soup should be on for 20-30 minutes. Before serving, season the dish with sour cream and dill.
Advice 3: How to cook Spanish soup of green peas
The Spaniards are preparing soup from green peas all year round, in summer with fresh peas, and during cold weather from frozen. Now, with the onset of summer, when the soul asks for something bright, "Spanish soup with green peas" - that's it.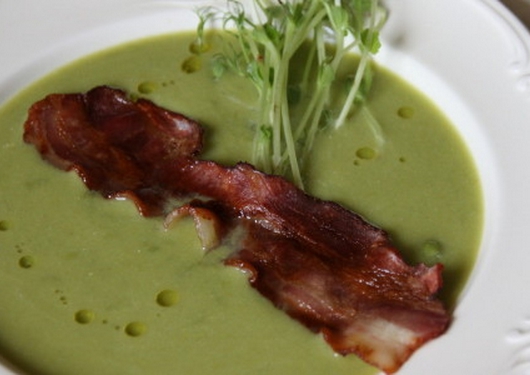 You will need
- 1 kg green peas;
- 150 g onions;
- three cloves of garlic;
- 1 l chicken broth (or vegetable);
- olive oil;
- 8 slices of bacon;
- salt, pepper to taste.
Instruction
In a saucepan with a thick bottom pour a little olive oil and put on fire. In hot olive oil, sauté for five to seven minutes the finely chopped onion. To onion is softened faster, you need to add salt. Finely chop the garlic and add it to the pan to the onions. Stir fry for another 1-2 minutes.
Pour into a saucepan the chicken broth (if desired, chicken broth can be replaced by vegetable). When the broth boils, add the green peas and cook for 6-9 minutes, until soft peas. To put aside and let cool slightly.
Grind the soup with a blender. Do not have to grind all until smooth, you can leave small specks.
In the pan put slices of bacon and fry until crisp. Put the bacon on a napkin or paper towel to remove excess oil.
Soup pour into bowls, add a little black pepper, put on top of the bacon slices, to decorate with greens and pour a few drops of olive oil. The soup is ready.
Advice 4: What to cook young green peas
Frozen green peas are available year round, but in season, from early June to mid August, better get to eat fresh sweet and tender young peas. It hardly needs cooking, and dishes from it – a lot.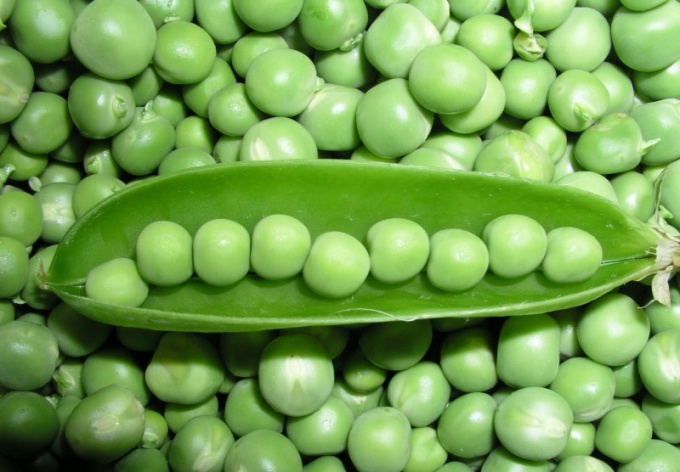 In the season of young green peas cooked very quickly. A few minutes will boil it in boiling water until tender, add piece of butter, seasoning with black pepper, maybe a little mash with a fork and serve as a side dish to fish or meat. But even in this simple recipe, there are variations. Polka dot bourgeois is obtained by cooking the peas with the parsley, drain the water and add to the pan to the hot vegetable raw egg yolk and a little sugar. 100 grams of peas take one chicken egg yolk. Buttery green peas served on toast – fried pieces of bread, cooked using a sauce from flour and butter, a small amount of sugar and nutmeg.
Young peas are often stewed with bacon and onions. In Italian cuisine, fresh green peas is an almost necessary ingredient in the dishes Primavera in the spring style, also add it to risotto sprinkled with fresh chopped mint and drizzled with lemon juice before serving.
For picnics and light snacks it is possible
to prepare
a cold pasta salad and fresh shelled peas with a tangy cheese such as feta, chopped mint and plenty of olive oil. In Spain a tortilla popular in summer with young peas and other seasonal vegetables.
As good in the heat and pea soup seasoned with cream, sour cream or yogurt. To prepare it, take 1 bunch of green onions , 1 medium potato, diced 1 crushed clove garlic , 1 litre vegetable or chicken stock 250 g of peeled young peas. Also prepare 4 tablespoons chopped fresh mint large pinch of brown sugar and 1 tablespoon of fresh lemon juice. In broth boiled potatoes and garlic. 3 tablespoons of blanched peas for garnish – cook in boiling water for 2-3 minutes, poured the boiling water and put in a bowl with cold water. The rest of the peas put in the soup for five minutes until tender. Remove the pan from the heat and add the mint, sugar and lemon juice. Cool and mash with a blender. Put about 100 ml of kefir, sour cream and seasoned with salt and freshly ground pepper. Served chilled, do not forget to decorate blanched peas.