You will need
Wax crayons or pencils, thick and smooth (preferably coated) paper, a knife for sharpening crayons. The technique of "sgraffito" will require either a palette knife or a box cutter or craft knife or stacker for engraving. For the technique of "encaustic" we need a iron with a solid sole. For stained glass painting will need: withstand the heat of candles porcelain plate, a metal tray or sheet for baking; tea lights; a stand for placing a plate or tray over the candle.
Instruction
Drawing with wax crayons requires the artist's knowledge of the fundamentals of pencil drawing. In pastels, as you would with a pencil, there is the concept of perspectives and proportions. The shape and texture of objects in a drawing are transferred with the light, the shadows, the gradations of color and direction of strokes. First you need to understand how it behaves wax crayon on paper. Try to paint one color different types of paper (Whatman paper, watercolor, pastels, cardboard or coated). This will give you an idea of how crayons are behaving on different material. Mix several different colors, putting them on the paper and rubbing. So you will understand how to mix various colors and what results you can get when mixing. Wax crayons are sharpened with a knife like a pencil.
Drawing with wax crayons starts with a sketch that runs light touches. The sketch can be simple pencil or a crayon dominant color of future paintings. The sketch refers to the contours of the objects that are shown in the figure, and the contours of the white or light areas. The next stage of the picture – the filling in of the outline color. Wax crayons, and oil, are applied to the pattern layers, from dark color to light. If you need to mix two colors: first, to impose a dark, then light color, then blend the colors by rubbing them into the paper with your fingertips. Before you start mixing the colors in the picture, mix them on another piece of paper. So you can't go wrong with a selection of mixed colours. When you smash all the colors in the sketch, according to the intended composition, you need to RUB onto your paper pattern. Crumbs wipe off crayons, and color is gradually added as necessary. Wax crayon should have a smooth, glossy surface through which does not show through the paper texture. In the end, the work is brought to perfection by applying highlights and shadows, drawing thinner lines and small details. Finishing the job is necessary to remember that too by clicking on chalk, which draw on the background erased, you can move the wax already on the drawing. Apply the final touches lightly and carefully.
There is also a method of creating a wax pastels, which is called "sgraffito". It means "scratching". For this method you need to do is some paper and wax crayons, or spatula, or stationery (craft) knife, or a special stack. On paper thick superimposed layers of wax crayon. First light pastels, then dark. Next stack (or other tools) on the surface of the scratched drawing. This pattern will resemble an engraving. Method of prozharivaniya you can create a two colored, multi-color work.
The following method of painting with wax crayons are fun and easy to implement. It's called "stained glass enamel". To learn, you need to install on the mesh stand, under which are placed a lighted tea lights, a metal or porcelain surface that can withstand heat with tea lights. Suitable even intended for baking the dough sheet metal or ceramic flat shape. On a warm surface is laid a sheet of newspaper and then paper for drawing. Then begins the magic of painting with wax crayons, which melt on the warm surface. Such work would be bright and rich enamels.
Following the technique of drawing with wax crayons is called "encaustic". You need to take iron with a solid sole (ie no holes for steam) and place the heat on low. You will also need crayons and thick cardboard with a smooth surface. Iron, which is slightly heated, turn it sole up and at it draw the figure with wax crayons. Then suddenly turn it upside down and drive them through the cardboard. We get fantastic abstract wax stains, which you can then bring to perfection drawing the more subtle and fine details. The wizard can't just churn out abstract paintings, but also to create masterpieces by drawing the details of the edge of the soleplate.
Another way is to blur the wax with turpentine or white spirit. Light touches of wax crayons the drawing and then the wax is washed out by turpentine and a brush. Art brushes made of synthetics will be here could not be more helpful. You will get a surprisingly light and transparent as watercolor, drawing.
Note
Choosing crayons in the store, try to choose those that are made from natural types of wax. Cheap paraffin wax crayons are less plastic, worse mixed and rubbed into the basis of the drawing. No need to choose to mix too many colors at the same time. This can give unpredictable results, which will spoil your figure.
Useful advice
It is better to RUB the crayons on the paper with your hands, paper retouchers are not very good for this. However, you can apply retouchers, slightly soaked in turpentine or white spirit to soften color transitions and blending of colors on paper. Among other things, break crayons in half to have both sharpened and blunted crayons of the same color. Not large crayons with a variety of edges and chips - it is more convenient to draw.
Advice 2 : How to draw with wax
If you have already mastered all the painting tools - the brush and palette knife to pen and airbrush - look to household items. Some will help you in creating the paintings. For example, to draw paintings in molten wax encaustic technique using iron.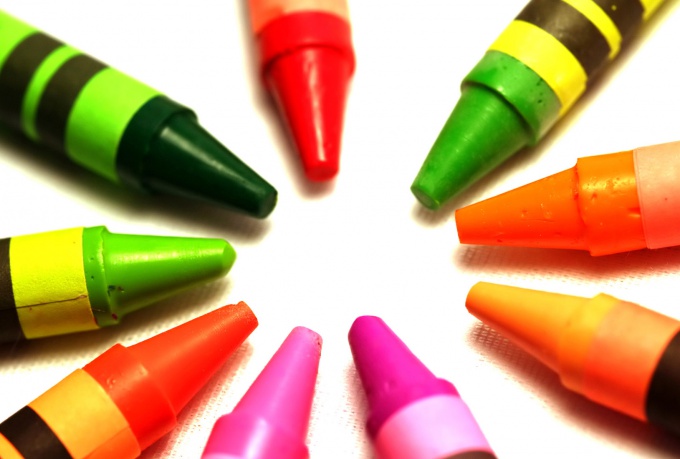 You will need
- colored wax/wax crayons;
- cardboard;
- iron.
Instruction
Set up your work space. Cover table with oilcloth or thick paper (sheet of paper). Fold a paper towel or a rag that will clean the tools.
Acquire tools for drawing with wax. You can buy a special iron for encaustic. It differs from the usual small size, absolutely smooth sole and a comfortable handle-support. However, ordinary iron is also good – the main thing is that the soles had holes. It is convenient to use the old so-called road irons – they are smaller and lighter than conventional, they can be flipped and put on the handle, using as the heating surface. Also in the online store or salon products for artist to buy cautery. This tool is a heated metal rod with nozzles of different shapes. It allows you to create smaller elements in the figures with wax.
You will also need a set of wax encaustic. It is sold in packs of multiple colors. However, the fit and the usual crayons, if they melt at a low temperature. Before you begin, make sure that the material is non-toxic (note: this should be on the packaging).
Start drawing. Take a sheet of cardboard. Its surface should be smooth, glossy. Turn the iron on the lowest setting. When he warmed up, turn it over and swipe the sole with wax. Fill in with color about half of the surface. The layer should be thick enough. Flip the iron and slow the sliding movement of the slide to the cardboard. You get a uniform band of colour. To make smooth transitions of shades on the iron melt several colors of wax and slide it over the cardboard not only forward but also downward or in the opposite direction – changing the direction, you mix the colors.
To do on not cooled color layer lines, draw on the cardboard side of the iron. Small details can bring and the nose iron (if this work you are acquired cautery). If you move the iron is not uniform and the number of times you touch them to paper will be removed, the sheet will remain scenic trail – their form of individual, you will be able to control it, gain a bit of experience.
You can also draw directly on the soleplate. Turn it over and put it on the handle. Apply the wax to the surface, and the top attach the cardboard and gently swipe it aside. Either put the cardboard on the iron and when the paper heats up, draw directly on it melting temperature wax crayons.
When the drawing is ready, the wax is frozen, Polish it with a dry cotton cloth, it will make the picture glossy.
Advice 3 : How to draw engraving
If you are inspired by engravings by famous masters, you may try your hand in making prints in the technique of "scratchboard" is an imitation of the engravings on thick paper or cardboard. You will be able to make it, even with children, to do this, arm yourself with the tips from this article.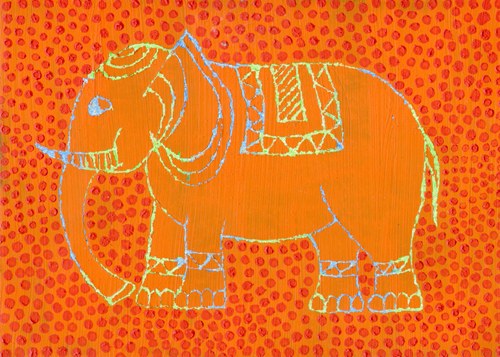 You will need
- thick cardboard;
- colors.
brush, sponge or a cotton swab;
- wax candle, chalk or white clay;
- mascara;
- a pin, needle or nail.
Instruction
Apply the cardboard a coat of wax or paraffin. This layer called "primer". It is possible to use not only wax and paraffin, but chalk, white clay, egg yolk. Can use a normal candle. Please note that "primer" should be applied evenly over the entire area of the picture, or the engraving you will not succeed.
Then apply ink or paint. Note: ink will need to apply several layers, as it initially will be hard to go on wax and spread. Each layer needs to dry before you apply the next one. It is most convenient to apply mascara with a wide brush, cotton swab or sponge.
Start incised with a pointed object lines and strokes, which will open a color basis. For professional artists sold special sets of cutters and beginners may use a conventional nail, needle, or other sharp objects. Be careful - if you are using thin cardboard, do not use excessive force, otherwise the engraving will break.
Note
Very often the quality of the paint to fill the background use the gouache, but these prints are not very durable, because gouache, over time, blurs and gets his hands dirty. It is best to use acrylic paint: they are very easy to get divorced to the desired consistency, easy to apply, dries quickly, and if you put one layer of acrylic on the other, they will not be mixed with each other and form dirt, as often happens with gouache.
Useful advice
Most often, such prints use white cardboard and black ink, but you can experiment: try to take a colour cardboard instead of white, or a pre-paint white cardboard. Can take ink or paint is not black, and any other or different colors. Can cover the cardboard black light paint. Remember: the more unusual the combination, the more original will result.
Advice 4 : As far as waxing
What methods use to remove unwanted hair. Waxing is now gaining its popularity. It's a little painful way of removing unwanted hair, but it is very fast and effective. When properly performed, the procedure the skin remains smooth and velvety for three weeks.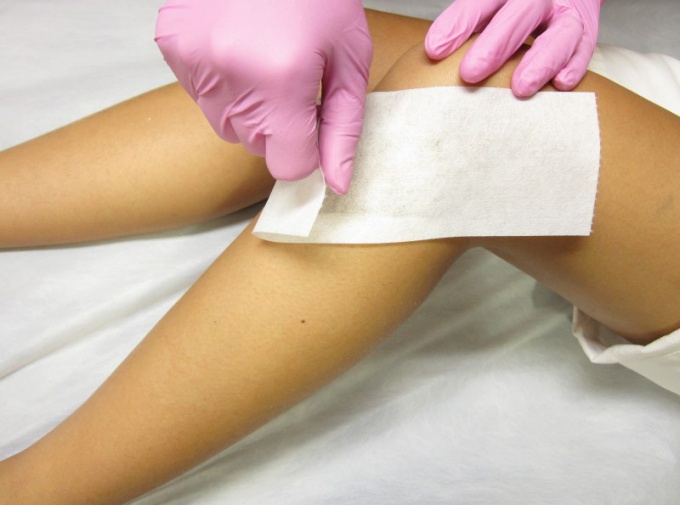 How to prepare for waxing?


For hair removal uses a special composition of wax which is slightly heated and applied in a thin layer on the skin. Hair removal can be performed on any part of the body. This legs, arms, armpits, stomach, bikini area and more. Before the process the skin needs to be prepared, removing dead skin cells. This can be done using a normal scrub, treating them skin the day before hair removal.

To achieve the desired result, the hair should be at least 3-5 mm. Shortly before the procedure, the skin should be treated with fruit acid or tonic. These tools clean the skin and prevent ingrown hairs.


Wax for hair removal


For waxing, there are several types of wax: hard and soft wax, wax strips and water-soluble wax.

Hard wax is in the form of briquettes and is used in beauty salons. It warm up for about 30 minutes to a temperature of 50 degrees using a special device called to help melting wax faster.

Soft wax you can buy off the shelf. It is used in salons and at home.

Wax strips designed for independent use. This special paper strips with cold wax, which is heated using hands.

Water soluble wax is a special cream with sugar or honey.


How is the procedure for waxing?


Hair removal with hot wax is only professional. He pulls out the heated wax with a spatula, gently cools and apply to skin in a thin layer. After the wax hardens, the esthetician removes it with a flick. Well the hot wax opens the pores and reduces pain.

Hair removal cold wax, it is slightly heated, is applied to the skin along the hair growth and densely press to it a slip of paper, then sharp movement it is removed. Optionally this strip can be used several times. To remove wax residues from the skin need to use oil, since the composition of the wax contains resin that is not soluble in water.

During use of water-soluble wax cream in a warm paste is applied only to the hairs, gluing them. After curing, the cream is removed, removing unwanted hair.


Who is not allowed to do waxing?


This kind of hair removal is contraindicated for pregnant and lactating women. There are also diseases in which it is impossible to epilate because it can have complications: diabetes, varicose veins, diseases of the endocrine system. You cannot do waxing as the hair removal there are moles or warts.