Instruction
Currently used many methods of keeping of rabbits, among them, such as driven, cell-semi-free. The most common method is the keeping of rabbits in cages, as it allows for more qualitative work on selection and breeding of rabbits, to prevent the occurrence of diseases.

Today worldwide there are more than 60 breeds of rabbits. However, not all of them have economic value. From beginners to breeders the most common species is the gray and white giant, chinchilla, etc. a Distinctive feature of this breed is its size, up to 60 cm in length and up to 5 kg live weight, young animals develops intensively. They are low maintenance, hardy.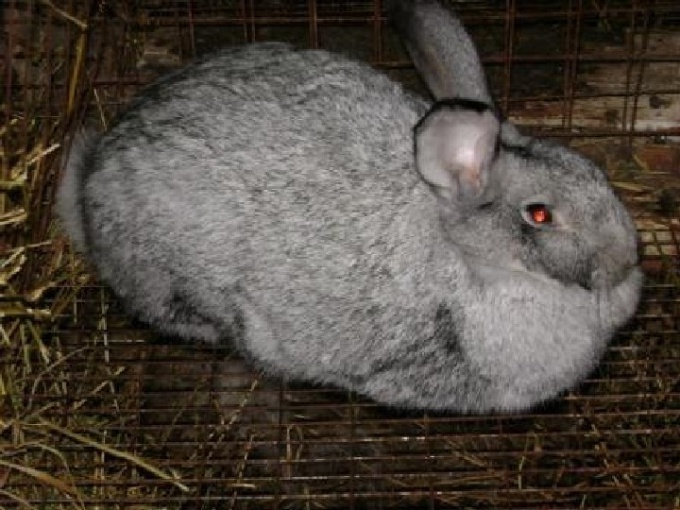 First of all, it is necessary to determine the place to host cells. The station should choose a dry, elevated position, away from the marshes. The moisture at which the rabbits feel comfortable, is 60-70%. Especially rabbits harmful draughts and dampness.

Rabbits consume a high amount of oxygen. They do not tolerate heat. The influence of the sun may cause heat stroke. But they are resistant to low temperatures, are adapted to spend the winter outdoors, although such content must be treated with caution.

Cells can be constructed of planks and metal mesh. To do their preferable blocks, each block of two cells. A partition between the cells is a feeding trough for grass and hay from metal mesh.

Each cell consists of two compartments, nesting and feeding, which are separated by a wooden partition with a hole 20 by 20cm.

For female office has 40 cm, and 60 cm feed width of the cell. Nested branch is solid, and the fodder of galvanized mesh with a mesh size of 16-18 mm, wire thickness 2 mm. Sometimes, the grid is replaced by strips of hard wood, with gaps between them 1-2 cm. feeders and waterers are fastened to the aft compartment on the front wall. Feeders for mixed fodder and root crops, as well as drinkers supposed to do at a front side of the cell. Feeders do 50-60 cm in length. Attach them so that after uploading the feed, she leaned to the inside of the cell and its outer side against the front wall.

The roof is lean-to with a slope of 15°, covered by roofing material, with a peak of 30 cm for protection from sun, rain and snow. Cells are installed at a height of 0.7 m from the ground.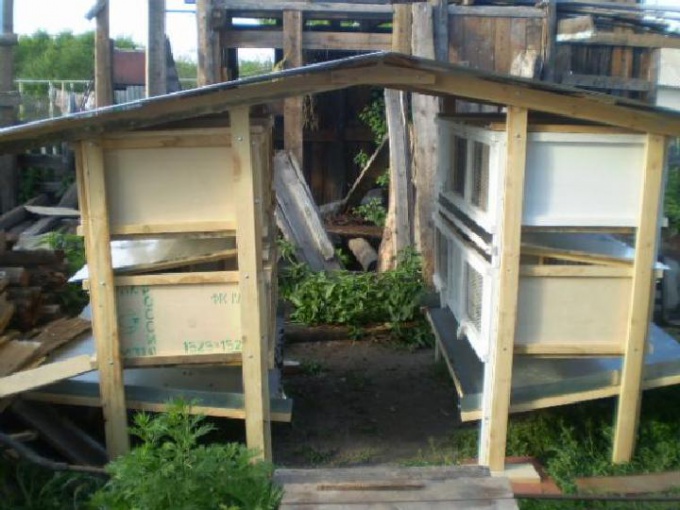 The cells must be oriented so as to prevent the effects on animals direct rays of the sun. Basically the cells are trying to expand to the West or East facade.

Breeders, as a rule, prefer to raise animals in cages designed facades on top of each other, allowing in the winter time, without much effort, to build cells above the gable roof, while the sides to close the wooden boards.

Also used and combined content, when in winter the cells are transferred into the barn, this is especially true when breeding rabbits fall in winter. Year-round exposure to the outdoors is beneficial to animals, they become more resistant to disease, their hair becomes thicker and shiny.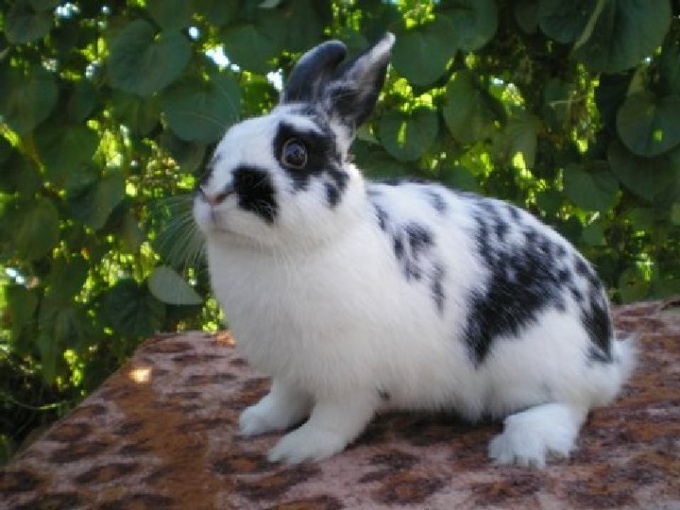 Rabbit breeding is an industry, with a rapidly increasing volume of the final product and deserves due attention. From the reproduction of rabbits, the people get the products are in constant demand. Skins are used for furs. Meat rabbits is a delicious dietary product, contains a high amount of protein. Its advantages allow us to recommend to eat in people of mental labor, the elderly, children, people with diseases of the gastrointestinal tract, cardiac and other diseases.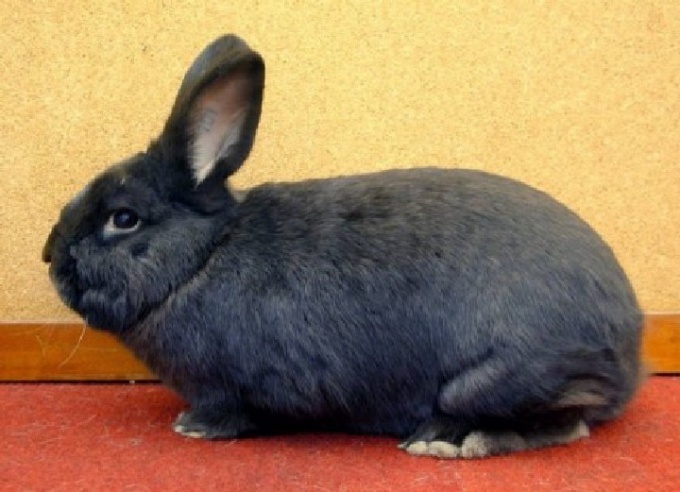 Advice 2: How to raise rabbits
Breeding rabbits in the home is becoming more popular. Due to their high fecundity at low cost you can get a year a decent income from the sale of young animals, meat and skins.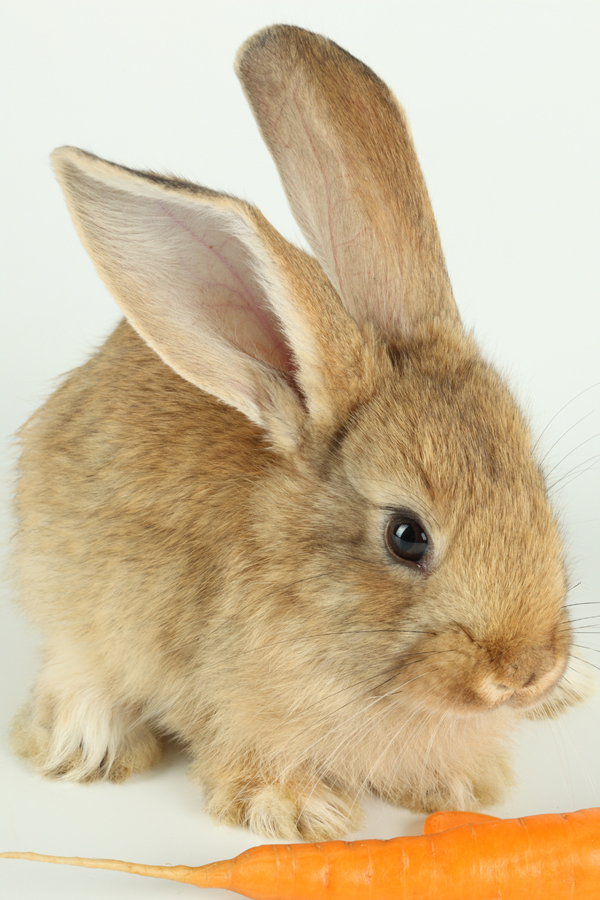 Instruction
First you need to make the cells and choose a good place for their accommodation. It may be a barn or a shed, importantly, no wind. Cells you can buy or make yourself from boards, thick plywood, metal mesh. Cage for rabbit of medium size is made in the following sizes: 90 cm length, 60 cm width, 45 cm height. For rabbits include nested branch.
To buy better rabbits from breeders, private owners or rabbit farms. From the market it is better to refuse, where you can buy the sick and the poor animals from which good offspring are not provided.
To feed rabbits is easy. The basis of the diet is hay. It should be green and not rude. Hay better harvest it yourself, so you can be sure that it won't accidentally get a poisonous plant. In the summer of rabbits fed dried grass. A rabbits diet must contain grains. It could be wheat, oats, barley. In addition, give the roots, mineral salts, be sure to pour in a water bowl with fresh water. Feed rabbits twice a day.
Rabbit can be happened at the age of 5-7 months. Males to allow mating to 6 months. Animals should not be fattened, especially for females. Acrolina rabbit bears rabbits 30 days, there may be fluctuations in 1-2 days. The breeding of rabbit is fast, usually overnight.
Rabbits are born completely naked and blind. You need to ensure that the nest is left a corpse. This should be done very carefully, the hands should not have odors, it's best to RUB them litter females. The mother does not sit constantly with their kids. She periodically visits the nested branch, digs down, feeding the rabbits and buried them again.
Baby bunnies open eyes at 10 to 14 days, grow fast, with 17 days of age begin to leave the nest and feed together with the mother. Monthly the bucks is deposited in the cage for the young, and the rabbit again happen.
Young intensively fed, while achieving 3-4 months, the rabbits are ready to slaughter. But, if grown meat korkovye of the breed, the slaughtering of rabbits based on their degree of completion of molting.
Note
Summer fed greens Jerusalem artichoke, winter - themselves pears. I want to say that our grass is not always sufficient amount of nutrients, so the hay from them often turns out poor. If possible, grow amaranth is the most nutritious greens for the rabbits.
Useful advice
The farming of rabbits in the pit is one of the most convenient and practical ways of growing. This method is used in places where low-lying ground water in the village or at their summer cottage. Also rabbits can be grown in the cellar and in the basement. In the basement of the same scheme – obmenivaetsya a certain part of the area and made the hole.
Advice 3: How to keep ornamental rabbits
Decorative rabbits love both adults and children, not indifferent to him. They are so cute that even the most callous person certainly a desire to pick up the little long-eared animal home. But do not think that keeping rabbits in the home is as simple as, for example, cats. For keeping the house perfect decorative dwarf rabbits. They are unpretentious, do not require much space, they can even be accustomed to cleanliness and to the toilets! Deciding to bring a rabbit into the house, read some of the rules of care and maintenance of these animals.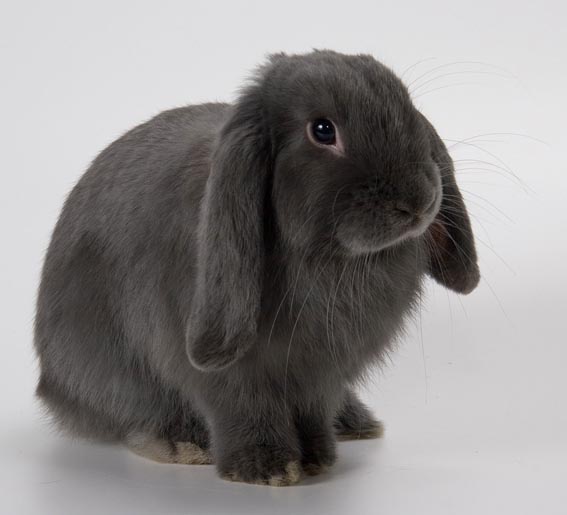 Instruction
Until the animal used to people, treat him with extreme caution. Children under 7-8 years should not be trusted to care for rabbits.
Check the condition of the teeth and claws of the pet. Put that in a cage of tree branches, and nail trim special forceps.
The rabbit cage should be spacious enough put two litter box and an automatic drinking bowl (regular rabbits are often upset). Protect the animal from drafts and direct sunlight. Once a week the home of the rabbit, you have to wash the trays well is disinfected after each use.
Periodically let go of the rabbit "walk" and exercise, because in the wild the animals are actively moving.
Provide pet clean fresh water and hay. Take rabbit new vegetables and fruits, keep in mind, these animals are very sensitive to pesticides. Do not feed the animal eared wet grass and hay, it can cause bloating, which is very dangerous for the health of rabbits.
Every three months preventive treatment of internal and external parasites and for protection against dangerous diseases make special vaccinations. It is desirable in this case to apply to a certified veterinary clinic.
Bathing a rabbit is not recommended, however, in some cases, you can wash your feet. If there is the need to wash the rabbit entirely, try not to soak the lugs, and after bathing, thoroughly dry the animal.
Note
If in the apartment there is a dog or other large animal, think carefully about whether to have fragile decorative rabbit. The hunting instinct of the animal, a much larger size than a rabbit, can Wake up at any moment.
Useful advice
Rabbits live 5 to 7 years, provided that they created the right conditions for life. Provide proper animal nutrition and care, and a true friend will delight you with their presence for many years.
Advice 4: What to feed rabbits
Rabbit nutrition has two features. First, you need to give them lots of hard food, because these animals belong to the family of rodents, they have to grind off the teeth. Second, they eat very much because is rather fluid. And their cage should always be food.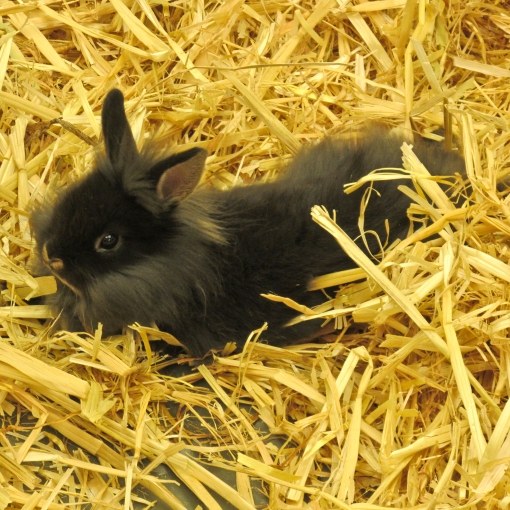 And
decorative
, and conventional
rabbits fed
almost the same. The only difference is the amount of feed. If meat breed can eat per day, just over a hundred grams of feed, Pets are limited to a maximum of half that weight. Rabbits eat frequently (up to 80 times per day), so the feeder should always be fresh hay. It is the basis of their diet. In rabbits there is no muscle that peristaltic, and the hay is just such a food which helps the bowel. Ie, if the rabbits will not eat hay, they could be in trouble with the digestive and excretory systems.
Hay should be green, with many leaves. It should be dry, not wet. In spring and summer should also give fresh grass and leaves. For example, nettles, dandelions, clover, plantain, leaves of aspen, ash, Linden. But grass (fresh and dried) should not be the entire diet of the animals, especially the young, because because of this, they can stop the development.
Rabbits also need to give fruits, vegetables and root crops: potatoes, squash, apples, beets, carrots (in principle, you can only give them clean). Before you give your pet food, thoroughly rinse and dry. Dust and earth can harm the digestive system of rodents. Also rabbits need to give concentrated feed: peas, oats, corn, lentils, bran, mixed fodder. Before feeding, soak the product for 10 minutes in water. Several times a week, Pets can be given dairy products: yogurt, milk, skim milk. The animal is not sick, add in food vitamin and mineral feed, salt and chalk.
Regularly give your young rabbits the bark of trees: ash, oak, willow, Linden. This food will help them whittle down the teeth. Decorative animals you can also give a bit of special food. Before its acquisition read on the packaging the composition of the mixture. A quality product should contain about 20% crude fiber, 15% protein and a maximum of 1% fat.