You will need
Mask with glycerin:
- 1 tsp of glycerin,
- 1 egg yolk
- 1 tsp Apple cider vinegar
- 2 tsp of castor oil.
Bread mask:
- 1 tsp herb psyllium
- 1 tsp chamomile
- 1 tsp. of nettle,
- 0.5 slice of bread.
Instruction
Trim the ends of the bleached hair. This should start the proper rehabilitation process. What is the length of the trim, depends on how damaged the hair after lightening. If they stretch, break off, their is no restore. The only way is to gradually cut off the ends.
Properly care for blonde hair. Its structure is bleached curls empty inside, because in the process of bleaching of these was etched natural pigment. To look great, shiny and easy to comb, you should use mild shampoo for light hair. After every wash rinse them with air conditioning. Apply to dry ends leave-in protective cream, which will smooth open the hair scales and give Shine and softness to the hair.
Avoid intensive recovery from styling products, hair dryers, irons, curlers, and Curling irons. After washing allow the hair to dry naturally. Buy quality comb made of natural materials (horn, stone, wood), which will not damage the hair during combing. Do not brush wet bleached strands so you can stretch it out and they will start to break off length.
In the first month after bleaching take care of hair carefully to bring them back to life. Do 2-3 times a week before washing the head mask for damaged and bleached hair.
Mask with glycerin.
Mix the egg yolk, castor oil, vinegar and glycerin. Apply the mask warmed on a water bath to the hair. Leave under a warm towel for an hour. After that wash your hair with shampoo. The mask should be done 2 times a week. The course of treatment - a month.
Bread mask.
Dry nettle, chamomile and plantain pour a glass of boiling water. Soak in the infusion of a half slice of black bread. Let stand for 2 hours, after which the mixture strain. Mash in the finished infusion black bread crumbs until a thick slurry. Bread RUB the mask into the roots and distribute through the hair. This home remedy nourishes the hair and enriched with vitamins of group B. the Mask should be done 2-3 times a week. The course of treatment - a month.
Do warm oil wraps for hair. Cosmetic oils quickly restore damaged strands. For bleached hair will fit the following: burdock, peach, apricot, almond, grapeseed. Apply the warm oil. Hair wrap a towel for 2 hours, then wash as usual.
Rinse bleached hair with decoctions of herbs: chamomile, St. John's wort, mint, lime blossom, horsetail and other Useful rinsing with beer and milk. They restore damaged hair, making them stronger.
Take vitamins for the beauty of hair, especially needed for damaged hair vitamins A, E, V.
Advice 2 : How to repair hair after dyeing
As a rule, after coloring the hair become weaker and exhausted. To strengthen them you can use recovery procedures. It is not necessary to attend expensive beauty salons. Tested folk recipes will help you to restore hair in the home.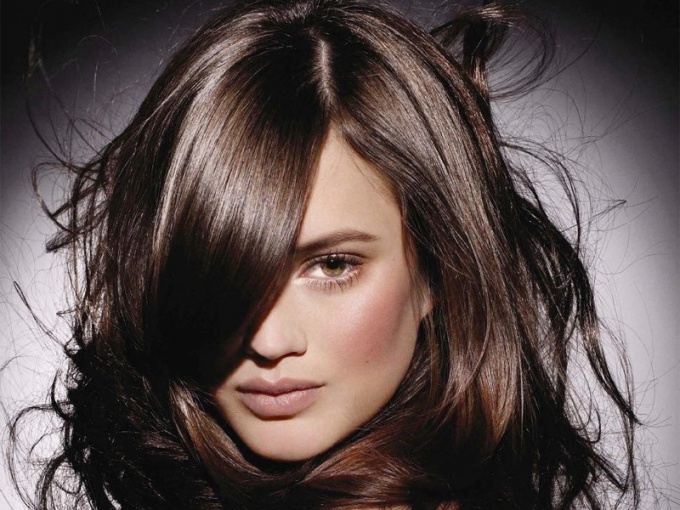 You will need
- Yogurt;
- lemon juice;
- egg yolk;
- the banana;
- olive oil;
- eggs;
- hop cones (collection);
- nettle (collection);
- celandine (collection);
- Apple cider vinegar;
- water.
Instruction
Prepare a mask based on yogurt. To do this, apply it along the entire length of hair and massage. Top cover your head with a special plastic cap or wrap. After 40-60 minutes the rest of rinse with warm water with a small amount of shampoo. Carry out this procedure 1-2 times a week.
As a shampoo, use a home remedy made from 1 tablespoon of lemon juice, egg yolk, half of a banana. These components mix thoroughly until a homogeneous consistency. Add to the mix 1-2 teaspoons of natural honey. Use this tool instead of shampoo. After 2-3 weeks you will experience a visible result. Your hair will acquire a great Shine and strength.
Each time after shampooing, use a nourishing mask for the hair. For its preparation mix 1 tablespoon of olive or almond oil with 2 eggs. The proceeds evenly along the entire length of hair. After 15-20 minutes rinse your hair with warm water, adding a little shampoo.
Equally effective as a reducing agent mask with Apple cider vinegar. Apply it 2-3 times a month. For its preparation you will need 6 tablespoons of Apple cider vinegar, 6 tablespoons lemon juice 3 egg yolks. Mix these components well and apply evenly to damp hair. After 5-7 minutes rinse off with warm water.
To restore the hair after dyeing prepare a decoction of herbs. To do this, 1 tablespoon of celandine, 1 tablespoon of nettle 1 tablespoon of chamomile, pour 1 liter of boiling water. Cover the container with a tight lid. After 40-60 minutes, strain the infusion. Ready means rinse the hair after each shampooing. This decoction perfectly will enhance your curls and give them a healthy Shine.