You will need
emerald,
magnifier,
a glass of water
Instruction
If the emerald in the socket, to distinguish artificial from natural is very difficult. First of all, you need to focus on price. Real stone is much more expensive, and large emeralds of fabulous road. So, after a ring with a large stone at a reasonable price, beware: this is definitely a fake. Too sparkly large stones, most likely are common with jewelry made of glass.
Than emerald more transparent, the higher its value. The muddy look is not so attractive, but chances are that the stones are real, a lot more. Emeralds come in both light and dark. Among bright, clean and clear come across quite often, so if you buy a necklace or earrings in a respectable shop, the danger of running into fake a lot less. Dark emeralds are much more expensive and can be purchased only in the jewelry boutiques of high class.
To determine the authenticity of the stone without a rim is not that difficult. Take a good magnifying glass and look at the emerald angle. In this view you can see the line of growth of stone. From synthetic emerald, grown in the laboratory, these lines are absolutely parallel. This stone line is also parallel to, but not so orderly.
When choosing a stone for a ring or a pendant, you should pay attention to the color, not the purity of an emerald. Experts say that the best dark emeralds seem to have published pieces green soft velvet. It is better to choose a stone of dark color, even if it has a blue or yellow tinge and inclusions inside. The presence of defects in the form of cracks, opaque spots and uneven coloring is a guarantee of the authenticity of the stone. Natural stones have inclusions come in the form of crystals of pyrite and microlamella mica. Very bright stones can actually prove to be a beryl, green tourmalines or peridots.
Although more prized bright emeralds, that's when their choice is easy to run on a synthetic analog. These stones have a very strong color, often with a blue tint, however, these can be and emeralds from Colombia. Synthetic stones are grown using the hydrothermal method are gaseous or liquid inclusions.In fact it is neuvaine beryls, which are covered with a layer of synthetic emerald. This pale green stone with lots of cracks, which, when immersed in water, become like a bright green outline. Obvious fake, if you drop it in a glass of water and viewed from above, will be reddish.
Note
When choosing between the imperfect natural emerald and brilliant artificial give preference to the first. Real is much more prestigious and almost eternal, in contrast to imitation.
Useful advice
Not to be deceived when purchasing jewelry, it is always safer to purchase a stone separately and order the product checked by the master. If you choose the ring or earrings, buy them in good stores, and check the certificate of conformity.
Advice 2: How to distinguish emerald from a fake
The value of the emeraldin the first place, determined by its color and then cut and carat. Emeralds come in various shades, depending on the field where they were produced. The most expensive, Columbia - a bright green with light blue. Of course, affects the price of an emerald and its origin, natural or cultivated it. Artificial emeralds is a skillful forgery, which in jewelry, but not jewelry.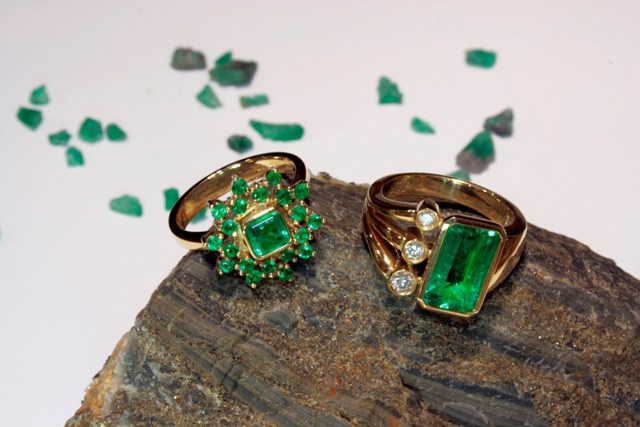 Instruction
Rate the color of the stone. Both natural and obtained by the laboratory emeralds are in the range from pale green to deep green. Stones with a strong yellowish tint - not emerald, but most likely, peridots or green garnets.
Pay attention to any outbreaks that appear in the stone. Sparks that gemologists call dispersion, each gemstone of varying intensity. Famous for his "game" diamond. Natural emeralds have low dispersion and need to give a little "fire". Shining green stones are, probably cubic Zirconia.
Check out the faces of the stone. Crooks sometimes make a "sandwich" of a thin slice of natural emerald, sandwiched between two pieces of crystal, gluing it all dark green epoxy resin. If you look at the stone side and distinguish these layers, the emerald is an obvious fake.
Examine the stone under a strong magnifying glass. If the edges seem worn, that, with high probability, not emerald, and the ordinary thick glass. Natural and synthetic emeralds have a hardness of 7.5 to 8 on Mohs scale. This, of course, less than that of diamond (10 on the Mohs scale), but much more than that of glass ( a 5.5 on the Mohs scale). Glass faces wear out quickly, the edges of the same emerald long remain faceted.
To the naked eye, and even more so with a magnifying glass, it's easy to notice the flaws in natural emeraldH. Inclusion of liquid, gas, minerals, and tiny cracks in a natural emerald should be. They give the stones a little muddy. The larger the stone, the more of them. Therefore, large emeralds, small imperfections are fabulous money. By the way, all these bubbles, feathers and cracks, according to jewelers, does not spoil the emeralds. They even invented a special term – Jardin (garden in French). "Garden" inside each emerald as individual as fingerprints.
Note
Due to various inclusions, the emerald is more fragile than many other gemstones, so in any case it is not necessary to clean by ultrasound. Through tiny cracks in the stones can get cleaning agents, that's why this popular method of cleaning is not suitable for emeralds.
Advice 3: How to grow emerald
Emerald – a precious stone of a high class. Some samples of emeralds can cost more than diamond. You can meet emerald in the most exquisite jewelry. Did you know that emerald can be grown at home?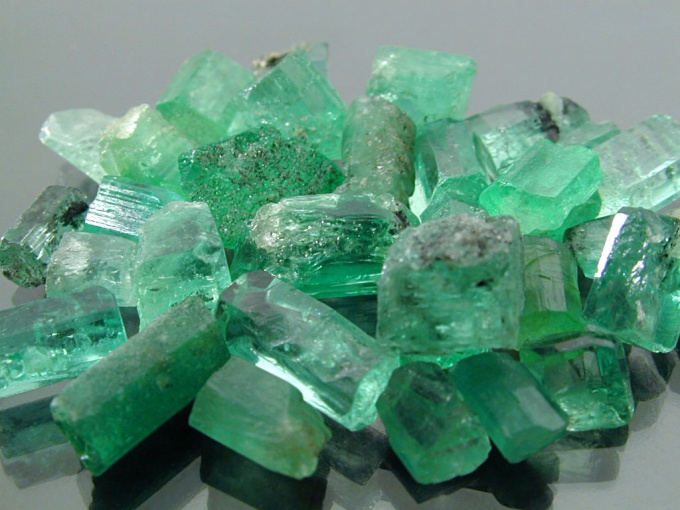 Instruction
Nature in order to grow emerald would require thousands, and maybe millions of years, but in vitro the whole process takes just a couple of months. Faux emerald by its optical and physical properties are usually even better natural. Some artificial stones in all ways not to give in to the natural stones. However, unlike his natural brother, emerald, grown in artificial conditions, will not have foreign inclusions and impurities. This stone would look great in a frame of gold or silver.
For growing emeralds use the hydrothermal method. For this you will need a vessel capable of withstanding high temperature and pressure. For this purpose try to use the autoclave, it will be your pressure washer. To ensure that the device met all the required specifications, try to contact the engineer who specializiruetsya on the pressure vessel, which configures it to match the necessary requirements. Your expenses on electricity consumed by the unit per day under the condition of continuous work, will be about 30 rubles.
Then proceed to research, if you work hard, then after about a month of your work will be able to grow the first crystal. Then find a stone Carver, who will be able to cut the crystal into several pieces and made each cut stones.
What to do with the finished stones, you decide. You can give them to the jeweler who makes them into jewelry, and can start your business and earn money!
Note
People believe that the emerald, like every gemstone has its unique properties, it is believed that it brings back the memory and strengthens the consciousness. Can this be attributed to the expense of synthetic stones is difficult to say, but to decorate your product so can they.
Advice 4: How to distinguish the real shungite
Shungite is a stone rock, which is approximately 30% carbon and 70% silicates. The stone is very hard and dense, its distinguishing property is not characteristic of rocks conductivity. Shungite has a number of useful properties, making the sale often there are counterfeits of that stone.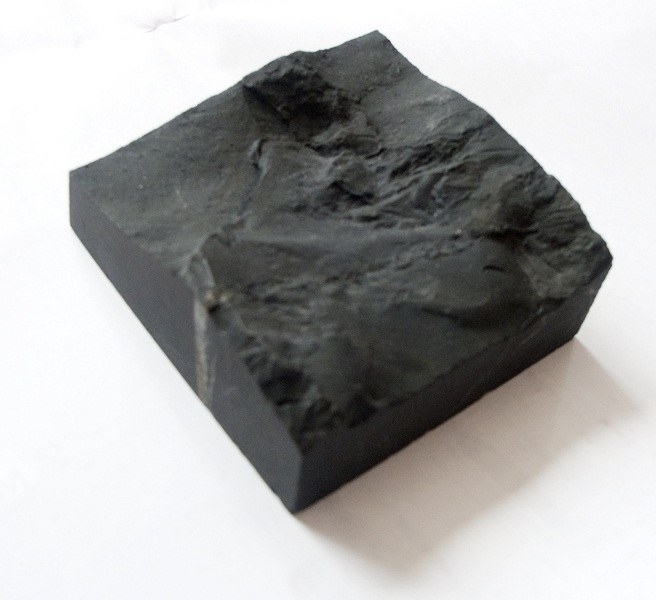 You will need
- a light bulb or flashlight;
- the battery;
- two wires.
Instruction
To check shungit, you need to remember that its main distinguishing characteristic is the ability to conduct electricity, in other words, conductivity. At minerals, it is extremely rare. To check you need to have a small light bulb or a flashlight, two wires and a battery. Gather from all this is simple electrical circuit (light bulb – wire – battery) and consistently attach to it shungite.
First, check that the electrical circuit without shungite. If the light stays on, it means that you did everything correctly. Now connect the thin (light – wire – stone – wire – battery). If it burns now, before you a true mineral. If not, it is a fake or the quality of the stone is very low. In any case, to buy it makes no sense.
In appearance even the expert not always can precisely define, shungite whether he sees before him. The fact that apparently forgery is very similar to this mineral. If you buy a separate stone or product thereof, and, for example, shungite gravel, it should be dusty. Shungite is very hard and brittle, so inevitably there is a slight abrasion of gravel, leading to the formation of small dust particles. If the stones break easily, they are probably real.
Quite often, shungite has streaks of Golden brown. This sulphate of iron, is constantly found among the formations of shungite. For this reason, some shungites can be a bit of rust if not dried after infusion of water. The presence of such streaks is not a sign of forgery.
Schungite water is useful, and quite often people buy the stone for its production. If you insisted the water for several hours, and her taste has not changed, then your stone is of poor quality or is fake. To insist water on this shungit takes 12 hours, and then it noticeably changes the taste.
Useful advice
Most often under the guise of shungite can meet shungizit, which looks very similar to the original, but the carbon it contained about 10%, so the properties couldn't be more different.