Pareo is a processed part of the fabric that is used as a Supplement to beach swimsuit. You can purchase a pair in a ready-made variant, picking up his tone bathing suit, or done by hand from high quality cotton, chiffon or silk. Fairly easy to buy a cut the necessary fabric and then to process it.



Now it's time to move on to the question of how to wear a pareo. It can be worn in different ways: to tie on the chest, around the waist or wrapped at the hips. For stout figures pareo is best to tie low on the hips. If there is a problem of small belly, blagny handkerchief should be tied on the waist diagonally.



Also pareo can visually make you taller. For this it is advisable to wear a mini-pareo or with length to the ankle. Pareo tied, crossed at the neck by tightening the loose knot. For those with a short neck should tie on the chest. Small Breasts can visually increase the space, wrapping a shawl close the node at the level of bra.



This piece of cloth, you can create and dress and skirt. For the manufacture of skirt is best to choose a pair, the length of which shall not be less than two meters. Long skirt to create a very easy: you only need to wrap the piece around your waist wide side. The left part of the pareo should be on the right thigh. The upper part is required to pull and twist in the form of a harness. Received the harness and the left edge of the pareo should tie the knot, and the rest of the piece wrapped around the hips.



Mini skirt beach shawl to create it even easier. Length and width of the skirt are equal, respectively, it is desirable to apply a small piece of cloth or long pareo doubled. To wear a pareo in the form of a mini-skirt should wrap twice around the hips and tie all the remaining ends in the beautiful and rugged unit.



Two similar shawls are created even trousers. In this case, ideal square, whose length is about one meter. It should be noted that a pair must be the same size, and shades can be different. The first pair was tied a little below the waist, and its loose ends are wrapped symmetrically to each other at the ankle and hips. In the same way and tied a second piece of fabric.



In such beautiful clothes is not ashamed to go to the store and a café next to the beach.



 
Advice 2 : How to sew a pareo
Pareo
– a scarf made of lightweight, often the chiffon fabric, plain or patterned. The most common sizes of
pareo
– 230*110cm, 140*140cm, 120*120cm, 90*90 cm is Particularly rich space for imagination gives oversized shawl-pareo with sides equal to twice the girth of the hips. To sew a pareo, any seamstress can, even not having special skills in tailoring.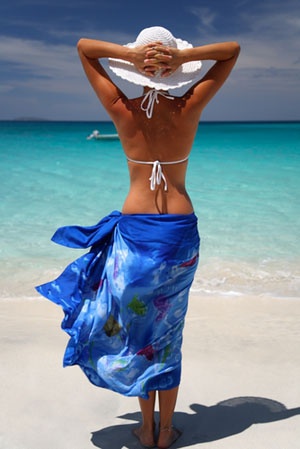 You will need
A piece of chiffon selected size.
Instruction
Position the fabric exactly. Smoothen the edges by hand or on a typewriter overlocker or garter stitch. Note that when sewing by hand you will have to handle from 560 see fabric, that is more than five meters. If you don't have so much time and effort, better to use the machine.
Place the cloth wide side around the hips or waist and tie. Pareo is ready.
If you failed to get a piece of fabric the desired length, you can combine two or more similar or contrasting color. Select range you can according to your taste, but preferred the large canvases of the fabric, otherwise the seams will spoil the overall light, airy impression
The edges of each leaf, then sostrochite seam "over the edge" by hand or on a typewriter (as in the first case, consider your time and effort). Try to make the seam invisible, as the fabric pareo transparent. Can camouflage it with braid or satin ribbon, and for beauty to sew some more strips of ribbon or tape vertically on the canvas.
For the beauty of the edges not only seam, but additionally with bias binding or braid. While ornaments should be few, so that they are not attached pareo severity of any direct or figuratively.
Advice 3 : How to make a pareo with your hands
Pareo - the popular beach outfit that is easy to sew with their hands. This piece of clothing can be made of thin cotton, linen, silk, viscose or any other well-draped fabric.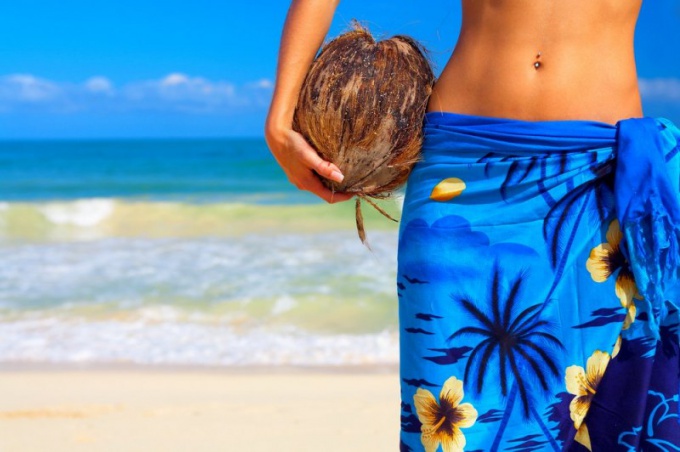 Choose a fabric for a pair
For sewing you need a lightweight fabric with a minimum width of 140 cm. Length can be arbitrary, but usually it ranges from 150 to 170 cm. Choose natural materials, they are particularly comfortable to wear. Fit cotton veil, well-dressed flax, natural silk type crepe de Chine. If such a matter you seem to be too expensive and impractical, stick to the viscose or polyester.
Select the appropriate color pair. Ideally it blends nicely with the swimsuit. For example, to the black and white bathing suit can choose a black fabric with turquoise beautifully combined blue and silvery-white - denim blue. Looks impressive and a pair of printed fabric. Small Granny's flowers is unlikely to be suitable, but bright abstract patterns, large prints and variants in the style of "batik" will be very relevant.
About the intricacies of sewing
Try to sew a beautiful dress paired with kulisami.
To wear
this thing you will be able different ways. Tie it as a skirt, create a sort of overalls or a light beach dress. Select a beautiful fabric with prints. You will need 1.7 meters fabric width 1.4 m. For sewing you need a thin rubber band with a length of 3.5 m, as well as decorative Shoe lace tips (4 pieces).
If you chose the cotton fabric, iron it well iron with steam - after this procedure, a pair will not be seated. The long ends of the fabric fold and baste, and then stitch on the sewing machine. Natural or artificial silk, you can sew by hand, small slanted stitches.
Short edge double fold about 1 cm, and then prostrochite seam. We get two drawstring. The rubber band cut in half and each piece sternite in kulisku with safety pins. To lock the edges of the bands, cover them with decorative finials. Instead of gum, you can use lace or thin ribbon.
How to decorate pareos
To give the pair a more elegant look, you can use additional decor. Attach the fabric to the shiny beads of the right color. Sew them with strong synthetic thread to match the fabric. Instead of beads you can use glass beads or sequins.
Another option for decorating the fringe. Choose a ready-made fringe made of synthetic or cotton threads and sew it along the long edge of the pareo. Please note that the decor is a bit heavier product, so it is more suitable for a pair of not-too-thin fabric.
Advice 4 : What is a pareo
Pareo is a large shawl made of light fabric, designed to be worn on the body. With this scarf you can create a variety of outfits, tying it one way or another. Pareo appeared in the Arsenal of modern fashionistas relatively recently and quickly gained popularity among fans of original and stylish things.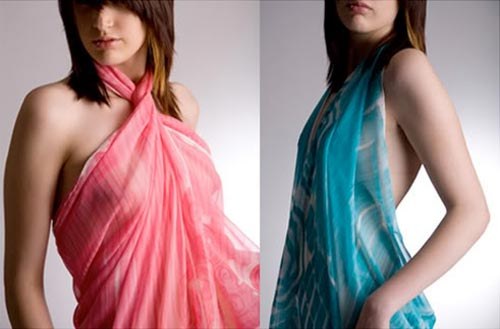 Pareo is one of the most versatile things known to modern fashion, because the usual shawl of rectangular shape can turn into an original and stylish element of the wardrobe. To do this, just tie it correctly. For example, a pareo you can tie, securing at the waist with a beautiful bow. This will allow to emphasize the harmony of shapes. If confidence in the beauty of the body not, you can tie a pareo on the chest, making cuts of fabric, an impromptu dress without straps. Ladies often use not one pair, but two or three, combining them and creating most extraordinary outfits. To experiment with the number of the piece of fabric is easy and the result is often even exceeds expectations. The main thing - not to forget, in what order, and how they had to secure the fabric, so you can easily repeat the best options.
It is considered that a pareo is a huge shawls that are decorated with a bright pattern, however, many fashion historians say that the large scarf for wearing on the body is a "sarong". Indeed, these garments are very similar to each other. Just a pair created for the first time in Tahiti, the sarong became a well-known element of the wardrobe thanks to the indigenous people of the Indonesian Islands. A pareo can be used as an exotic wrap, a skirt or even a bathing suit. Of course, all these options can vary depending on the shape and size of rectangular shawl and its colors. Many ladies who have mastered the tricks of tying a pareo, I believe that the best beachwear for a hot summer not found.
Colors and prints
If desired, the appearance of a rectangular scarf can be improved, given it ornament with textile paint, sew sequins, or glued on material colorful termostati. It must be remembered that the simpler looks pair, the less looks will appeal to the owner. If you want to draw attention to yourself, better to pick up a pair of bright unusual colors. Of course, such colors as white or black is traditionally considered classics and never go out of fashion. Not so long ago became popular together with original prints in the form of delicate black lace on a white background.
Choosing a coloring pareos, remember that large patterns are more appropriate for petite and slender women, but ladies with curvaceous best to stay on the fine fantasy illustration or prints with blurred boundaries, with no clear geometric shapes.