Instruction
The dog grew healthy and beautiful, it must feed dry food brands Dog Chow, Pro PAC, etc (this is premium), and better than Pro Plan, hills, Ekanuba, etc. (professional feed). Will not suit those that are produced under the brands of Chappy, darling and other (economical food), Pedigree, Frescas, Dr. Clauder, etc. (average quality).
If you decide to feed puppy dry food, don't give him no meat, no cheese, no cereal, no vitamin and mineral supplements, only give water in addition to the food. Otherwise the diet will be mixed, and it's not very good. To add vitamin and mineral supplements can in exceptional cases, when an individual problems and illnesses. For example, if a puppy is weak ligament, it is prescribed of Gelakan darling, Glucosamine, Chondro Cannes, etc. drugs. In case of poisoning, infections and some other problems are applied to the vitamins of group B. If the dog is badly assimilate fat-soluble vitamins, after testing, you can use Trivitamin.
Even in dry feeding the puppy you can give treats. They usually serve chopped cheese, croutons, dried apricots, dried fruits, boiled meat (not pork!), special Goodies that are developed by the manufacturers of dry food. But treats should not exceed 10% of your pet's diet and get their it needs as an encouragement for execution of commands and only after the main meal.
Start giving the puppy dry food have from 3 weeks of age, when he was still suckling on its mother's milk. Because the teeth of the dog at this time has not yet formed, the food should be crushed and mixed with warm milk or water. After 1.5 months would be to take the soaked dry food. Up to 2 months give food to the puppy 5-6 times a day, then the number of feedings gradually reduce. In 4-5 months the dog is already eating 3 times a day, after 6 months you can go to two meals a day, but you can feed and 3 times.
Advice 2 : How to give dry food
Proper and balanced diet – the guarantee of health of your pet. More and more owners prefer to feed their Pets dry food. It is very convenient, do not need to spend time on cooking. You only need to choose good food and to follow a certain pattern of feeding.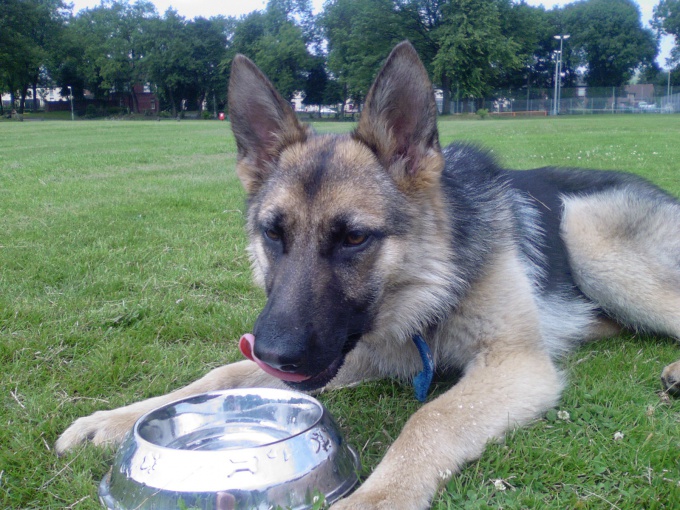 Instruction
Start to feed dry food you can two months. The first solid foods should be soaked in water a small portion in the morning feeding. Dry food is introduced gradually. After a couple of months, the animal must consume the daily amount of dry food according to age and weight.
If you entirely transferred the pet to dry food, then additional supplementation he no longer needed. Modern feeds contain all the essential nutrients, minerals and vitamins. Fresh or boiled meat, wet food (pouch) must be given not more often than once a week and be perceived by the animal as a treat or reward. No additional vitamins are not required, if the vet were not prescribed.
Next to the dry food should always be a bowl of fresh water - in this feeding pet needs to drink plenty of liquids.
Do not overfeed the animal – feed should be given according to dosage. To do this, use a measuring Cup manufacturer food. All feed its daily rate and dosage. This is due to the protein content in the feed. A high-protein feed to eat less because it is more hearty and dense. Pandering to the desires of the pet to eat may affect his health and cause problems with the urinary system, liver and stomach.
Responsibly treat the choice of dry food. All food must be purchased in specialized shops for animals. Give preference to well-known producers, do not get fooled by the advertising budget of the fodder on TV. Good food can cost less than 100 roubles for 300-400 g of Feed divided depending on various factors: for kittens or puppies under the age of one year, for older cats, special medical prevention of certain diseases, hypoallergenic. The composition of the feed should consist of several kinds of meat or fish, offal, vegetables (3-6 ingredients), vitamins.