You will need
Ice molds according to your taste

water
serviceable refrigerator
Instruction
First prepare the water that you will freeze. In order to maintain health do not use water from the tap. It contains too many impurities and harmful substances such as chlorine. So use a water filter to purify the amount you need. Usually filtered water is fit for consumption without further boiling. But in order to best protect yourself, boil the water. You can buy in the pharmacy distilled water. But its recommended to boil. This will facilitate the removal of air bubbles, dissolved in water, and, hence, the ice will truly transparent.
Take shape for ice. They can be what you just like. Usually in a standard plastic refrigerator ice cube maker, sockets which have a square shape. If nothing suitable at hand, you can even use the candy packaging. They obtained ice is the original form, echoing the silhouette of the candy. In addition, such packaging made of thin plastic, easily allow you to shake the ice container.

Modern manufacturers offer many options for ice. It can be mold for ice in cups for spirits, forms ice in the form of diamonds, and even forms reminiscent of figurines to "Tetris". The imagination has no limits. Pour chilled water prepared in your chosen form.
If the ice is for cocktails for a fun party, you can vary the type and even colour your ice cubes. Put in a cell, for example, fresh mint. You can use peppermint pastilles, chocolate dragees, coffee bean in order to decorate the ice. Dilute with water, cherry juice, tomato, Apple, orange - any artificial dyes is not necessary. You can "tint" your ice even with the infusion of strong tea, e.g., black or hibiscus.

When all processes are completed, place the container of ice in the freezer. Give form content completely frozen. After that the ice you can use.
Advice 2 : How to make liquid ice
Very interesting and real way of getting ice from the liquid. Right before your eyes within seconds the liquid turns into ice. With this trick you can amaze your friends and acquaintances.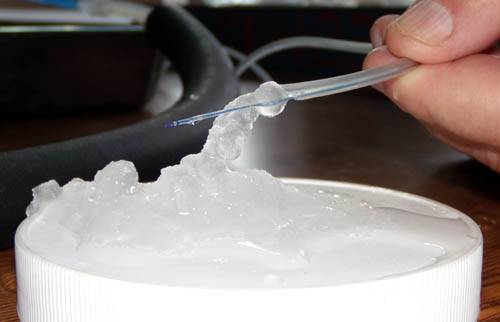 You will need
- Sodium acetate,
- water.
Instruction
Sodium acetate can you buy in a shop that sells chemicals and reagents. But it is also possible to obtain in the home. For this we need vinegar essence and baking soda.
Mix soda with vinegar and wait until, until will not stop the reaction (until no bubbles stand out). Then this mixture should be evaporated and cool. Should be a solid piece (the remaining liquid to drain) is turned crystalline sodium acetate, which you need to use immediately.
Put a bowl of water on fire and bring to boiling point (but do not allow to bubble). Add water to the sodium acetate and stir until then, until it ceases to dissolve.
Carefully pour in a glass or in a bowl of water mixed with the sodium acetate (precipitate pour is not necessary) and put into the refrigerator.
After cooling you'll have
liquid
ice. Upon contact with any object, whether a finger or the fallen crumbs, the liquid will instantly turn into ice.
Can make liquid ice in a different way. Put distilled water in the freezer to freeze overnight. Keep in mind that it does not freeze and remains in liquid state. But if this water is poured into another container, it will instantly freeze.
Advice 3 : How to ice instantly
If at home you have nothing to do and want to have fun, can hold a fun and interesting experiment. All the necessary ingredients for this experience are for everyone. The experiment can be exciting and will help you to learn something new.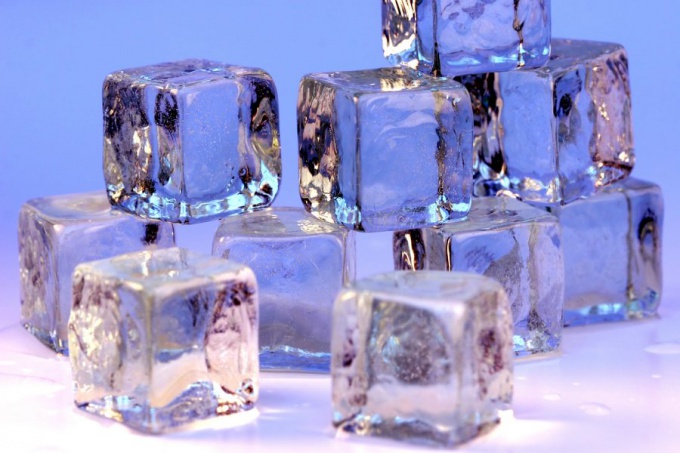 You will need
- drinking soda;
- vinegar (better: vinegar essence).
Instruction
Take a small saucepan and put it on the stove. Pour it in the vinegar, and proceed to pour the soda evenly stirring the formed mixture. When it becomes homogeneous, pour it into a glass or any other container and refrigerate the mixture to cool. The resulting liquid is called sodium acetate. The observance of accuracy in proportions not very important - do everything by eye, the amount of soda and vinegar should be about the same.
Remove from the refrigerator is frozen combination of vinegar and baking soda. If the liquid freeze, you have got to make ice. If the surface was not frozen liquid, drain it, then the result of insufficient evaporation of vinegar. The cooled mixture is called hydrated sodium. Once you've got a container of sodium acetate, begin immediately to do the experiment, otherwise it will begin to draw in water, and the amazing effect will not succeed.
Then put the solid piece on the fire. He starts to melt down. Start to pour it into another pot, leaving the sediment in the vessel in which you heated the ice. Cover the pot with a cloth, so the liquid ahead of time is not hardened.
Take a tiny piece of an already solid sodium acetate and (this is the same as the sodium acetate), or just anoint them the finger. It can be taken from what remained after draining. By the time he was already cured.
Then the fun begins. Now remove the napkin and touch the surface of the liquid. In front you will see a unique metamorphosis: liquid in the eyes will turn into ice!
Not only can you turn the liquid sodium acetate in ice, but also to do a variety of shapes and silhouettes. To do this, RUB a piece of dry crystalline sodium surface by any plane bounded by edges. Start gradually pour on it the liquid sodium acetate. Only coming into contact with the surface, it will freeze in the eyes. Pour very slowly, then it will grow hill. Thus, you can form various figures. So easy and interesting to spend time and amuse yourself or friends.