You will need
the carcass of a wild goose - 1 piece

apples - 1 kg
bacon - 100 g
sugar - 5 pieces
sour cream - 100 g
For the marinade:
water - 1 l
vinegar - 200 g
onion - 1 piece
various herbs
sugar
salt - to taste
Instruction
First, you need to pluck the goose and get rid of small feathers and down. It's best to be singe a carcass of a goose.
To prepare the marinade you need to mix water with vinegar, add sliced onion, salt and sugar, herbs to taste. To lower the carcass of a goose in the marinade and leave for 12-24 hours. The duration of the pickling effect on the softness of the meat.
Pickled the carcass of a goose must be treated with salt and lard with slices of bacon.
The apples for the filling, peel and seeds and finely chop. It is necessary to fill a cavity of a carcass of a goose with apples, sugar cubes and a few slices of bacon.
The carcass of a wild goose to grease with sour cream and fry in Dutch oven until Golden brown, then place in the oven and bake for 2-3 hours at 180-200 degrees. For the meat remained juicy, you have to throw the carcass of a goose bacon juice.
Note
Cooking time wild goose may vary depending on the age of the bird and size. Readiness can be defined pierced the crust with a fork, if the juice is not pink, then the goose is ready.
Useful advice
1. Before singe the carcass, it should be rubbed with flour, then remaining small feathers and down dry, and rise on end.

2. To impart a tart taste of the goose in the marinade, you can add juniper berries.

3. To keep the stuffing from falling out, the carcass is sewn up with thick thread, or zaspiewac a thin, sharp splinters.

4. Below the crust is not cracked in the oven you can put a Cup of water.
Advice 2 : How to cook wild goat
The meat of wild goat is tasty, but hard. To make it softer and to repel odor, the meat is marinated in a mixture of vinegar and wine, with garlic and pepper.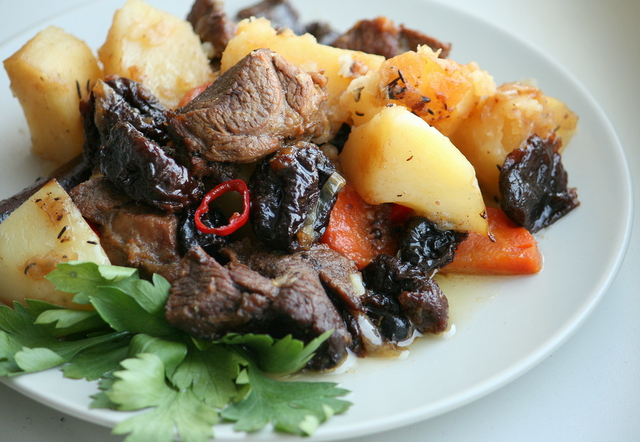 You will need
marinated meat of a wild goat;
lard;
tomato sauce.
For the second recipe:
marinated meat of a wild goat;
Bay leaves;
bow;
wine vinegar;
salt;
walnuts;
garlic;
cilantro;
Khmeli-suneli.
For the third recipe:
marinated meat of a wild goat;
prunes;
vegetable oil;
bow;
flour;
tomato paste;
cloves;
vinegar;
sugar.
Instruction
In order to prepare a roasted goat, take 500 grams of meat already marinated, remove all tendons and films. Lard 70 grams of lard and place on a baking pan. Cook in the oven at a temperature of 200 degrees Celsius. Occasionally watering pieces of meat spilled on the pan juice. The willingness to identify with a fork. As soon as puncture goes clear yellowish juice – turn off the fire. Ready meat cut into slices and serve with tomato sauce.
Prepare a stew of wild goat with nuts. To do this, cut into small pieces 600 grams of marinated goat meat, place in a saucepan and cover with water, add 3 Bay leaves, cover and simmer on very low heat. Clean and chop as fine as possible 5 heads of onions. After 20 minutes, add it to the meat, then pour 3 tablespoons of wine vinegar and salt to taste. Miss one Cup of walnuts and 2 cloves of garlic through a meat grinder. Chop 3 sprigs of cilantro, mix with nuts and garlic, add 1 tsp Khmeli-suneli, mix well and place the resulting mass into the pan with the meat. After 25 minutes turn off the heat.
For the preparation of meat dishes with prunes cut into 200 grams of marinated goat meat in small pieces. Rinse and chop 150 grams of prunes. In a deep pan, add 6 tablespoons of vegetable oil and put the meat. Peel one large onion and slice small cubes. Fry meat on medium heat for 5 minutes, and then put the onion. After 7 minutes add 2 tablespoons of flour, the same quantity of tomato paste, prunes and 200 grams of water. Season with pinch of cloves, salt and add the vinegar and sugar to taste. Cover and simmer until then, until most of the liquid has evaporated.
Advice 3 : How to cook wild meat
Meat of wild animals are the true decoration of the table. Not only do they have excellent taste, but also very useful as they are so accustomed to the hand-reared birds and animals harmful chemical compounds.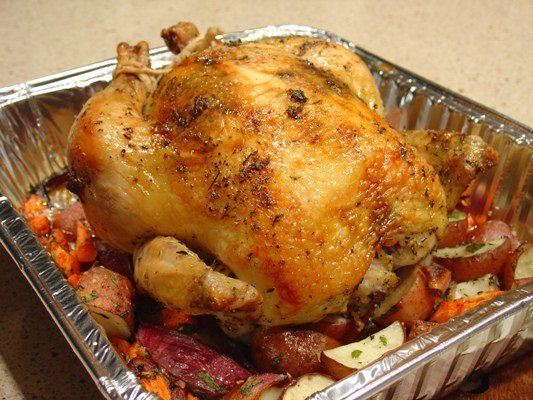 You will need
5-6 large potatoes;
three bulbs;
3-4 tomatoes;
spices: dill
parsley
Bay leaf
pepper;
salt;
form for cooking;
foil.
Instruction
Wild meat can be boiled, fried or cooked. The first method is the easiest but the most undesirable, as when cooking meat loses taste quality. However, it is well suited for soups and borscht. If you want to cook burgers, wild meat is better to mix half and half with beef or pork.
Fry the meat is not worth it, as it will almost certainly be hard. The exception is barbecue, this dish has its undeniable merits. Preparing meat for barbecue, his some time kept in the marinade, which gives the kebab softness and special taste. The exact exposure time depends on the marinade recipe. For wild meat, you can use the marinade on the basis of Luke, as the vinegar will make it even tougher. The marinade recipe is very easy: chop the onion rings, mash with salt and spices to release the juice. Then carefully move the onions with the meat so that it is soaked with juice. Leave the meat to rest for about half an hour, then you can put it on skewers.
Best wild meat to bake, then it turns out very tasty. Bake should be in the metallic form, pre shots of her foil. The edges of the foil then close the meat on top, which will eliminate scorching and allow to stand in oven for about half an hour – in this case, even tough meat will have time to potomitsya well and become soft.
One of the recipes for cooking wild meat is. If you cook duck, first adipate her, scorching over fire, disembowel. Then decide whether you want to bake it whole or cut into pieces. A duck looks prettier, but requires a longer cooking period. In addition, then it is quite uncomfortable to cut. So easier to cut it into pieces.
To garnish, cut small strips about 5-6 large potatoes. You will also need three large onions: cut two large slices, about 4-6 pieces. The third cut rings. Cut into small slices 3-4 tomatoes. You will also need spices – Bay leaf, dill, parsley, red and black pepper etc. to your taste. The potatoes and meat of the sunflower.
On the bottom lined with foil form, pour a little vegetable oil, pour half of the potatoes, a third of the onions and half the tomatoes. Sprinkle with spices, stir. Lay on top of meat, again sprinkle with spices. Move the remaining potatoes with onions, tomatoes and spices and lay on top. Close the foil edges, push to the foil did not deploy. Take it from the top with a knife a few small punctures. Cook at 200 degrees for a half hour. You can change the basic recipe at its discretion.