You will need
fillet of Turkey breast - 0,8-1 kg

olive oil - 2 tbsp
lemon juice – 1 tbsp
garlic – 4 cloves
ground black pepper
salt – 2/3 tsp.
foil
mayonnaise - 100 ml
sour cream - 100 ml
parsley
Instruction
Wash and dry fillets Turkey breast. Then marinate the meat. To prepare the marinade, mix olive oil, lemon juice, salt, ground black pepper and passed through chesnokodavilku two cloves of garlic. With this mixture RUB the Turkey breast and wrap it in foil.
Put Turkey breast in foil in the fridge overnight (for a day). Thanks to the marinade, the Turkey will soften and become tender. In addition, seasoned in a marinade of
the Turkey
to cook faster.
Before cooking Turkey breast roast, preheat the oven to 200 degrees. Once the oven is heated to the desired temperature, place the Turkey breast in foil. If you put meat in a cold oven, it will be less juicy.
Bake Turkey breast in foil about 40 minutes. As soon as the time will come, remove the pan and carefully open the foil. Turkey breast pour the separated juice, then lay the foil around the Turkey so that I have a small bumpers. Due to this, the juice will stay inside and will not flow out on a baking sheet. Put the meat back in the oven.
After a few minutes, check the Turkey breast, if the meat began to dry up, pour it again the separated juice. After unwrapping the foil does not keep the Turkey breast in the oven longer than 15 minutes. During this time the meat should be delicious Golden crust.
While the Turkey's in the oven, prepare the sauce. To do this, mix the mayonnaise, sour cream, remaining garlic and chopped parsley. Salt and pepper sauce.
Note
Selected recipes for cooking Turkey for the holidays and weekdays, for family and guests. Detailed descriptions of the cooking process, step-by-step photographs, advice, comments, tips, ideas, culinary - we can find it.
Useful advice
Smoked Turkey. For cooking smoked Turkey we need: 1 Turkey carcass, 1 PC. onion, 2 g of crushed nutmeg, coriander, cardamom, cloves, 2-3 Bay leaves, 1 g of ginger, 2-3 cloves of garlic, 200 g salt, 5 g red pepper. A simple way of cooking corned beef. The evolution of the art of roasting meat on the fire - from clay to the foil. Recipes cooking some of the dishes on the fire.
Advice 2: How to cook Turkey breast
Meat
Turkey
is extremely nutritious and diet product. Of course, it is not as widespread and available as other varieties of game, but if you try, it in the major supermarkets of the city can be found and Turkey. To cook
fillets
Turkey
brand is easy, as it is very similar to
filet
of chicken, and recipes today quite a lot.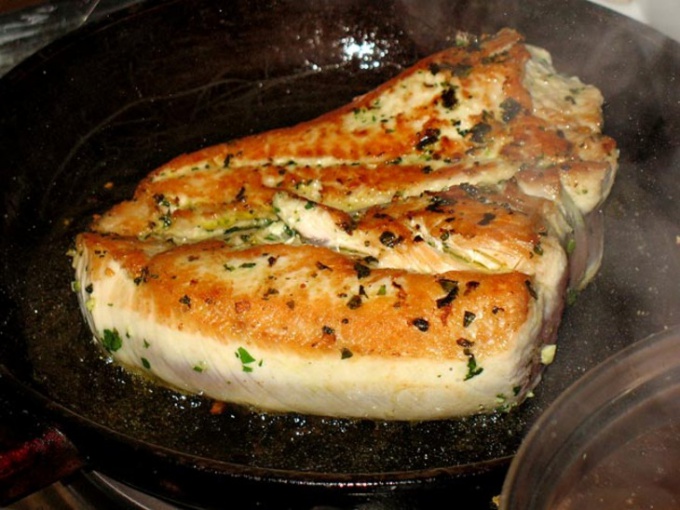 You will need
steak with cottage cheese:

500 g fillet of Turkey;
100 g of cottage cheese;
2 tablespoons vegetable oil;
50 g fresh herbs (Basil);
salt
black pepper.
Stuffed Turkey breast:
500 g fillet of Turkey;
2 apples;
100 g prunes;
50 g butter;
1 teaspoon of sugar;
3 tablespoons flour;
2 eggs;
3 tablespoons of milk;
spices to taste.
Turkey with peppers and mushrooms:
600 g fillet of Turkey;
500 g mushrooms;
100 g onions;
pepper (Bulgarian);
2 tablespoons of sunflower oil;
50 g butter;
spices to taste.
Turkey with mushrooms:
500 g fillet of Turkey;
1 Bank of canned mushrooms;
1 packet dry mushroom soup;
200 g of cream;
salt
pepper to taste.
Instruction
Steak with cottage cheese. Fillet of Turkey wash, dry and slightly repel. Make small but deep incisions for the stuffing, season with salt. Basil wash, dry and chop. Mix it with cottage cheese, pepper and stuff a fillet of a Turkey. In a pan, fry received the steaks on both sides in low heat for 15-20 minutes. Serve the finished steaks with vegetables and fresh herbs.
Stuffed fillet of Turkey. Apples wash, peel and core. Slice them into strips. The prunes, boil for 10-15 minutes, remove bones and chop. Mix the apples, prunes and the necessary amount of sugar. The stuffing is ready.Fillet of Turkey wash, dry and whisk lightly, then season with salt. In the middle of a fillet put some of the filling and wrap the envelope. Dip the envelope in flour and eggs, whipped with milk. Fry the stuffed fillet of a Turkey on low heat for 20-25 minutes until fully cooked. The resulting dish is garnish with a sprig of fresh herbs.
Turkey with peppers and mushrooms. Fillet of Turkey wash, dry and cut into pieces small size. Add salt and fry them in vegetable oil for 15-20 minutes. Onions and mushrooms chop and fry in butter. Sweet pepper wash, remove seeds and cut it into squares (2X2 cm). Sauté peppers in vegetable oil for 5-10 minutes. Mix onions, mushrooms and pepper and serve as side dish to filet turkeys.
Turkey with mushrooms. Fillet the Turkey rinse, salt and pepper. Mix the cream with the sachet of dry soup and add canned mushrooms. Lay fillet in pan and cover with mushrooms in cream. It should bake in a preheated 220 degree oven for 30-40 minutes.
Advice 3: How to bake Turkey breast
Breast of
the Turkey
after baking becomes very juicy and tender. It can be cooked in a special sleeve, foil or just in the form. And to give the meat a rich taste and aroma of get with the right selection of spices.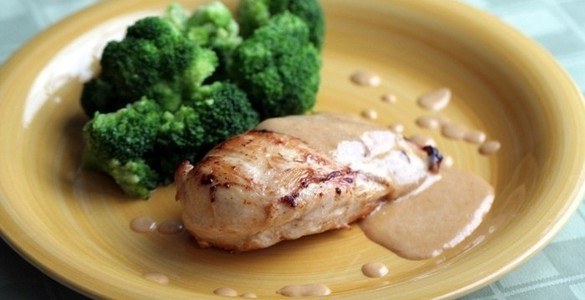 You will need
Turkey breast;
bow;
black pepper;
salt;
granulated garlic;
chili powder;
a blend of Italian herbs;
olive oil;
chicken broth.
For the second recipe:
Turkey breast;
butter;
ginger powder;
salt;
white pepper;
yolk.
For the third recipe:
Turkey breast;
salt;
the leaves of thyme;
marjoram leaves;
sweet paprika;
olive oil.
Instruction
Bake the breast in an Italian style. To do this, wash and dry 1 kilogram Turkey. As small as you can chop one onion and place it into a bowl, add a teaspoon of black pepper, the same quantity of salt, a couple pinches of granulated garlic and a pinch of salt. Stir in a tablespoon of the mixture of Italian herbs and pour all 4 tablespoons of olive oil.
With the mixture RUB the breast and put it in a sleeve for baking, closed on one side. Pour over meat 1 Cup chicken broth, tie the second end of the sleeve and place in a preheated 180 ° C oven for 50 minutes.
For roasting Turkey breast in aromatic spices wrap 1 kilogram of meat with cling film and slightly repel. Melt 30 grams of butter and mix with a teaspoon of ginger powder, the same quantity of salt and 1/2 teaspoon of ground white pepper.
Grate the meat spicy, and the top oil one egg yolk. Place the breast on a baking sheet and place in pre-heated to 200oC oven for 20 minutes. Prepared meat cut into portions and serve with boiled potatoes and jam of cranberries.
Bake breast with thyme and marjoram. To do this, prepare a brine of 1 litre of water with 1 tablespoon salt and soak it for 1 kilo of meat for 3 hours. Mix 1 tablespoon of crushed leaves of thyme and marjoram with 1 teaspoon of sweet paprika and 2 tablespoons of olive oil.
The resulting mixture lubricate the breast on all sides, wrap in greaseproof paper and tie with thread. Preheat oven to 200oC and place in meat. Bake about 30 minutes, then unpack and put in the oven for another 10 minutes to give the meat to brown. Then place the breast in a heated dish and cover with foil. Leave to rest for 15 minutes.