You will need
Product sales revenue, members of the audit, the store staff, the previous audit certificates, invoices with a list of imported goods.
Instruction
To be sure the safety of property, the owner need to carry out an audit in your store. According to the rules of audit is carried out twice a year, it is necessary to make the order for the conduct of the audit, the Commission must be at least 3 people. If sellers was a contract for liability, in case of change materially responsible person shall carry out an additional audit.
In the course of the audit of funds you need to get the balance from a previous inventory of the product by stopping the sale of products, add new product, which was received after the last inventory in cash. To improve the efficiency of counting item has to do two people, one considers the second recheck. Then the added revenue and subtracted off. If there was a return this amount is also subtracted. As a result of loss shall not exceed 2%.
Unfortunately, to avoid discrepancies rarely. They occur usually because of the theft of staff or theft of buyers and regrading of the goods. Inventory of food you need to consider shrinkage and rearrangement of goods. If the audit revealed a shortage of a particular commodity group, it is desirable to recheck again. Check whether you have forgotten to count the goods lying in the store room or warehouse. If the revisions are constantly revealed to be missing no more than 2% of revenue, it is considered the norm. When the rate increases to 5%, replace the staff or to tighten the security system. After the audit is drawn up in 2 copies, signed by the staff and the Commission.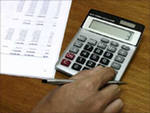 Note
If you make a detailed statement to sellers, setting out in stages duties, the audit will be much faster and with greater efficiency.
Useful advice
To the sellers store understood the serious attitude of the owner to his property would not prevent additional unannounced audits according to groups of goods.