Instruction
Usually prom is carried out according to the scheme: the first is the official part, the second Banquet, the third a disco and, of course, meet the morning dawn. To graduates do not get bored need to develop a plan for an individual scenario. This can be a prom on the boat or outdoors. Or even the ball at the Palace. Definitely on the holiday should be a sound, because no prom is complete without musical programs. The presence of the DJ will decorate the celebration and make it youth. Pay special attention to the selection of the leader, because he set the tone for this event. Also relevant are services photo and video, because in the memory of graduates should remain memories of parting with the school.
The official part. All the kids are waiting the moment when will be able to go on stage and get a diploma. Extend them this moment. To do this, preludiu for the ball. Basically before the holiday the graduates gather in the school yard, where there is a large number of spectators. Turn on the festive music that "former" students would line up before school. After shall sound waltz – dancing all the alumni, and viewers admire the beautiful couples, hair, and faces. The preparation of the dances is desirable to involve the choreographer. And be sure to spend this part of the celebration without words. Only dance and music. After the execution of the dance numbers invite to go to the school ninth-graders, in the Wake of which are guests. And then you can start the official part of the prom.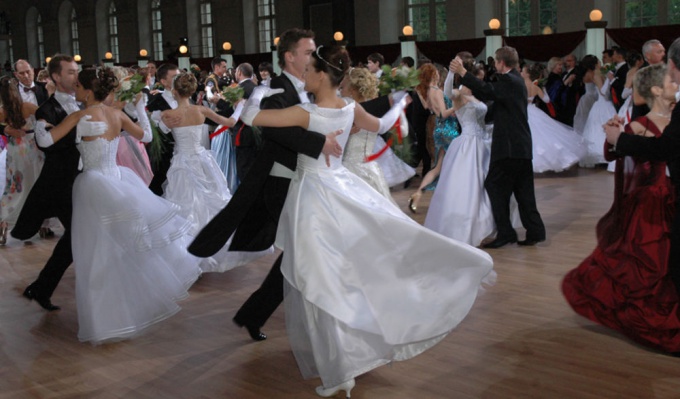 The Banquet is an important part of the celebration, such as prom night. This is the first formal event in the lives of children. The Banquet should be different with excellent food, good service, and of course, solemnity. Be sure to discuss in advance the menu at the parent meeting. Good are meats, normal salads, julienne and meat with a garnish, because often on the tables of graduates remain untouched gourmet salads and fish. From drinks it is better to give preference to Morse, it is well removes thirst and inexpensive. The table should be low-fat for the stomach of a teenager.
Disco will enhance any youth festival. Experienced DJ, huge music repertoire, sound and lighting equipment, modern hits of discos – all this you can arrange at the school. Be sure that kids won't want to leave it until the morning. And to finish prom can meeting the morning dawn.