Instruction
The first of the popular browsers provide the option to block unsolicited Windows was Opera c he'll start. The latest version of the browser the appropriate settings are in the main menu, under "Quick settings" section of "Settings". There are four options: two radical (allow all / all
to forbid
) and two more flexible - open pop-up Windows in the background and not open a window if they were not requested by the user.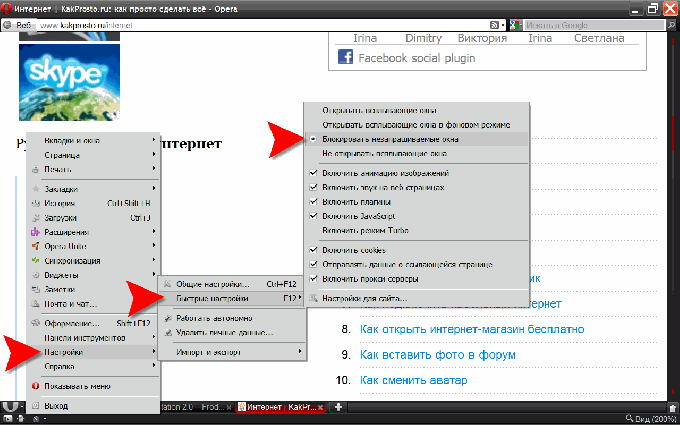 In addition, there is the possibility of more fine-tuning of the clipping advertising. If you right-click on a blank spot on the page of any site and choose from the menu "Settings for your site" will appear a windowwhere you can set the personal display settings of this website. Now we are interested in the Basic tab where drop-down list to select from the same three options specify to the browser how to deal with pop-UPS of this website.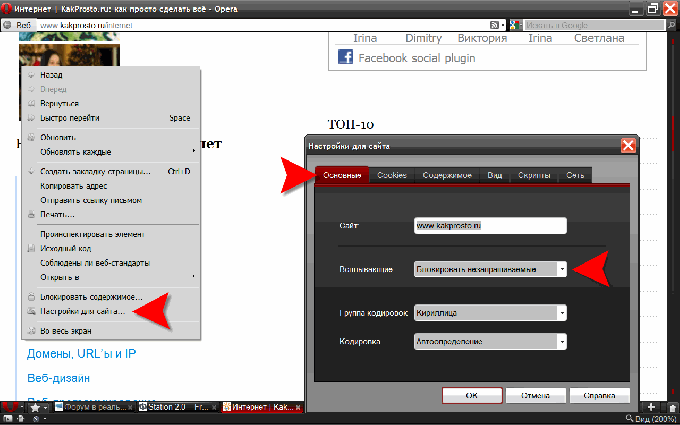 There are other more fine-tuning content filtering HTML pages. You can find them on the tab "Scripts", but such settings already requires some idea about the structure of pages, HTML and JavaScript.
In Mozilla FireFox the path to the configuration including the option of blocking pop-UPS is through the "Tools" section in the top menu. It is necessary to select "Settings" to open the window settings in which we are interested in the Content tab. It should put a tick next to Block pop-up Windows". And to add to or remove any site in the list of exceptions by clicking Exceptions.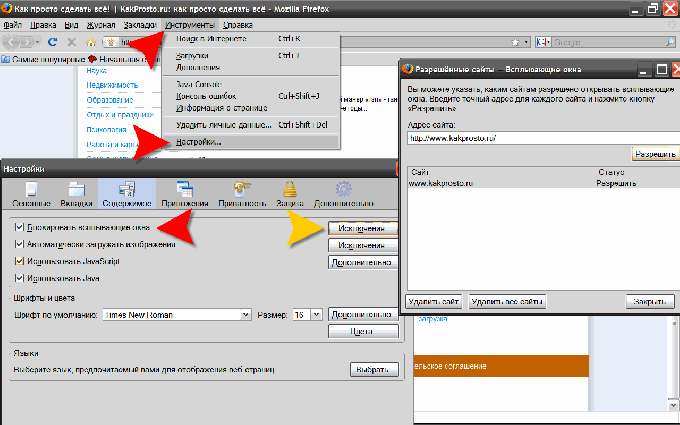 In Internet Explorer item, including blocking pop-UPS is in the "tools" section top menu. Here is the paragraph that opens the window Options pop-up blocker". In addition to editing the site list exceptions to the General rule, you can specify one of three levels of filtering pop-UPS. Here in addition, there is the possibility to enable/disable audible and text notification for every blocked window.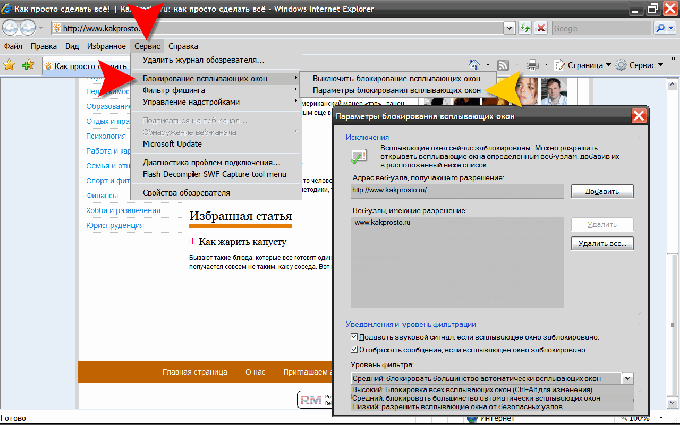 There is another path to this setting in the section "tools" top menu click "Internet options". In the window that opens on the "Privacy" tab you have to put a tick next to "Enable pop-up blocker". Here the "Settings" button to open the dialog window "Settings pop-up blocker".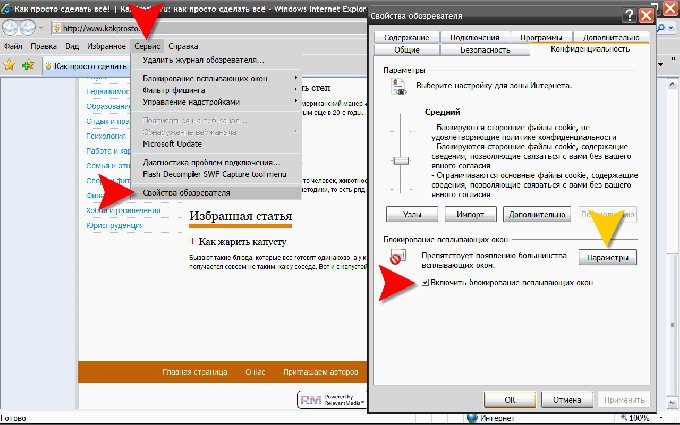 Unfortunately, the fight against pop-UPS develops under the same scenario as the fight against Internet viruses. That is, when the fight against viruses that use the same technology, VirusTotal produce another. And here this process is complicated by the fact that pop-UPS are used not only harmful, but also for the convenience of users.
Note
To block pop-UPS in Mozilla Firefox, select menu "Tools" – "Settings" – "Content". Check the box next to "Block pop-up Windows". If you wish, you can add to the exclusion list ' of sites that won't download indecent pictures, and which you trust.
Useful advice
This built-in lock closes pop-up ads while you browse the Internet. Webroot Pop-Up Washer Pop-Up Washer stops annoying ads that can't block other programs blocking pop-UPS, ads that appear when you hover the mouse, delayed advertising, and mass pop-UPS. ...