You will need
- доступ в BIOS;
- AMD Power Xpress;
- nVidia Hybrid Power.
Instruction
First, try switching the priority of the display adapters using the BIOS menus. Turn on your computer and press the desired function key. Most often the name specified during initial startup menu.
Click Advanced Setup or Video Options. Look for Primary Video. Press Enter and select the video card. This files most often initially actively integrated device.
If the item is missing, locate the menu Video PciEx. It will display all the characteristics of a discrete graphics card. Install for this device priority activity, moving it to the first position.
Go to the start menu screen BIOS. Save the changes and restart the computer. It is worth noting that some models of mobile computers originally start it is the integrated adapter. Turn them off in the BIOS can lead to lack of image.
To simplify the work with graphics cards, there are special utilities. If your computer have a discrete card ATI (Radeon), then install together with the driver program ADM Power Xpress.
Launch it and click in the box that appears the item "High (low) performance of the GPU." Wait for the change of video card.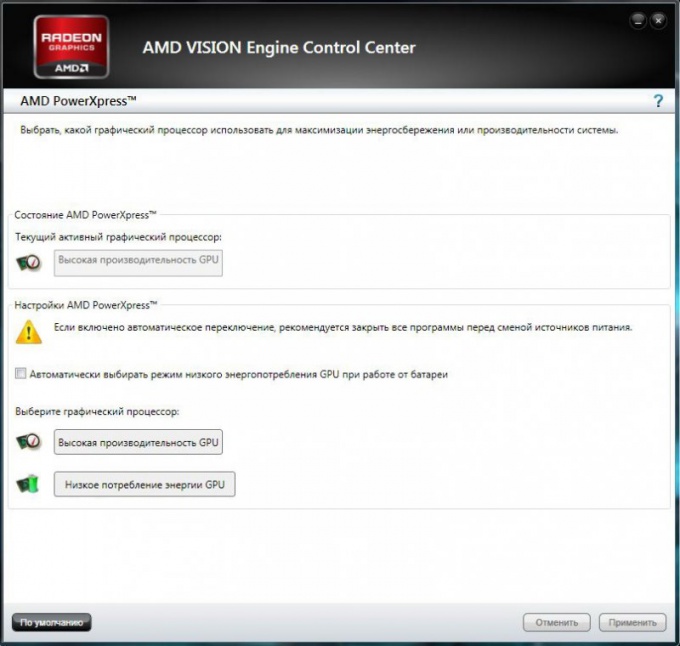 If your laptop uses a combination of Intel and nVidia, the switching will happen automatically. Just run the powerful application, for example, a game with three-dimensional graphics. The system will automatically replace the video card priority.
For independently switching video cards install nVidia Hybrid Power. Most often, this utility can be found on the website of the manufacturer of the mobile computer. Utility for some models are also available on the website www.nvidia.com.