You will need
- a personal computer with Internet access.
Instruction
To enable remember password in web-browser Opera in menu "Tools" select "Settings" in the opened screen window (tab "Passwords") select the required item. In other words, in the paragraph "Passwords" you have to tick and save changes.
To save the username and password in Internet Explorer, you must click "Yes" to the question, specifying whether to remember password or not. To restore this feature, which was previously disabled, open a web browser and go to "tools" then go to "Internet options" and select the tab "Content". After this, click on the "Settings" button located under the "Autocomplete" and set a tick next to the field.
To enable remember username and password in the web browser Google Chrome click the wrench icon located on the toolbar of the browser. Select "Settings" in "Settings" and go to the tab "Personal stuff".
To the web browser Google Chrome every time is not asked whether to save the password for access to each new site, select it in the settings select "offer to save passwords". If this is not done, the password will not be saved.
Note
Remember to save passwords in the browser is insecure! This information is stored in the cache memory, so nimble hackers can use it, causing serious harm.
Useful advice
All saved in the browser passwords are stored in a file. Thus, the passwords stored in Opera are stored in a file wand.dat in the folder of the profile file. This file can be found either manually or through the introduction of %AppData%\Opera\Opera\profile via "start"-"Run".
Advice 2 : How to put a password on the Chrome browser
If your computer can use someone else, this "someone" can see the browser history, bookmarks, log-in your accounts in social networks, and email (if passwords are saved in browser or logged, and the entrance I made). It's frustrating, but if you lose
a laptop
/tablet and they will use not just a colleague or someone from home, and it is a stranger? The solution is to put the login password into the browser.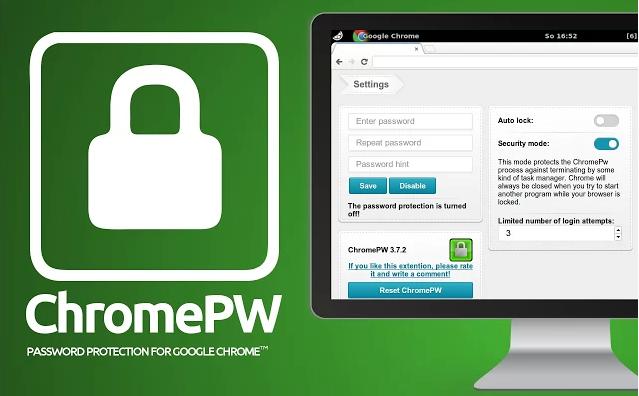 You will need
browser collection chrome (tested on goole chrome and Yandex browser)
Instruction
Go to app store Chrome (https://chrome.google.com/webstore/category/apps?utm_campaign=en&utm_source=en-et-na-us-oc-webstrhm&utm_medium=et). Just search for "ChromePW".
In the search results, click on the application "ChromePW". In the resulting window at the top right, click "Free" - will begin installing the application (click "Add" if asked).
When the extension is installed, follow the instructions in the opened tab - tips will help enable the app and set a password.
Ready! Now each time you call the browser you will need to enter a password.
Useful advice
If the computer is shared among several people, it is better to put several browsers: Google Chrome and Yandex.The browser, for example.